Everyone makes mistakes in life. Everyone has a lesson to learn. How someone learns lessons and applies that education is really what separates the champions from the journeymen.
Professional mixed martial artist Adam Stroup found a great deal of success early in his fighting career. In 2011, he went 4-0 as an amateur, and from 2012 to mid-2015, he went 9-1 as a pro. While, on paper, he captured the majority of his wins by submission, it was always his very powerful, rangy and persistent striking attack that eventually led to his wins. He was comfortable with his attacks, and confident that anyone would eventually fold under his intense pressure.
Stroup grew up in a classic American family in Denver. They get together on weekends, have big family dinners, and they absolutely love the game of football.
---
Advertisement

---
"As Americans, I believe you watch football," Stroup told Combat Press. "That's what you do. I played as a kid, my dad played, my brother played. I was a defensive end and outside linebacker. My brother was a middle linebacker. My brother had a bunch of scholarships coming out of high school, and I didn't. He was much better at football."
Stroup is one of those fighters who does not have a background in wrestling. That fact is something that he felt eventually came back to bite him in his current career.
Prior to August 2015, Stroup's knees had destroyed three opponents in a row, followed by a striking display that forced The Ultimate Fighter alum Frank Lester into a standing choke. Then came Cory Devela.
At Sparta Combat League 43, something happened that the Colorado native had not experienced before: his striking was neutralized by a wrestler. Devela was able to clinch on the feet, win the scrambles, execute trips and control on the ground. Even though Stroup definitely won the striking exchanges, he lost his SCL middleweight title by decision.
After a quick tune-up fight against Charlie Brown in November, Stroup was back in the win column and had secured a contract with Resurrection Fighting Alliance. He made his promotional debut at RFA 34 in January. This time, he was up against former NCAA Division III wrestler John Poppie. After three rounds of basically holding onto Stroup, the wrestler ended up winning a controversial decision. Poppie may have won the fight by points, but he did no damage whatsoever.
The loss to Poppie stung a lot worse than the loss to Devela. The problem is that Stroup left it to the judges.
"I believe the losses that I had were razor-thin," Stroup said. "I wasn't outgunned in any way, but sometimes, a little bit here and a little bit there, and things don't go your way. I don't want to leave it to the judges, but when you do, you have to live with the result.
"I got outpointed on the ground. That's a big part of the sport, you know — takedowns, takedown defense, scrambling up to a dominant position. I don't have a wrestling background, so I just keep working at it to get better [at] my grappling and wrestling."
Stroup has since been on the sidelines, waiting for his next shot. Going through a lengthy run without a fight is not a routine occurrence for Stroup, but it has given him a chance to work on his ground game at Factory X Muay Thai, which is his home gym.
"I work a lot with my good friend, Ian Heinisch, and he's probably one of the best grappling wrestlers in the country," said the dominant striker. "He's a top-notch athlete, and his grappling and wrestling is on a whole other level. I'm just itching to get back in there. I've been in the gym every day. Seven months feels like a long time, but the fight's finally coming."
Stroup has learned a lot from his training partners at Factory X, which also consists of other high-level wrestlers and Brazilian Jiu-Jitsu players. The increase in his ground training should help him as he steps into the RFA cage at RFA 43 on Friday night in the 1stBank Center in Broomfield, Colo.. He's set to meet BJJ black belt Gabriel Checco.
Checco is a native of Brazil, but he has been training in Las Vegas for the last few years. He splits his time training between Gracie Humaita Henderson and Xtreme Couture, where he has been training with some high-level strikers, including the UFC's Uriah Hall. While Checco is most proficient in BJJ, he has really been focused on improving his striking.
"I don't know too much about him," Stroup said. "I'm just getting ready to do my thing. I think he's more of a grappling-heavy guy. I think he's going to be going for submissions a lot. I don't think it's going to be anything major. I think he's just another guy. He's 9-2 [and] I'm 10-3, and that's a perfect match-up. He's fought for RFA before and challenged for their belt, so he's a worthy opponent.
"I'm going to come out there and be ready to drop some heavy leather. I'm going to come out in the best shape of my life and put on the best performance of my life. I have a lot of experience. I've been doing this for five years now, and when I first started, I didn't know what to expect. I didn't really even know how the fight would go. This is going to be my 19th fight, but I'll be better for my next fight. Each fight, I'm getting better."
Stroup is being sincere when he says this. He is already on a striking level far beyond much of his division, and his increased focus on the grappling department is sure to bring a more well-rounded approach to his game.
A win over Checco would be a big statement for Stroup, who is focused on advancing his career quickly. A win over a guy with a great grappling base is exactly what he needs to move to the next level.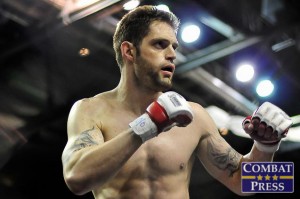 "I'd like a title shot," Stroup said. "There's a lot of guys in the RFA, and this is my second fight in a three-fight deal. I'm 1-1 in the promotion. I know that's not that great of a record, but I don't believe I lost that last one. Whatever comes my way, comes my way.
"I'm entertaining, and people like seeing a real fight. People don't watch MMA to watch wrestling. People watch MMA to watch a fight, and I like to fight. At the high level, everybody can do everything. Even these high-level wrestlers are really good on their feet. At the level that I'm at, it's really wrestler dominated, so if you're a good wrestler, you're going to be able to impose your will. I'm working hard on not letting that be me. I don't want to let a wrestler impose his will on me, just by wrestling alone. I bring it. I fight for real. I don't just grapple or wrestle. I fight."
Stroup has learned a lot in the last year. He's tired of losing by points. He may have been focused on football, as opposed to wrestling, while he was growing up, but there are a lot of fighters in that position who constantly need to improve. Eight months on the sidelines has given him a lot of time to fine-tune his grappling skills. On Friday night, he has the chance to redeem himself and get back in the RFA title hunt. Checco is no pushover, but the Colorado native is confident that he will bring the heat and walk away victorious.
"I have all the physical tools to be at the top of the sport. I don't believe anyone has more physical tools than me. What people have is more time on the mat and more experience than me, but nobody has more heart and more balls than me. I'm willing to go into the deep water."
Stroup would like to thank his coaches and teammates at Factory X, as well as his family, friends, fans and sponsors: Metro Fire Detection, IVP Volleyball, Frontline Medical, Lakota Roofing and 5280 Armory. Follow Adam on Twitter:
@AdamStroup
and Instagram:
@Adam303
---
Advertisement

---