"Why?"
This is one of the most intriguing questions you can ask somebody. The question is so open-ended. The answers, truly infinite.
For example, if one were to ask UFC, Strikeforce and Bellator veteran Anthony "Lionheart" Smith why he keeps fighting, the answer could be generic, but any knowledgeable person knows that will not be the case.
---
Advertisement

---
The 27-year-old Smith is 23-11 as a pro and has only been to decision once. It is easy to do the math. He has finished 22 opponents in less than nine years, and he is still three years away from the dirty 30s. That's a long, arduous road in a short period of time, but he is still younger than a lot of guys are when they begin their careers. In fact, six of those 11 losses, and only five of those wins, happened before his 22nd birthday. Even when Smith knew nothing, he knew that fighting was his calling. He wasn't backing down from anyone, regardless of skill level. There is a reason why his moniker is so fitting.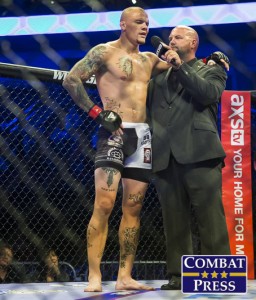 If we take those first 11 fights out of the equation — because, frankly, he was a cub — then, in the last five years, Smith has gone 18-5 and finished high-level competitors like Tim Williams, UFC vet Brock Jardine, Lumumba Sayers and Eric Schambari. At least three of his losses were due to injury or controversial actions on the part of his opponent. On his current six-fight winning streak, Smith twice finished the aforementioned Williams, the highest-ranked middleweight out of the Northeast, and also captured and defended the Cage Fury FC middleweight strap and knocked out Jardine in three minutes. Yet, Smith can't seem to get a nod from the UFC. He has been stuck in idle mode. So, back to the original question. Why?
"I started fighting so early — I think I was 17 when I first started fighting — and I went from a boy to a man, and had a fight career at the same time," Smith told Combat Press. "I didn't have responsibility, so it didn't matter. I didn't know what being great meant. I didn't know what responsibility even was until [my daughter] Ariah was born. It was like, 'Holy shit!' Here's this other person that's dependent on me, you know?
"I really attribute the recent success of my career to being a dad and having other people. It's not just me that I have to be successful for. I want my kids to look back at my fight career someday while they're in school and telling their friends about their dad. I want them to look back at that and say, 'Holy shit, my dad's a badass.' Maybe I have lost, but I want the things that I accomplish to make them proud."
Family is an important driver for most people in most endeavors. When someone does grow up and take on the responsibility of spouses, children, home ownership and all of the other activities that consume life, it's hard to separate work from personal. Business becomes personal.
"I try not to bring the stress and the bullshit that comes with my fight career home with me too much, but it doesn't really work like that," Smith said. "Fighting is too much of an emotional sport. When I'm in camp, [my fiancé] Mikhala has to pick up a lot of slack, because when I have a fight coming up, I almost check out. I mean, I do what I can at home, but I'm not home that much. I work a full-time job, too.
"We're such a tight-knit group that she's a part of it too. She deals with the t-shirts and the tickets, and if there's ever a problem, like with a bill or the mail or somebody needs something, I just pass it off to her. Between her full-time work stuff and having to deal with the kids, because I'm training, now she's got to deal with all my problems that I don't want to deal with. It's super stressful for me, but it's more stressful for her, because she has to deal with her own stuff, the kids and my bullshit."
So, the answer is family, right? Well, not quite. That's part of it, but Smith's record already screams badass. In fact, he is one of a small group of fighters, ever, to go all the way to 30 fights before going to decision. Sure, losses don't look great on your record, but at least he takes the fight to his opponents. After all, MMA is in the entertainment business anyway. Smith could retire today and have more footage of him destroying opponents than most MMA fighters in history.
It has to be something else then.
It's not just the money either. Everyone who knows anything about MMA knows that fighter pay is garbage for most fighters. Smith also lays concrete for a living. That job — and not MMA — is his primary source of income, so it's not about pay either.
"I've got stupid other little goals," Smith admitted. "I've told my family and my friends that I'll quit when I can pay for a house with cash. But I don't know if that's true. Maybe I'll do that and just keep on going."
There are many ways that Smith can answer the question, so narrowing it down to the present could likely bring some light into the conversation.
A couple months ago, it was announced that Victory Fighting Championship, a local promotion in Smith's hometown of Omaha, Neb., would be airing its next event, this Friday's VFC 47, on UFC Fight Pass. VFC was the very first promotion that Smith appeared in professionally, so it was only poetic justice that Smith would get the headlining spot against another aspiring Midwestern middleweight, Elvis Mutapcic. After months of hype and build-up toward the event, though, Mutapcic got a call from the UFC as a short-notice replacement for UFC Fight Night 81 on Jan. 17.
Naturally, Smith was very upset. He was ready to go as well and felt he was next in line. Smith was on a six-fight winning streak with five stoppages, whereas Mutapcic had just gone 1-1 in the World Series of Fighting, followed by a win over a guy who had already lost 13 in a row. It seemed a bit unreasonable for the UFC to overlook the obvious next choice, especially since the company had worked with him in the past and seen just how entertaining he could be. Instead, he got slated to rematch UFC vet Josh Neer under the VFC banner while Mutapcic went on to lose a unanimous decision in his UFC debut.
"It pisses me off that I think there's other things that went into Elvis getting the fight," Smith said. "I don't know exactly how it went. But it also pisses me off that I have to fight Josh Neer, because I think that [UFC matchmaker] Joe Silva's been holding it over my head for two years now. He's brought it up before, and it pisses me off that I've beat six quality opponents that are light-years ahead of Josh Neer — I beat six people that would beat Josh Neer — and we still can't get past that? It pisses me off that I have to fight him, but who else am I going to fight? He's the only one dumb enough to take it at this point."
Coming off back-to-back losses, one where an eye poke came into play and one where he tore his knee, Smith, during his Strikeforce-to-UFC transition, tried to get back in the saddle almost too quickly by taking on Neer at VFC 41 in December 2013. Things didn't go his way. Smith dropped a submission late in the third round to the older, more experienced fighter.
Once the announcement was made for their upcoming bout, Smith vocalized just how upset he was at getting passed up by the UFC. Neer was quick to jump in on social media with his buddies to begin trash-talking. Not only has Smith shrugged it off, but he has not granted many interviews, because he doesn't want to get swept up in the drama. He knows he was in a bad place last time they met. At this point, Smith is on a very impressive run with a new camp. He is not the same fighter he was when they last met. If a win over Neer is what the UFC wants to see, Smith is ready to deliver.
"I think that, technically, Elvis is the better striker, probably the better grappler, and he's absolutely more powerful," Smith said. "Elvis provides a more immediate danger, because, honestly, I don't see Josh Neer one-punching anybody. As far as pure toughness and intangible things he brings to the table, Josh Neer is dangerous in his own right. It's his inability to fight like a human. I think it's an intelligence thing. I just don't think the guy is smart enough to ever back up. That's not me making fun of stupid people. He just doesn't have a backing up or taking his foot off the gas type of instinct in him.
"I think that the better fight for me would probably be Elvis. You've got to be tactical with someone like him, because he's dangerous in those areas."
Smith is a very emotional fighter. When he was young, he fought angry. When he was climbing the ranks, he fought angry. After the UFC, he fought angry, which actually backfired against him. At this point in his career, he is ready to get the call. Now, he's not just angry about lost time with family. He's pissed off that nobody is taking notice to what is going on. The present is all that should matter, and it is frustrating for him that nobody seems to be paying attention. Smith is, after all, still in his 20s. His opponent's buddies talk trash on Facebook, but it only fuels the fire that drives him to keep fighting. He knows he's better than that.
"I guarantee I'll carry those emotions into the UFC, because there will still be those same idiots who don't think I belong there," Smith said. "I was pissed off for a while and that's what kept me coming back. I got screwed by Roger Gracie, then I blew out my knee in Brazil, then I lost to Josh Neer because I broke my hand and fought like an idiot. It pissed me off, so I went on a six-fight winning streak, and I feel like I'm still getting fucked. That's what's pushing me to get where I'm at now.
"I was painting a dresser in my garage yesterday, jamming out to some music, and I said to myself, 'Why am I doing this shit?' With all the stress that's come in the last week, with all the other bullshit that's going on, I don't know. Because I love it. My goal is to be a world champion, and that's strictly because I want everyone else in the world to know that, for the time I hold that title, I'm the best. I just love it. There's a lot of other things I could be putting that same effort and time into, but that's all I know."
In the last couple years, Smith has made the transition to a new gym and a new way of training. He does his striking and MMA work at Mick Doyle's gym and his Brazilian Jiu-Jitsu training with Scott Morton at Axios BJJ. His previous gym was taking a "train here only" type of approach, and he needed to get somewhere that was more about him and less about his career. At first, it was a match made in heaven, but often guys will find the honeymoon comes to a halt. Fortunately for Smith, this has not been the case at all.
"The further along I go and the longer I'm there, it just keeps getting better and better," Smith said. "We're meshing things together better now. Before, it was like I was training at Mick's and then going to Scott's. Now, Scott is a part of Mick's training sessions and Mick is part of Scott's. I couldn't ask for any better in gym dynamics. I couldn't be any happier as far as training goes."
After six wins in a row, Smith's coaches could not be happier as well. However, even with great training and a huge support system, there is still one intangible that Smith brings to the table to make his fights more exciting than most, even when he gets in precarious positions — he truly has that heart of a lion.
"When I'm in the back warming up, and even when I'm walking in there, I'm not doing this for myself, because I didn't get there by myself," Smith admitted. "It's one piece of that puzzle — the things that my family does and the things that my family sacrifices. All of that is in my head when I'm going in there. It's not just me that I'm going in there for. You're not just fighting me. You're fighting my whole family. When shit gets tough in there, everyone looks for a reason to quit. Everyone else has worked too hard on me to just give up. That's not happening. That's my motivation and my drive."
Smith views his opponent as someone who is just looking for a paycheck. Smith, on the other hand, is looking to advance his career. He easily has a decade left to become a world champion. He needs to avenge the loss over Neer to advance his career. It's another step in the right direction.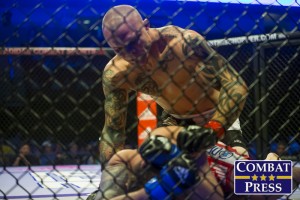 "I don't feel like I've accomplished enough yet," said the Nebraskan. "When I made it to the UFC, all the way leading up to that, I thought that once I get there, I would feel that sense of accomplishment. But I didn't get that. Once I was there, I thought, 'Well, this ain't that cool yet.' So, I had to keep pushing. I really thought when my manager finally called and said, 'Here it is. You're fighting so and so at blah, blah, blah,' that I would just be elated, and I didn't have it. That's what I'm chasing. I hope, when I do win a world title, that will come. I have to keep going to see if it's there.
"Martin Kampmann recently retired, and he's a badass. I just can't imagine, with so much left to accomplish, just hanging it up. I just can't. I can't say that I'm not able to be the greatest champion in the world. I can't say it. I can't even think it."
So, why does Smith fight?
He fights because he has the heart of a lion and won't back down from his dream to be a world champion. He fights for his family, his training partners, his coaches, his honor and, most importantly, because he's sick and tired of getting overlooked.
"When I fought Neer last time, I was kind of still licking my wounds from the UFC a little bit," said Smith. "This time, I just don't care. Something happens when guys enter the cage, and you can see it. When that cage door closes, they get this look on their faces like, 'I don't want to be here.' I don't get that feeling. I'm on a battle path. I just want to hurt people."
Enough of the "why" for now. "What" should people expect to see from Smith come Friday night in Omaha, Neb., at the Baxter Arena? There's a much simpler answer to that question.
"Violence."
Smith would like to thank all of his coaches and training partners, including Mick Doyle, Scott Morton and Matt Bentley. He would also like to thank his fiancé, Mikhala, and his daughters, Ariah and Avaya, for supporting him every day. He would also like to thank his family, friends, fans and sponsors, including DC Management, Lindley Clothing, Animal Instinct, Greg Hart, Studio 13, Big Brain Tattoo, B&B Roofing, Young Chiropractic, and Mouth of the South. Follow Anthony on Twitter:
@LionheartSmith
---
Advertisement

---