Gloves? Check.
Fists to faces? Check.
World championship aspirations? That's a check too.
---
Advertisement

---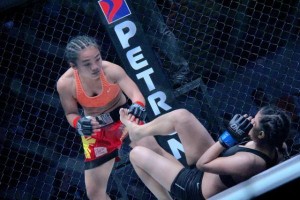 These are the commonalities that exist between boxing and mixed martial arts. Historically, the two sports are seen as completely different entities, and there is a competitive streak between the two that will seemingly never die down. Amongst the egos and the billions of dollars shared between the two (albeit largely skewed in the favor of boxing), there is always the most important piece to the combat-sport puzzle: The fighters.
Many will try their hand at both sports. That is the exact mission that Filipina fighter Jujeath Nagaowa embarked on when she stepped into the cage for the very first time on May 2. In her home country, in her first-ever mixed martial arts bout, Nagaowa made a lasting impression. She paved the way for a transition from the world of a struggling boxer to being showcased in a world-class mixed martial arts promotion.
"Winning my ONE FC debut made me feel, wow, so great," Nagaowa proudly exclaimed to Combat Press. "It's still unbelievable. It gave me the feeling that I'm starting to live my passion, my dream of being in sport."
The dream started early on for Nagaowa. In 2006, Nagaowa, just 19 years old at the time, began her boxing career. She went on to fight a total of 26 times. Her career may not have been illustrious, but it did give her a taste of what combat sports had to offer. And she liked it.
"I was a normal school girl who was always hanging out with friends. Since childhood, I've always [been] a fan of [combat sports]. Then it became a reality when I was in college," she explained. "I joined the university's combative club to do boxing, then shifted to a private gym after graduating."
After donning the 12-ounce boxing gloves for the last time in the later stages of 2013, Nagaowa made the move to mixed martial arts. It wasn't going to be easy, but it was a challenge that she was eager to undertake. And as to why she did it? That was simple.
"To live my wildest dream," she confessed. "I said to myself that after boxing, I would do MMA because it's the best combat sport. It's the sport where the extremes can happen—you can do all the arts and incorporate everything, so your adrenaline is active—and I love to go to the extremes. This is it."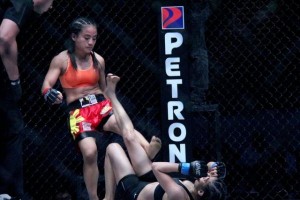 In her continued development as a professional fighter, Nagaowa has sought out the best training that she can find. Recently, Nagaowa left her highly touted team at Lakay MMA to join The Goat Locker Boxing Gym as their first professional MMA fighter.
"It feels good," she admitted. "As I always want to experience new adventures in training, being the first pro at the team doesn't make me feel any different or better than them because, actually, they're more [of] an MMA fighter than me in knowledge and experience. So I don't see myself as having such advantage. For now, I just hope I can belong to the group and be a good teammate."
Although her next fight inside the ONE FC cage has not yet been decided, Nagaowa is eager to once again compete under the lights of Asia's biggest mixed martial arts company. Being the first female ONE FC champion to hail from the Philippines would be a tremendous honor for Nagaowa.
"I'm more than hungry enough to say I want it that much and I need it so bad!" she explained. "I am craving to brawl to the highest level. As a fighter, my dream is to earn the championship belt of my weight division in ONE FC. This is my goal."
Jujeath would like to thank all the people before, during and after her boxing career and, most importantly, to all those who are presently involved in her MMA world. She adds, "Thanks for the support and for believing. For the individuals who chose to help privately, may you as always be there for me till the end. You're all remembered and appreciated from the bottom of my heart." Follow Nagaowa on Twitter:
@JujeathBadGirl
---
Advertisement

---