The newly crowned ONE women's atomweight MMA champion Stamp Fairtex is mapping out her future. After capturing the undisputed crown at ONE Fight Night 14, the combat sports superstar is looking to earn back her Muay Thai and kickboxing thrones and grab a second MMA world title.
Stamp Fairtex
The Thai-born Stamp began her fighting career at just seven years old, as she was hoping to fend off bullies when she was a child. This began her lifelong love of the sport of Muay Thai. Winning a national title was immortalized in the documentary film Buffalo Girls. As a youth, she picked up more titles in the sport of Muay Thai, earning wins over both girls and boys.
Muay Thai and Kickboxing
As Stamp Fairtex turned professional, she joined ONE Championship at merely 20 years old. Although, in her tryouts, she earned a knockout win in MMA, but her focus was always on Muay Thai.
---
Advertisement

---
Just a few months later, Stamp earned her kickboxing world title in ONE by defeating Kai Ting Chuang. And in 2019, at just the age of 21, Stamp made history as a two-sport world champion earning the inaugural ONE women's Muay Thai atomweight championship against Janet Todd.
Later on, Stamp would lose both of these prestigious world titles. The kickboxing crown went to Janet Todd, while the Muay Thai throne went to Brazil's Allycia Hellen Rodrigues. From there, she turned her attention to MMA.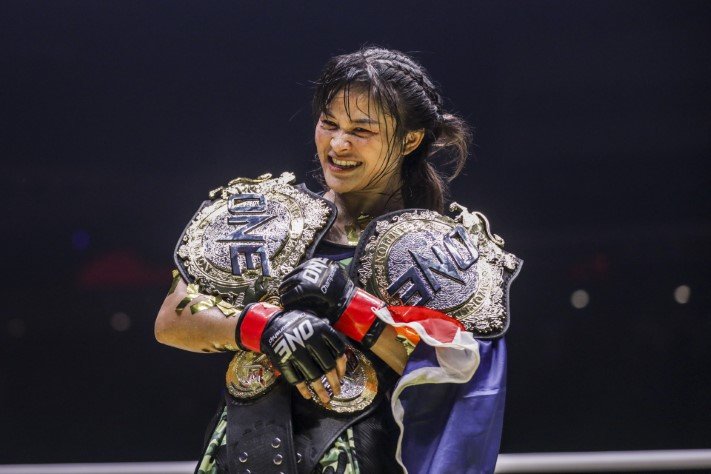 Stamp in MMA
Stamp put together an impressive run in mixed martial arts. Her signature win was a submission victory against Commonwealth gold medal wrestler Ritu Phogat. The match was a tournament final, and the headline-grabbing armbar earned her Grand Prix gold. She went on to challenge Angela Lee for a world title, but, after some back-and-forth action, she was stopped by the long-reigning world champion.
After a few more wins in MMA, the 25-year-old Stamp would again have the opportunity to challenge for the undisputed ONE women's atomweight world championship, as Angela Lee had vacated her throne. The former two-sport champ would face MMA veteran Ham Seo-Hee for MMA gold.
The competitive matchup saw Stamp earning a stoppage win to get her hand raised. Thus, she earned the undisputed MMA world title in ONE, immortalizing herself as a three-sport world champion.
What's Next for Stamp Fairtex?
Holding the MMA atomweight crown may not be enough for Stamp. She is looking at a second MMA world title and would like to return to striking and earn her kickboxing and Muay Thai world championships back as well.
In a recent interview, Stamp explained:
"For my next fight, my first priority is defending my MMA belt. But my bigger goal, if possible, is to move up to run for gold in the strawweight division."
The strawweight division is ruled by China's Xiong Jing Nan, who has defended this world title in a whopping seven bouts.
Additionally, Stamp outlined her plans to fight for the Kickboxing and Muay Thai world titles once again. Both titles are still held by those who defeated her initially, kickboxing is held by Janet Todd, and Muay Thai by Allycia Hellen Rodrigues. On the striking world titles, Stamp explained:
"I still want to reclaim Muay Thai and kickboxing belts. But, right now, we have many rising stars in those two divisions. So I want to give them the chance to run for the gold first."
Stamp Fairtex has become a superstar worldwide through her fighting acclaim. With her ambition, she is looking to earn even more gold in her career – a strawweight MMA title, plus the Muay Thai and Kickboxing crowns as well. Stamp is not backing down.
---
Advertisement

---