K-1 World GP 2023: ReBOOT and K-1 ReBIRTH fighters for Sep. 10 Grand Prix are now fully revealed. The brackets have not yet been made public.
The fighters participating in theK-1 Openweight World Grand Prix are Valentin Bordianu, Ariel Machado, Claudiu Istrate, Sina Karimian, Liu Ce, Kerim Jemai, Mahmoud Sattari, and Michal Turynski. These are the eight international fighters who will compete for K-1 gold upcoming this fall.
K-1 World Grand Prix Openweight Fighters
Let's break down each fighter and offer a few more tidbits of information about each man.
---
Advertisement

---
Valentin Bordianu
Romania
193cm/110.0kg
17-7-0
"The Gunman" Valentin Bordianu is a Romanian kickboxer with seven knockout victories to his name. In his career, he has captured national kickboxing gold three times over.
Ariel Machado
Brazil
184cm/95.0kg
52-12-0
Brazil's Ariel Machado is a veteran of GLORY Kickboxing and has dynamite in his hands. This dangerous striker has won 36 bouts by of knockout. Additionally, he has earned the WGP Kickboxing light heavyweight championship.
Claudio Istrate
Italy
187cm/110.0kg
58-21-3
"Grizzly" Claudio Istrate is an Italian heavyweight striker with 32 knockout wins to his name. Plus, he is a two-time national Italian kickboxing champion and a European kickboxing champion as well.
Sina Karimian
"The Hero of Iran" Sina Karimian is looking to capture more gold in K-1. Thus far in his kickboxing career, he has already captured a 2018 K-1 World Grand Prix championship and has defended his cruiserweight division title in two bouts.
Liu Ce
"Ryu Tsar" Liu Ce will be planning to bring a K-1 world title back to China with him. Three of his five wins were won by way of knockout. Additionally, he is a national Chinese kickboxing champion and experienced in Sanda.
Kerim Jemai
Germany
189cm/105.0kg
18-0-0
"The Machine" Kerim Jemai will put his perfect record on the line as he looks to earn a world title in K-1. Thus far in his career, he has earned the ISKA World super heavyweight championship.
Mahmoud Sattari
"The Tyrant of Iran" Mahmoud Sattari is planning to win a K-1 World Grand Prix championship two years in a row. He captured the K-1 World Grand Prix openweight tournament title in 2022.
Michal Turinsky
Poland
191cm/110.0kg
42-15-0
Poland's Michal Turinsky will be representing King of Kings (KoK) in the K-1 World Grand Prix as he is their current reigning heavyweight champion. Prior to that, he held gold in WAKO and elsewhere.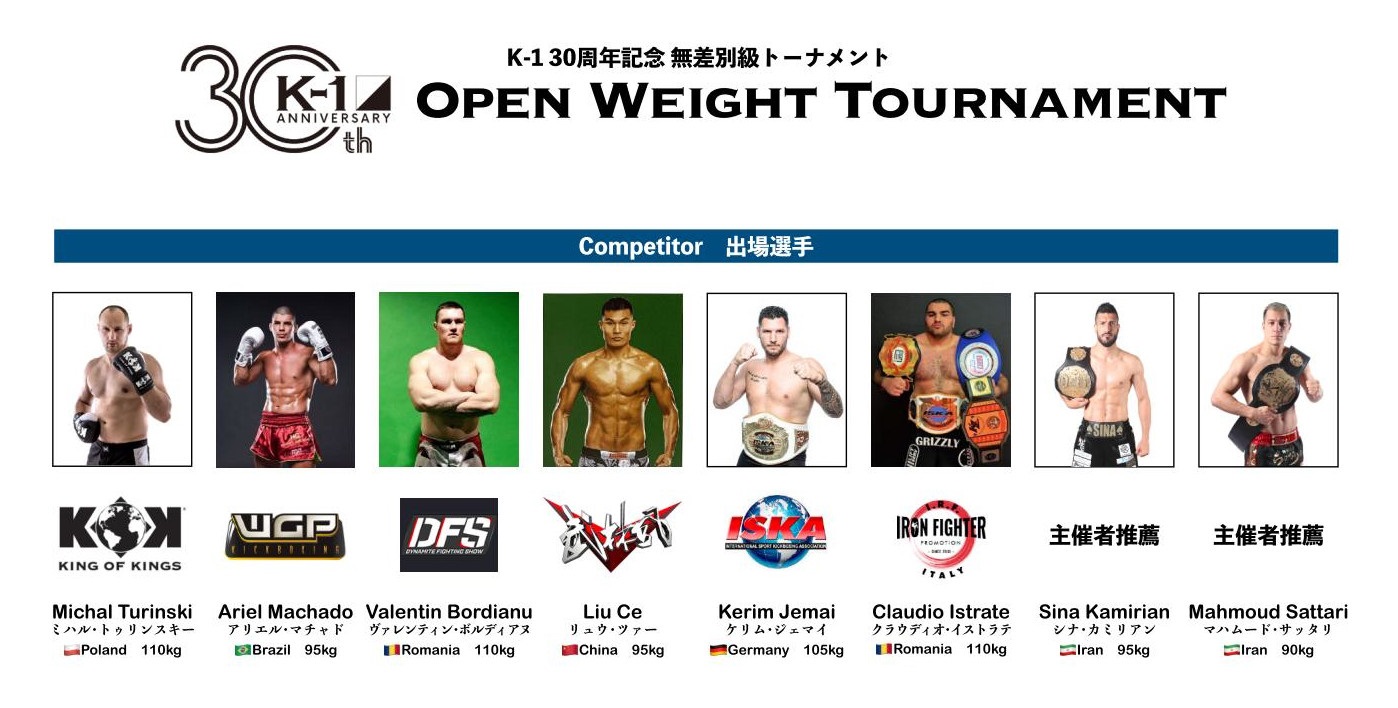 The Sep. 10 K-1 Kickboxing event will be headlined by a super bantamweight world title clash between Masashi Kumura and Akihiro Kaneko in their third meeting. This event will be hosted at the Yokohama Arena in Japan.
---
Advertisement

---