Muay Thai and Kickboxing legend Buakaw Banchamek's next match has been announced. The Thai-born icon will face former K-1 Kickboxing world champion Yasuhiro Kido in Rajadamnern World Series on Saturday, Sep. 9.
Buakaw Banchamek vs Yasuhiro Kido in RWS
The Sep. 9 RWS Muay Thai fight card is officially named Legend of Rajadamnern: Last of the Generation. Striking legend Buakaw is taking two bouts in RWS this year before facing Manny Pacquiao in boxing booked for early 2024. Plus, Buakaw will face Saenchai in a BKFC match on Nov 4.
"The White Lotus" Buakaw Banchamek will face off against declared Japanese striker Yasuhiro Kido. This will be a professional kickboxing match, not an exhibition.
---
Advertisement

---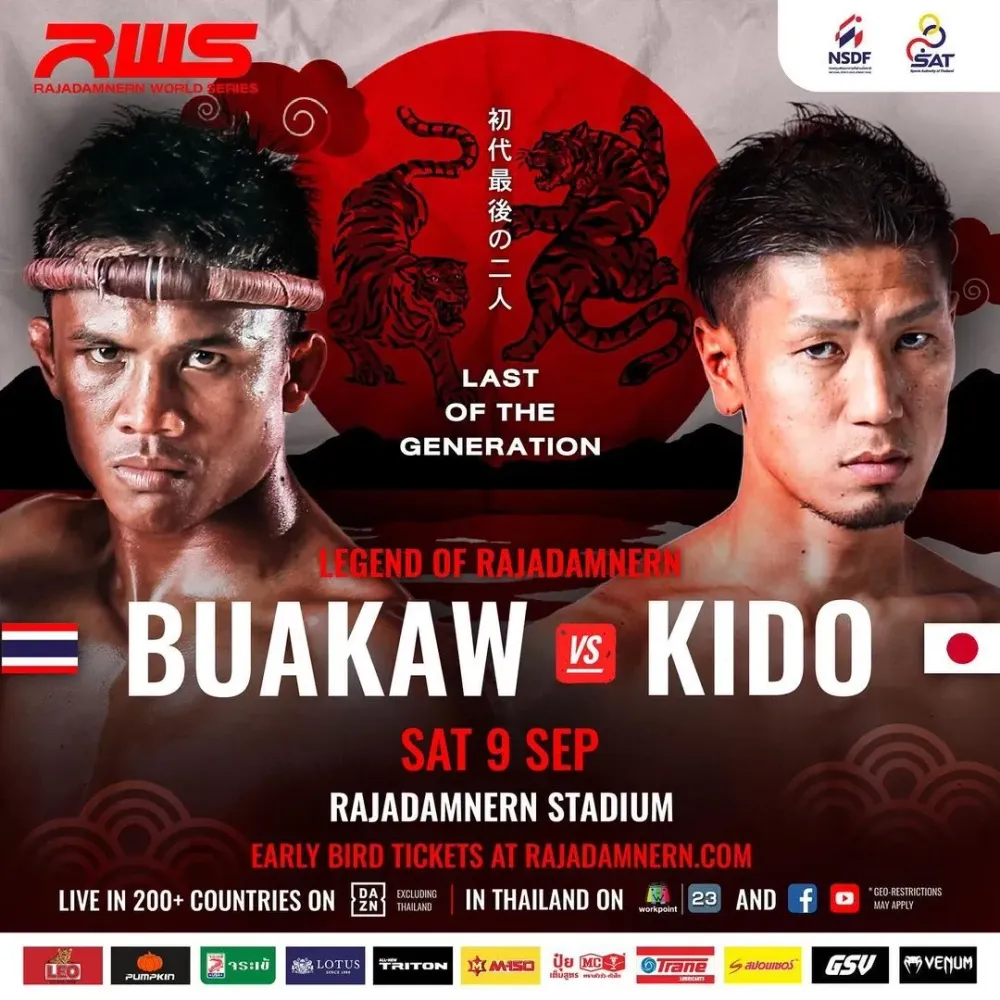 The 40-year-old Yasuhiro Kido captured the 2008 K-1 World MAX Japan Tournament World Championship, and would later fight for other world titles throughout his career. Overall, this Japanese-born striker has earned a record of 55-25-2 in kickboxing.
The Thai-born Buakaw is a combat sports icon. The 41-year-old athlete is a two-time K-1 World MAX Tournament World Champion, in addition to his impressive titles in World Muaythai Council and others. Throughout his storied career, Buakaw has faced legends such as Masato Kobayashi, Giorgio Petrosyan, Andy Souwer, Nieky Holzken, Jean-Charles Skarbowsky, and John Wayne Parr, among many others.
Fans can catch the battle of kickboxing legends, Buakaw vs Kido, in RWS Muay Thai on Sep. 9. worldwide, as it will be available on DAZN. In Thailand, it is viewable through YouTube.
Buakaw has a busy few months planned. In September, he will face Kido in RWS,. In November, he meets Saenchai in BKFC. In Decemeber, he has an unannounced opponent in RWS. Finally, in January, he faces boxing legend Manny Pacquiao.
In a press release, RWS Muay Thai said:
"Fate brings together Muay Thai legend Buakaw Banchamek and kickboxing titan, and K-1 champion, Yasuhiro Kido in a super-fight that should not be missed!

Both fighters are currently at the top of their game and have yet to cross paths. They're finally about to be able to prove who is superior as they fight to maintain their flawless record and outclass each other. Mark your calendars for the 9th of September at Rajadamnern Stadium!

This time, Buakaw's return to the ring will not be an exhibition fight, but it will be a professional bout with official records. The match will be governed by kickboxing rules, with three rounds, and a reveal of the judges' scoring in each round according to RWS rules."
---
Advertisement

---