PRESS RELEASE – The "Ginger" Tyler Spurlin (4-2) is making his PFC return on Friday, Nov. 21 at Rock 'N' Rumble when he faces off against Daymar Ortiz (2-1) in a bantamweight amateur battle.
This will mark the third time that Team Wildman's Spurlin has fought for PFC. While he's definitely a cage veteran now, that doesn't mean he's taking his duties outside the cage and gym any more seriously.
"I will continue to fight for the 'ginger' species until we become extinct," the always irreverent Spurlin said. "That might be soon, if you believe global warming is true, because redheads are allergic to the sun."
---
Advertisement

---
Ortiz will be making his PFC debut at Rock 'N' Rumble. Roaring out of Zingano BJJ, Ortiz started his amateur career off with a loss but is now on a two-fight winning streak.
"I can't forget how that first loss felt, so that is a contributing factor in itself. Adversity has always been a factor in my drive for success. Regardless of the type of adversity I am facing, I always find a way to push forward and no matter how weak, tired, helpless I feel, there seems to be this fire inside me that just pushes me. It's just how I grew up. My mother is a huge inspiration to me to this day. She is the definition of perseverance and the reason I drive to succeed every day because no matter what obstacle was thrown in her way she always overcame," Ortiz said.
Spurlin had dropped two in a row in 2014 but got back to winning in August with a first-round submission, a trend he plans to continue with a rare glimpse of a very serious man.
"I am a Team Wildman soldier and I fight whoever Thomas [Denny] tells me to fight. We prepare for far, whether or not we have a fight on the books. If I am not in the gym for me, then I am in the gym for my teammates," Spurlin said.
The importance of the team is something Ortiz can easily relate to when it comes to his current fortune and winning streak.
"My team is always pushing me, driving me to be better each and every day. They just have this aura about them that makes me want to shine in that same light, and mentally I just feel great. Throughout my time training, I've felt I have learned a lot on and off the mat, and that has helped me grow as a person and a competitor," Ortiz said.
Both men also share an interest in the P.O.D. rock concert happening the same night. Spurlin, part of the deeply religious Team Wildman, is excited for the shared faith he has with the music.
"They are awesome! Glorifying Jesus Christ with music just like we do with fighting. It's all about God and always will be," Spurlin said.
Ortiz is interested because of his longtime love of music.
"I'm really stoked about it. I love the atmosphere of live music. Throughout high school I played in bands and went to concerts, so the fact that two of my biggest passions are under one roof really makes it an honor to be a part of this event," Ortiz said.
As for thoughts on their opponent's, both shared one adjective: tough.
"You know, I haven't seen too many of his fights, but from what I have seen I'm excited. I know he's a tough guy and, as always, I'm looking for a fight, whether it's on the ground or standing. I'm sure it'll be a war," Ortiz said.
Spurlin echoes the sentiments before adding one of the craziest pop-culture references in the history of fight interviews.
"He is a tough kid from a good camp. I knew I would fight him eventually. We were on the same card at Fight Club. He has good wrestling, good jitz and good striking. That being said, I am going to come at him like Siegfried & Roy's white tiger," Spurlin said.
In terms of predictions, both men couldn't hide their amusement at themselves and pre-fight build-up.
"There will be fireworks!" Ortiz said with a laugh. "Too cliché? Alright, how about 'Don't blink!'? Actually, how about, 'This place was Armageddon, and there was a fire fight'?"
Spurlin promised all of that plus a surprise mealtime for Ortiz.
"I am going to serve him up some good ol' fashioned knuckle sandwiches until the ref pulls me off of him," Spurlin said.
It may be all smiles and jokes now, but fans know that Spurlin versus Ortiz is going to be a bloody, grinding battle. The exact type of fight we've come to expect from both men. Can Spurlin improve to 2-1 on PFC cards or will Ortiz extend his own winning streak to three with a successful PFC debut? The only way to find out is to be there to see this as well as the rest of the stacked R'N'R card and a P.O.D. concert at the National Western Complex on Nov. 21 in Denver.
Go to www.RnRMMA.com for tickets.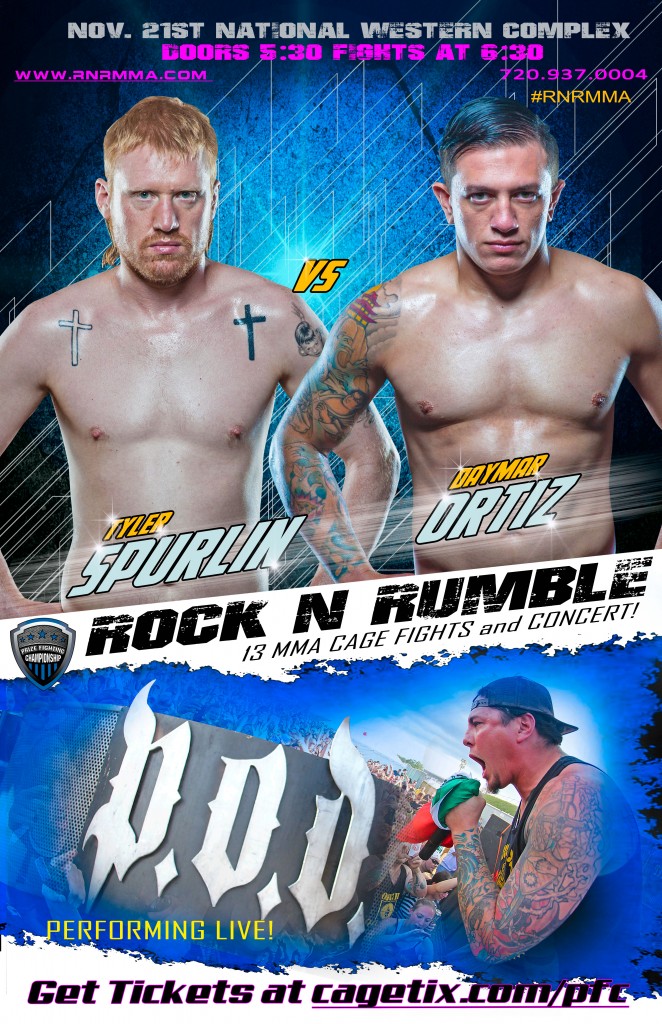 ---
Advertisement

---