Muay Thai and kickboxing legend Buakaw Banchamek will return to Rajadamnern Stadium in RWS Muay Thai in 2023 with two confirmed bouts. Buakaw will compete in both Seeptember and December in Rajadamnern World Series.
Buakaw in Rajadamnern World Series
Before Buakaw Banchamek takes to the professional boxing ring against Manny Pacquiao in 2024, he will step back into Rajadamnern Stadium for two Muay Thai matches, in Legend of Rajadamnern. The Thai-born icon is confirmed to be competing first on Sep. 9, and then on Dec. 2.
With a legendary run in kickboxing and Muay Thai, Buakaw is one of the most important figures in combat sports history. He is a multiple-time K-1 Kickboxing Grand Prix world champion, in addition to earning world titles in Muay Thai. He is an icon to combat sports enthusiasts, and he has earned a status as a living legend.
---
Advertisement

---
Thus far in RWS Muay Thai, Buakaw has competed in three matches. In 2022, he defeated Kota Miura and Yoshihiro Sato both via knockout, and he followed this up with a draw against Oleksandr Yefimenko.
For further details, see the press release below from RWS Muay Thai:
Buakaw is ready to uphold his legacy once more at two Rajadamnern Stadium fights this
9th of September before transitioning into professional boxing.

Buakaw Banchamek is ready for his return to the globally renowned boxing ring in the
Rajadamnern World Series on the 9th of September to put on a riveting fight, with his weapons all out on the line to defend his legacy and honor.

Buakaw, the formidable, premier fighter superstar of Thailand has just turned 41 this past May. Despite being in the game for the last two decades, he remains active in renowned boxing rings with his schedule booked until early next year. Versatile in his mastery, Buakaw delivers well-rounded performances and showcases diverse styles and techniques – from Muay Thai to professional boxing.

Heretofore, the nation's premier fighter superstar ascertains his contribution further to Muay
Thai as the Chairman of the Rajadamnern Stadium Boxing Development Committee, and has
participated in up to three fights in the RWS: Legend of Rajadamnern, which is a part of the
Rajadamnern World Series (RWS), as of last year. This year, Buakaw is back for two more
fights at Rajadamnern Stadium – the first taking place on the 9th of September and the second, on the 2nd of December.


Famed for his K-1 boxing tournament performance in Japan, which constituted several years of
his career, Buakaw was crowned the K-1 World Max 2004 in Tokyo through his win against
Australian Muay Thai fighter John Wayne "The Gunslinger" Parr as well as wins against former
Japanese champions Takayuki "Taishin" Kohiruimaki and Masato Kobayashi, which led him to
become two-time champion of the K-1 tournament in 2004 and 2006, and the first person to do so.

"In the upcoming Legend of Rajadamnern fight, I aim to deliver a rigorous performance that can potentially result in a knockout, not an exhibition match. I take pride in my track record and seek to top it off with a great fight once again this year. My body is ready for its return to the ring."

Buakaw went on to say that his opponent on the Rajadamnern stage will soon be revealed. He
noted that a strong opponent whose fight results in clear, rightful wins is a distinction he
personally prefers to face. Buakaw further guarantees that sports enthusiasts and fanatics alike will be pleased with the reveal.

Fans can now purchase tickets for RWS: Legend of Rajadamnern at rajadamnern.com or tune
in for the live broadcast on Workpoint Channel 23 as well as YouTube via WorkpointOfficial and
Facebook via Workpoint Entertainment and Rajadamnern World Series. Fans tuning in from
outside of Thailand can catch the live broadcast via sports streaming services giant DAZN
available in more than 200 countries and territories worldwide.

RWS: Legend of Rajadamnern last year witnessed Buakaw's TKO victory against rising star
Kota Miura in the third round during August, he then later won against the only who knocked
Buakaw, Yoshihiro Sato, his longtime rival, in the first round by knockout during late October,
and faced Ukrainian prospect fighter Oleksandr Yefimenko in a kickboxing exhibition.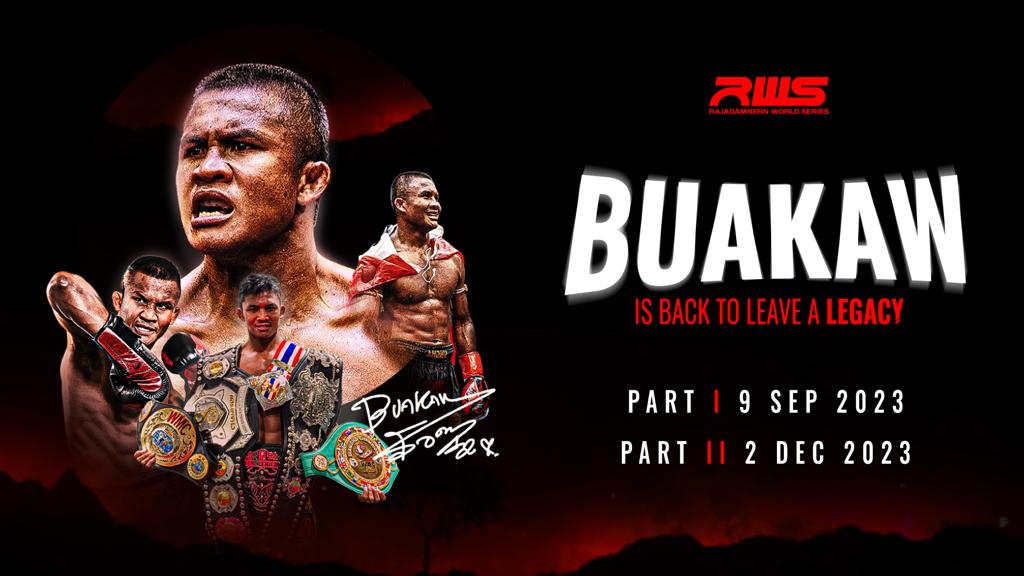 ---
Advertisement

---