The World Series of Fighting made its first touchdown in Tampa, Fla., this past weekend with WSOF 15, headlined by middleweight champion David Branch defending his title against former UFC title challenger Yushin Okami, lightweight champion Justin Gaethje defeating Melvin Guillard and women's strawweight champion Jessica Aguilar defending her belt against a tough Kalindra Faria. Along with these high-profile fights, many local fighters were showcased including Tony Way, Hector Ochoa, Troy Gerhart, Ryan Keenan and debuting pro Matt "The Steamrolla" Frevola.
Frevola grew up in Long Island, N.Y., and his love for being an athlete was evident. However, mixed martial arts was not even on the radar.
"I was always playing sports," Frevola explained to Combat Press. "I was playing football, wrestling and lacrosse. I was a little fat kid until I started wrestling in high school and that really transformed me. That wrestling base really helped me out where I am now. I still have that Long Island wrestling base. But then things didn't work out with lacrosse, and my buddy, actually, we were fooling around in the dorm rooms and he guillotined me. I shot in for a takedown and he guillotined me because he knew jiu-jitsu. I woke up and I was like, 'I gotta learn that!' So he taught me jiu-jitsu, and I started doing it up in Massachusetts for a few months. And then I moved down to Tampa—transferred to the University of Tampa. I found Gracie Tampa South, and I have been training under Matt Arroyo for almost four years now. I went there with good wrestling and I was a brawler, and he really developed me. Now I have the full plate with the wrestling, jiu-jitsu and the striking."
---
Advertisement

---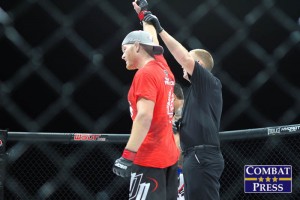 Frevola transitioned almost seamlessly into the MMA scene. He amassed a perfect 8-0 record as an amateur and actually recorded his last amateur win just three weeks prior to his World Series of Fighting pro debut.
"It was a great fight," he recalled. "Before then, my last fight was in September of last year and then I had to go to Missouri for some army training. I was doing military police army training, so I was gone for six months. I was planning on going pro before that, but then I took all that time off and I wanted to get one more fight in and get me back in there. As I was training up for that amateur fight, I found out about WSOF and I was pumped and psyched to get on that."
It seems that his military police training ended up doing more than just help Frevola stay physically in shape. It helped him hone in on his mental focus.
"We actually did some combatives there and it was definitely fun," he said. "I got to do some training while I was there with this guy named Enrique Watson at his school in Missouri. That definitely got me mentally prepared for a training camp and for putting in the long hours. Going to the gym when you are sore and banged up and even though in your mind you're like, 'I should rest my knee. I should rest my ankle,' but you just get out there and you go to the gym and suck it up and get to training."
Frevola was featured as the first fight on the WSOF 15 preliminary card. It didn't take long to see why his nickname is what it is.
"I was definitely working for the finish," Frevola admitted. "I am always looking for the finish. Most of my [amateur] fights are kind of quick, and I'm trying to get in there and be more relaxed. But everything has really worked out for me so far.
"I know I'm going to get in there and keep facing better and better opponents, which I am really excited about. I haven't got to showcase my Muay Thai too much in my fights, and I definitely want to showcase my stand-up in my next fight. I always know that if I want to take it to the ground that I can take it to the ground, and I am very comfortable there."
And comfortable he should be. Frevola trains out of the aforementioned Gracie Tampa South under coaches Arroyo and Rob Kahn, who received his black belt from the legend and MMA pioneer himself, Royce Gracie.
"We got a great team down here in Tampa," boasted Frevola. "We have at least nine or 10 guys on the fight scene and we have a lot of real high-level jiu-jitsu practitioners. We have guys who just train Muay Thai, and you put it all together and we have great coaches there. Matt Arroyo is the man when it comes to jiu-jitsu and MMA, and you know my Muay Thai coach, Dan Rawlings, is just a mastermind with his Muay Thai and how he does his clinch work. I have a great wrestling coach, and we got it all there."
Revisit the other local fighters mentioned earlier who also fought at WSOF and a pattern unfolds. All four of them train alongside Frevola at Gracie Tampa South. The GTS teammates compiled a 4-1 record that evening, including Frevola's first-round armbar victory over opponent Josh Zuckerman.
"It's always a lot better when you have teammates fighting on the same card as you," admitted Frevola, "because we all knew how many weeks out we had and we would push each other to train harder. There was four of us there sparring who had fights coming up, and we would still have five or six guys sparring with us that didn't have fights coming up. So they would be able to come on us in the third round when they are fresh and push the pace on us. We all pushed each other and really helped us get ready for this fight.
"I had a lot of friends there, a lot of family there. It's awesome that the fight was right in here in Tampa, because I love fighting in Tampa. I am hoping that [the WSOF] want me back sometime."
Frevola has a plethora of sparring partners for each of these sessions at GTS, but it all started with one in particular: Billy Quarantillo.
"Me and Billy came to the gym at the same time, about four years ago," Frevola explained. "He was training a little bit before me, and I was going to school and training and he was just training full-time. He's 5-1 as a pro now, and we have been beating each other up for years. We used to live together and we would push each other. I would beat him up and make him do the dishes when we lived together. I mean, he will tell you different. That's how it used to go. We would spar and the loser of the round would have to do dishes. He always ended up doing the dishes."
Going from being an amateur to a professional has its perks and creates a different mindset when it comes to the mental aspect within the fighter. Frevola had his own "aha" moment during the first minute of his debut fight.
"I landed like two elbows on him, and I remember thinking, 'Oh yeah, I can drop elbows here,' and I decided to drop two good elbows on his head while he was against the cage," recalled Frevola. "It was good that I was able to think about that and remember that I could drop elbows.
"I usually feel really comfortable ground-and-pounding. It just feels really good on top, raining down some punches, and now that I can throw some elbows in there too, I am excited. I'm looking for some TKOs, and either use my ground-and-pound to make him quit [or] make him find a way out. Just be on them until they want to find a way out and give me a submission or a TKO. I'll take it."
And what about the ever infamous "Octagon jitters," or in this case, the "Decagon jitters"?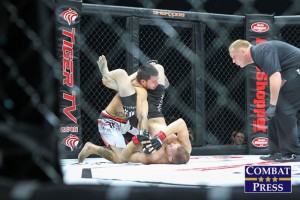 "It wasn't anything different really from any of my other fights," Frevola confessed. "I'm always a little nervous but more excited. I always embrace it and I look forward to it and I expect it. You always get those butterflies in your stomach and you get those butterflies to fly in formation, and that's what I do when I go out there. I embrace it and I love it. That's what it's all about. All the hard work, all the blood, sweat and tears that you put in during training. You go in there and you leave it all in there. You leave everything you got in the cage and whatever the outcome is, win, lose or draw, you are happy about it."
Keeping busy seems to be the plan for Frevola. He obviously has another goal in mind, just like every other young fighter in the MMA world: He wants to fight on the world's biggest stage in arguably the UFC's most competitive division.
"Obviously, get to the UFC and become a world champion, but I am taking it one step at a time," Frevola said of his future plans in the sport. "I've just had a good fight camp and had two victories (one pro, one amateur). I want to go home for summer 4-0. After that, I want to come back and keep getting bigger and better shows, bigger and better fights, and getting some professional belts eventually. I would love to be on The Ultimate Fighter. I think that would be awesome. Then get to the UFC and fight the best in the world."
One thing that comes along with fighters that is becoming a more and more serious issue in MMA today is the unspeakable weight cut. Guillard lost the opportunity for a title shot against Gaethje at WSOF 15 because of a three-pound overage at the weigh-ins. Frevola's opponent also tipped the scales a bit heavy.
"Making weight is huge," Frevola stressed. "I made weight. My opponent didn't make weight. Making weight is huge, especially when you are a professional. For me, not making weight wasn't an option. I was dieting and I was doing the right thing. My weight cut wasn't even really that bad. I had to lose five pounds the day of, and it was really easy.
"It's part of the sport. If you are not going to make weight, that's a loss right there. I could tell when my opponent, Josh, didn't make weight and he looked defeated at the weigh-ins. Just because he stepped on that scale and he was like three pounds over, I could see it in his eyes that he was already beat. It was my first mental victory over him. He couldn't even be disciplined to make weight and the weight cut probably hurt him because he didn't do it right, and, who knows, it could have affected him in the fight. You're supposed to be professional on the big show."
Frevola is a professional now. He took that first mental victory and converted it into a win in his pro debut. His success has given him a sense of confidence, and that confidence shines through in his parting words:
"You can't beat what we have at Gracie Tampa South."
Matt would like to thank his coaches: Matt Arroyo, Jeff Bailey, Dan Rawlings, Kevin Gallagher, Eric Parker and Rob Khan. He would also like to thank everyone at Gracie Tampa South and all the Gracie Tampa gyms, his family for supporting him and his dream and dealing with him when he's grumpy, adding, "I couldn't do it without them. I'm definitely blessed to have all the support that I do. I want to keep training hard. Keep fighting. Keep winning. Keep bringing people together. Every one of my fights is like a family reunion—all my uncles are there [but] my aunts not so much yet." Follow Frevola on Twitter:
@MattFre16
---
Advertisement

---