Humility is something that can get lost in the world of mixed martial arts. Too many egomaniacs want to have the coolest walk-out song, the flashiest Instagram page, the best trash talk, the toughest-looking tattoos or simply the image of a badass. For them, it's more about the spectacle. This is not the true heart of real martial artists. Fortunately, the egomaniacs eventually get weeded out and the purists prevail.
Rafael Lovato, Jr., may be on the newer end of the MMA scene, but the 33-year-old is one of the most decorated competitors in Brazilian Jiu-Jitsu history. His competition record, at black belt alone, consists of 84 wins and 39 losses over the last 12 years. Forty of his wins were by submission, and, in addition to his long list of championship wins, he was the first ever American to win the Brazilian National Jiu-Jitsu Championship as a black belt (2007) and the first American to win the open-weight division (2013). He was also only the third American to win the World Jiu-Jitsu Championship (2007).
In 2014, Lovato entered MMA. After four professional MMA fights in the last two and a half years, he is 4-0 after finishing all of his opponents. He has also won and defended the Legacy Fighting Championship middleweight title. Lovato has had a truly amazing path through martial arts, and there has been exactly zero ego involved.
---
Advertisement

---
"It was a lifetime of training, and following my father in dedicating my life to martial arts," Lovato told Combat Press. "I guess it was just destiny for things to work out the way they did. I'm very grateful for the experience that I'm having in mixed martial arts. It's made me a better overall martial artist and a better jiu-jitsu practitioner. I'm just learning so much about myself and who I am. It's just been a beautiful journey.
"This is my third phase of martial arts. I had my Jeet Kune Do phase when I was a kid — just a child training under my father. My second phase was jiu-jitsu, when I started learning about jiu-jitsu and dedicating my life to that. I tried to achieve as much in the sport as possible. Now, I am in my third phase in mixed martial arts, and it's amazing how it just puts everything together. I'm just learning so much and having a great time."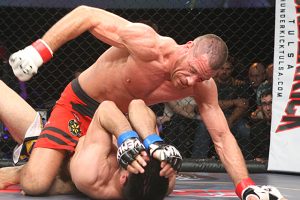 Lovato is probably the most humble badass in the sport today. He is scary on the mat, his stand-up is constantly improving, and every opponent is better than the last. In fact, his last two opponents were very high-level competitors.
"Each fight for me has pretty much gotten a little tougher," Lovato explained. "My third fight — my title fight — was against Marcelo Nunes, which was the first time I went against someone who had a good base. He was a black belt in jiu-jitsu under Robert Drysdale, but he also had several Muay Thai fights where he had finished all of his opponents, so he was also the most well-rounded guy I had fought. That was a good experience for me, because I knew I wasn't going to finish him quick and easy on the ground, and I would have to show all my skills. But, I was still able to take him down and control the match for the most part without running into any difficulty.
"My last fight was the first time where I couldn't take down my opponent quick and easy. I kind of got him down early in the fight, but he got back up, and it became much harder to get him down. From there, I had to fight it out on my feet a little bit, pick my time, and slow things down. That was the first time I really felt that, and that was really good for my development to get in that sort of fight and really see how I reacted. I remained calm, I didn't get tired, and I stayed confident that I would eventually get him down to finish, and I was able to do so."
Lovato's last opponent was Bellator veteran Cortez Coleman in Lovato's one and only Legacy title defense. Coleman took the champ into the third round for the first time in his short career, and Lovato reacted favorably. With 56 seconds left in the third, he secured an armlock and tapped out the vet. That was in November. With the merger of Legacy and the Resurrection Fighting Alliance, Lovato finished out the year as the last Legacy middleweight titleholder. Bellator saw a great opportunity and did not hesitate to make an offer. On Friday night, at Bellator 174, Lovato will make his promotional debut.
"I'm super excited," Lovato said. "I've seen their growth. They're doing some awesome things, and they're signing some top talent and some of the best guys in the world. I've only been to one Bellator, and it was several years ago. I was cornering one of my students at the time, Jared Hess, and it was still early on in Bellator's life. To see where they are from then is amazing. I think it's the perfect fit."
For his debut, Lovato will face Wayman Carter, a 38-year-old, 6-foot-4 middleweight out of Topeka, Kan. Carter is 7-4 as a pro and has four submissions under his belt. He likes to strike, too.
"There's very little video of him," said Lovato. "From what I can see, looking at his record, most of his wins are by submission. However, most of his losses are by submission, too. He's tall. He's actually taller than me, which is rare, so that will be a little bit of a change. Normally, I have a height advantage in this weight class. I can imagine he's going to try to keep it on the feet and use his length. That's about all I can envision. It does seem like he is comfortable going to the ground, because he does have quite a few submission victories. So, we'll see what happens.
"Basically, I just want to put it all together — the best I have yet. I'm not looking to go out there to try to stand and bang, but I do want to show that I am complete. I want to show that I have a beautiful transition from the stand-up into the clinch into the ground, and definitely end with a finish."
With backgrounds in JKD and BJJ, Lovato already has a well-rounded background in mixed martial arts. While he spent many years training in Brazil with brothers Saulo and Xande Ribeiro, two of the greatest competitors and instructors in BJJ history, he made his way back for his striking training as well.
"For MMA, I do bring people in to help me at home, but the biggest chunk of my hard, hard training I do in Curitiba, Brazil at the Evolucao Thai Academy there," explained Lovato. "It's an amazing place. The coach down there, Andre Veio, he's just an amazing teacher, an amazing coach, an amazing leader, and he has just a squad of raw, talented, hungry, up-and-coming guys.
"He also has several UFC guys. Wanderlei [Silva] trains there. I actually trained with Wanderlei quite a bit during my stay there. It's perfect, because they're all pretty much stand-up specialists [and] Muay Thai specialists. It's the perfect complement to my game. Where I'm weakest, they're strongest, and it's just been amazing. This is now my fifth time to train with them down there, and I really feel like I've improved so much and I've really sort of adopted their style. It's all starting to click."
Friday night is going to bring the next evolution of Lovato. He is a portrait of growth and proof that martial arts is a lifelong learning process. Regardless of how good someone thinks they are, there is always room for improvement. The sooner the young egomaniacs figure that out, the brighter their futures will be.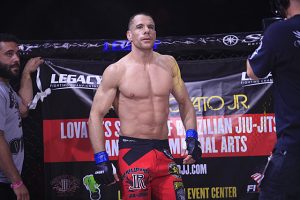 As his MMA career continues to grow, Lovato will always keep his roots in BJJ. He is one of the best competitors to ever grace the mat. Even with all that he has accomplished so far, he has no intentions of losing his BJJ spirit.
"I want to keep my jiu-jitsu sharp, and I have a huge grappling match against [Marcus] 'Buchecha' [Almeida] six weeks after this fight, and I'm really excited for that," Lovato said. "I want to stay busy. I want to keep the adrenaline pumping. I like to have something always pushing me and something to focus on. Obviously, I love jiu-jitsu and I don't want to get too far away from that. I want to keep my jiu-jitsu sharp, because that's what got me to where I am today. I think you'll only see me do superfights, but I did just receive my invitation for ADCC in September, and I do plan to compete there. I want to go after that title one more time."
Lovato is a true badass, but he is very humble in his wins as well as his losses. He doesn't talk trash on social media, he doesn't worry about his image, and he doesn't incite drama. He shows up, gets the job done, and always stays hungry to grow in the arts. On Friday night, he will be ready to show the Bellator world just how dangerous an attitude of gratitude can be.
"I think I might bring a little something different to the table nowadays," he said. "With the growth of the MMA world, you see a lot of people who really train to fight, who put into their mind that 'I want to fight [and] I want to be a champion in the sport of MMA.' They really train for fighting.
"I train because I'm a martial artist. I grew up that way. I have an old-school belief and an old-school lineage, going back to the jiu-jitsu roots, not the Muay Thai roots that I have now, and my father's roots. It's something I have a lot of pride in, and I'm grateful for my martial arts journey. It's 100 percent what I represent out there. I'm not fighting for money. I'm not fighting for fame. It's not like that at all. It's so much different for me. It's so much deeper than that."
Lovato has had such a long and amazing journey that he would like to thank everybody who has been a part of it. Whether it's his teachers, his father, the Ribeiro brothers, Mauricio and Andre Veio, his family his wife, his students, and the whole jiu-jitsu world, he is grateful for everyone.
---
Advertisement

---