The path of life is rarely a straight line. Some think it's due to the way a butterfly flaps its wings on the other side of the world. Others think it's due to divine intervention. At the end of the day, nobody knows why the path is ever linear, but that's what makes life so interesting.
Professional mixed martial artist Jinh Yu Frey has led a life of twists and turns. Her family was into taekwondo, but that wasn't her calling. Instead, she pursued a degree that led to a career in radiology and continued on to work toward an MBA. One day, when a guy showed interest in her sister, she did not know that would lead to her own marriage. She also had no idea that when she cold-cocked Darla Harris three years ago, it would lead to viral video fame. While all of these twists and turns in life led Frey down a zigzag path, it has now become clear that it was all leading her straight into a career as a pro fighter.
A few years ago, the Texas native was still early in her fighting career. She had a full-time job working in radiology. She ultimately decided that, while she enjoyed her job, she didn't see much longevity in that path.
---
Advertisement

---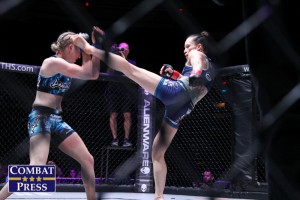 "It's not that I wasn't happy with what I was doing. I just knew I didn't want to do it long-term for the rest of my life — getting constant radiation exposure, getting constantly exposed to potentially infectious diseases," Frey told Combat Press. "So, I went ahead and decided to go back and get a master's degree. Then, fighting took off, and that's not something I really had anticipated or planned. So, I just decided to go ahead and run with it. As far as my career goes, I don't really know what I'll be doing. I don't really have any plans. I'm just going to take it as it comes."
After the Harris knockout, Frey entered the ranks of elite women fighters when she joined Invicta FC. She dropped her promotional debut by split decision, but has since gone on a three-fight winning streak, including a victory over former atomweight champ Herica Tiburcio in her last outing. That win put her in line for a title shot, which she'll get Friday night at Invicta FC 19 at the Scottish Rite Temple in Kansas City, Mo.
"Going into that last card, I was a pretty big underdog, at least on paper," Frey explained. "I really had no idea I was the biggest underdog on the card. I decided to zone out on all of that and not concentrate on what all the analysts were saying. I don't think a single person had picked me to win that fight, but I trusted in the process, I trusted in my coaches, and I went in there knowing that I could come out on top. I really tried to emphasize that I need to believe in my skill set."
For tomorrow's title fight, Frey will face current champion Ayaka Hamasaki. Hamasaki is a kickboxer and a judo black belt. She was the Jewels lightweight champion before crossing the pond to fight for Invicta. Hamasaki is a very well-rounded fighter, and, at 13-1, her only loss came to UFC strawweight title contender Claudia Gadelha at Invicta FC 6 over three years ago. Hamasaki was the one to take Tiburcio's strap. She has defended it once with a submission of Amber Brown in March.
In preparation for the next step of her fighting career, Frey has dialed her hospital job back to a part-time, on-call basis, and has taken on training as her full-time career. The crooked path continues to bend, but the focus is very linear. She is ready to be a champion.
"I'm really excited," said the challenger. "Not very many people really get the opportunity to chase their dreams. Not very many people have the opportunity to compete and say that they're the best in the world at something. I have that opportunity and I fully plan on seizing it."
There is no delusion in Frey's dream. She fully understands that Hamasaki is no cake walk. The Japanese fighter has been in the game longer and fought for the title. However, Frey has a size advantage, and she feels her training with her coach Steven Wright, her husband Doug Frey, and all of her other coaches and training partners has provided her with the tools she needs to come out on top.
"It's been good — hard," Frey said. "I've been working with Steven Wright for my last two camps. We were just kind of nomadic before, but now he's got a permanent spot. It's pretty much the same group of people.
"I know she's a pretty crafty veteran. I know she's got quite a bit of experience. Her only loss is to Claudia Gadelha, so that speaks very highly of her. I know she's got a pretty strong grappling base. But I've got a pretty strong striking base, and my husband and I work a lot on my explosiveness, power and quickness. I've been working very heavily on my wrestling, so, hopefully, that will negate some of her judo."
All of the preparation is there, but sometimes it can be hard to identify where the improvements actually are to be found. It takes a great deal of trust in the process, because when a person is entrenched in something day-in and day-out, it is hard to see the differences.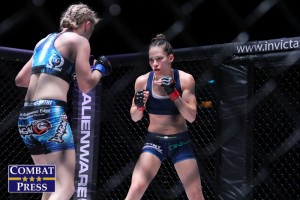 "I'm a perfectionist, and I always want to do everything perfect. So, even if I go out there and win, I'm picking my performance apart with things I want to do better," Frey elaborated. "Because I see my performance from day to day, it's hard to see what someone else might see who hasn't seen me in a while. They see a marked difference. When you see yourself every day, it's hard to notice the changes."
When Frey is not training or working, she primarily focuses on rest and recovery. She and her husband like to catch up on some TV shows and ultimately just hang out.
"We've been re-watching Breaking Bad, and my husband just got into Narcos," Frey said. "There's a Netflix original that just came out called Stranger Things, and that's been a good one."
Frey has had a winding path in life that has funneled down to a title shot in the top women's MMA organization. Life has led her straight to her dream of becoming a world champion.
"I want people to think that I'm an exciting fighter, and if they hear I'm fighting, I want them to be interested. Regardless of whether I win or lose, I want them to say, 'This girl goes in there and puts on great performances. She's technical. It's not sloppy.' I would just like to be known as a great fighter."
Frey would like to thank her camp, coaches, husband, nutritionist, family, friends, fans and sponsors. Follow Jinh on Twitter:
@littleroo1two
---
Advertisement

---