When one sits down to write about MMA fighters, it's easy to fall into analogies of gods and goddesses or legendary warriors. And it's easy for us to forget that those fighters are real people with real struggles, real problems and real lives. It's really easy for the casual fan to think that all the fighters do is eat, train, sleep, repeat.
And maybe for the young single guys and girls, that is the way they live. But there are a lot of fighters who are single moms or single dads, making ends meet and juggling the needs of their children along with the needs of their training. Even for a fighter who has a spouse, the struggle is real.
Adrienna "AJ" Jenkins has been fighting professionally since 2004. She was fighting in MMA before fighting in MMA was cool, much less women fighting in MMA. With a very respectable record of 18-6, it's no surprise she is fighting for one of the best promotions in the United States or even the world. And she does it while juggling the needs of her two boys and her careers.
---
Advertisement

---
Luckily, her careers are congruous. Jenkins teaches Pilates, spin and kettle bells at the gym, and she also works as a personal trainer. Her boys, ages 2 and 7, spend a lot of time at the gym with her when they are not in school. It's a lot of back and forth, feeding, entertaining, cleaning, clothing and so on. Just being a stay-at-home parent is stressful enough, but add on two careers and a spouse and it does sound a little superhero-ish.
"Sure, it's hard being a mom and fighter; multitasking is hard," said Jenkins, her response accompanied by laughter. "Male fighters do seem to have it easier. Rarely are they like the females, bringing the kids to the gym. It seems like most of them drop off their kids. My kids come to the gym with me, unless they are in school. When I am training, they are there. When I am teaching class, they're there. My 7-year-old is in wrestling right now, and if he asked to train, I would let them, but I am not going to try pressure them into it."
If you look at her fight history, one fact jumps out. From January 2004 to January 2010, all 19 of her fights ended in the first round. Only two of those fights were losses. Jenkins likes to finish fights and she likes to finish them in a hurry. She has only been to a decision one time, but she trains as if every fight were a five-round championship.
Her last outing didn't end the way she wanted, though. Jenkins replaced Alexis Dufresne when Dufresne had to withdraw from her fight against Aussie boxer Arlene Blencowe. Jenkins took the fight with only six weeks' notice, making her Bellator debut in May.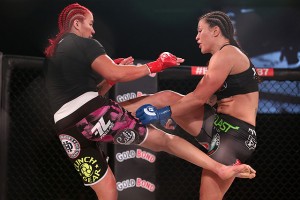 "I wasn't knocked out in the fight, but I was overwhelmed," Jenkins admitted. "I remember thinking it wouldn't be shameful if I did get knocked out by a world-champion boxer. At the beginning, she was a little timid, but she warmed right up. I was just overwhelmed.
"Since the fight, Arlene and I have become friends. She trained at our gym — with her coaches and stuff, but we invited her to use our facilities. [Featherweight is] a smaller division and we know we are going to have to interact and we may even meet again, but I am a fan of hers. Maybe it's because we are both mothers, but we just hit it off. She is an amazing athlete and a great fighter."
On Friday night, Bellator will make more history in the realm of women's MMA. In all its years of women's fights, the company has never had more than one women's bout on a card. Bellator 141 will feature three. Maria Rios and Ilima-Lei Macfarlane will lead off the women's action, followed by Adrienna Jenkins against Lissette Neri and then Arlene Blencowe and Marloes Coenen.
"Bellator is a great promotion," said Jenkins. "They take great care of their fighters. They compensate us well, they make us feel wanted, and they communicate very well. When you take a last-minute fight, some other promotions tend to treat you more like a product. I knew some of the Bellator employees from Hawaii, so it was easy to feel like coming to Bellator was like coming home.
"They had a driver take us around. Itinerary. They told us what they expected and when we were supposed to be there. I think they lean to a more professional image of fighters and they definitely have organization down in the whole. Being a part of this historical card is a real bonus."
Jenkins has to overcome the fiery Neri. While Neri doesn't have nearly the same amount of experience as Jenkins, she does have a fair amount of first-round finishes.
"She doesn't care where the fight goes — on the feet, on the ground, against the cage. She is comfortable no matter where we go," said Jenkins. "She is shorter in stature, so she likes to get against the cage and take away that reach advantage. And that's great, because we work against the cage a lot!
"She is great at wrestling and so am I. She is used to pressuring her opponents, but I plan on bringing the pressure to her. Coming off the loss, I want to put on a dominating performance. I want to be the one to bring the fight to her.
"I learned a lot from the loss. I don't think the short notice had any effect on my conditioning, but, taking the fight on short notice, I didn't focus enough on technique. This time, with a full fight camp, I am able to make sure my conditioning is peaking and still keep the main focus on my skills. This division is tough. Arlene felt so much bigger than me. Neri is more my size. I don't think she is going to throw me around."
Jenkins may not be a goddess, per se. She may not even have superhero abilities. But it's clear that to her boys and her Marine, she is Super-Mom.
Adrienna would like to thank her sponsors: Jeff and Greg with Clinch Gear, Perfect Tan, Joshua with Option Nutrition, Chris with Nutrishop Murrieta, Lea Roberts with Primal Cravings, and DHAFC. She also would like to add her personal thanks "to Jeremy King, my Marine that works day in and day out but makes it a point to be a part of my chase for the dream. Thank you. A special thank you to my boys. Hopefully one day you will read this and know you are every reason to me. I hope I can make you proud. And to my coaches and teammates. Life is so much harder [laughs] and awesome with you in it. Thank you for all your time and knowledge. Thanks to my clients for being so flexible during my camps. You guys rock. And our rad members of DHAFC. You guys are always so supportive of your fighters, win or lose, and we appreciate you being a part of our family. Follow Jenkins on
Facebook
.
---
Advertisement

---