A successful combination of competing and marketing is Chris Lee Byrne's key to building himself and those under him.
Lee Byrne heads up Munda Jiu Jitsu, a BJJ team housed inside the Adrenaline Training Center in London, Ontario. At 23 years old, Lee Byrne got involved in the joint manipulation game and before long, he tried his hand in the hurt business that is MMA.
Lee Byrne will next showcase his talents at Hard Knocks FC 46 on Oct. 23 at the Markin MacPhail Centre in Calgary, Alberta. Taking the bout on short notice, Lee Byrne had less than two weeks to prepare for his opposition, Phil Towler. It's certainly not an ideal fight camp, nor does it leave him much time to sell the fight, but Lee Byrne's outgoing personality and entertaining social media presence commands attention at all times and that assists with ticket sales.
---
Advertisement

---
Hilarity, witty observations, smack talk and a steady flow of combat sports related topics can be found daily on Lee Byrne's Facebook account. He is well aware of the benefits of being a marketable fighter — even though he is being himself and not putting on an act — he comprehends that marketability only goes so far without competition.
"I care about marketing and branding because I get that it helps making sure people are paying attention to what you're doing, but I'm all about competing," Lee Byrne told Combat Press. "I can't be someone I'm not. I'm going to say what I say and people are not always going to agree with it and they may get pissed off, but I'm myself. Not a lot of people have made the money I've made with only two fights. People would be shocked, like, completely shocked if they knew and it's because I sell tickets. Sometimes I think if I should post something, but people message me all the time and say to keep it up. I'm making more than some of the guys in the UFC off Reebok."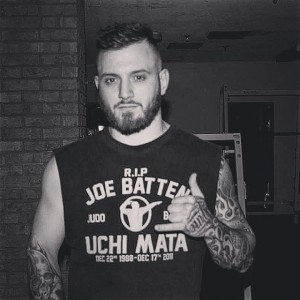 While competing in combat sports is Lee Byrne's passion, his fight at HK 46 allows him to do more than simply test his mettle.
A Calgary native, Lee Byrne started jiu-jitsu there about eight years ago when he began studying under the Carlson Gracie system. The BJJ purple belt was in attendance at HK 3 and has been a supporter ever since. As a supporter of regional MMA shows in his now home province of Ontario, Lee Byrne longed for a chance to compete under the Hard Knocks banner. When this opportunity presented itself, Lee Byrne couldn't let it pass by, even though he had some concerns when he first received the call.
"(Towler) kept having people drop out on him and the matchmaker, Sarah Howell, she messaged me and was like we need to support this guy," Lee Byrne said. "He's had a couple amateur fights with under-a-minute finishes and he's a brown belt in jiu-jitsu, so on paper he should be better than me at jiu-jitsu. They asked if I want to do it and it was like a week's notice so I didn't really want to fucking do it, but I asked what he said and they said he accepted so I was like fuck yeah, let's do it. Fuck him, I accept too. Let's go."
Lee Byrne is never scared like a Bone Crusher song, but taking bouts that he's clearly outmatched in is senseless. Lee Byrne has made a name for himself on the jiu-jitsu circuit and his foray into mixed martial arts has been successful thus far, which is making it difficult to secure opponents. Therefore, he is in a position where he is forced to take what he can get.
After entering the sport late, he realizes it's not possible to be like the Rory MacDonalds of the game that dedicated their lives to MMA at a young age. Without the chance to take it slow and strategically select fights to help grow his career, the middleweight has opted to throw caution to the wind and get it while the getting is good.
"I don't even care anymore; I just don't give a fuck," Lee Byrne said. "I'm going to fight anyone and see what happens. I'm going to keep hitting mitts with these high-level dudes and keep getting the shit kicked out of me in sparring and I'm going to keep doing jiu-jitsu tournaments. The guys who want to fight me are way more experienced and probably going to whoop my ass, but the guys at my level don't really want to fight me. I don't have much of a choice at this point, so fuck it, let's do it."
The fight anyone, anywhere, anytime attitude is seldom seen this day in MMA. Fortunately, Lee Byrne is with a team consisting of fighters that are cut from that old school cloth.
Adrenaline Training Center is owned and operated by former UFC featherweight No. 1 contender Mark Hominick, former UFC lightweight Sam Stout and MMA veteran Chris Horodecki. Those three are the spawn of the late, great Shawn Tompkins and the Team Tompkins striking system, so their knowledge and experience, especially in the kickboxing department, is priceless when it comes to helping a BJJ-based fighter such as Lee Byrne.
"As a jiu-jitsu guy, if I go to a pro sparring session there's some pretty high-level strikers there," Lee Byrne said. "So even being a shitty striker at Adrenaline, which is what I would consider myself, makes me a pretty good striker at other gyms. I'm in the oven all the time there.
"These guys at Adrenaline are anti jiu-jitsu, they're like reverse wrestlers with high-level kickboxing. I'm working with them a lot so it prepares me for a worst-case scenario."
It may seem as if Lee Byrne just wants to compete, which isn't necessarily false, but he does have an end goal in mind. Competition, whether it is on the jiu-jitsu mats or in the cage, is what keeps Lee Byrne ticking, but his success is intended to build Munda Jiu Jitsu and then accomplish personal goals.
"I want to get my jiu-jitsu team to 200 or 300 members so it makes some amazing income and then try to make a major organization; Bellator, the UFC, wherever I can," he said.
---
Advertisement

---