The student sits in an uncomfortable wooden chair in the crowded classroom. It's the end of the school year, and that means one inevitability is upon this student. Exams are here. The time has come for this student to prove his worth. As pencils scratch across paper, a deep concentration settles in for each and every inhabitant of the room. The silence calms some. It sends others into a state of anxiety.
Luckily, Regis Muyambo doesn't have to worry about the silence. He doesn't have to worry about what to do when there are only 10 minutes left of exam time and the sheet of paper in front of him remains blank. In Muyambo's case, there was no classroom. Pencils were replaced by fists. You see, Muyambo's exam took place in an entirely different setting. His test came when he first entered the famed EFC Hexagon. And he passed.
Now, Muyambo is learning every day that he steps into the gym. He's young and eager to expand his knowledge. Unlike your typical student, he loves his exams.
---
Advertisement

---
"I love the fact [competing] feels like school," Muyambo told Combat Press. "Training is like going to class and the fight is the test or exam, only in this examination you're getting punched in the face. Fighting teaches you a lot of life lessons and discipline, something I think a lot of people need these days. I would recommend any parent to send their child to do some boxing, kickboxing or MMA classes. This could help them stay on the straight and narrow."
When Muyambo won his first two professional bouts, he was tagged as a prospect for the EFC Worldwide orginization. Then, he entered the Hexagon for the third time of his career. It was his second fight of 2014 and he was facing the brother of his last opponent. Muyambo lost the fight. He lost his next outing, too.
"It's never easy coming off two losses, but win, lose or draw, I do it for the love of the sport and the love of competing," Muyambo explained. "I didn't do my best. [Igeu] Kabesa was the better man that night, and I have a ton of respect for the young man."
When Muyambo first stepped into action for EFC at EFC 25 in 2013, it was like nothing that he had experienced before as a competitor.
"It's incredible — the atmosphere, the cheering — it's an experience," Muyambo said. "The sport has grown in leaps and bounds here in South Africa. I can't wait to see what type of athletes the sport will have in five or 10 years from now."
Although he only has four fights to his name, Muyambo doesn't see himself as a beginner when he dons the gloves.
"I feel like I have a lot experience, too," Muyambo said. "I had a large, long amateur career. And it might not be the same, but that, I feel, will help me stay calm and composed when I'm in a bad situation."
When Muyambo started off 2014 with a win, things were looking up for the young fighter. With his back-to-back losses behind him, he now looks to start off 2015 the exact same way he started off last year. When he walks into the Hex at EFC 39 on May 7, it is all about showing what he learned from his dual setbacks.
"Getting the 'W' at the beginning of this year would mean the world to me," Muyambo said. "Like they say, hard work pays off. I'm a dedicated martial artist and love the sport. I can't wait to see how I've improved in the cage and out of it."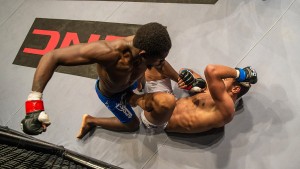 In his first bout back following his losses, Muyambo will have a former champion standing opposite him inside the Hexagon. Don Madge has fought some of the biggest names in Africa in his recent bouts. While Madge may not have come out with his hand raised, it's still a big opportunity for Muyambo to battle a well-known fighter. In terms of name value, Madge will certainly be the favorite, but it doesn't matter to Muyambo. The more people talk about Madge, the bigger the shock will be if Muyambo walks out of the Hex as the victor.
"I can't wait to get back in shape and fight again. It took five months to get back in the Hex," Muyambo said. "I am truly excited to put on a show against one of the division's finest. It's just like any other fight. People say what's on their mind, but while they are typing, it's just going to be him and I in that cage.
"He is going to be my toughest test to date. I am looking forward to being the David and him the Goliath in this story. [A win] can do incredible things for my career. He has a big name and a huge following."
Regis would like to thank all of his sponsors for sticking by him and always helping him push himself and grow as an athlete and a person. He extends a thanks to: GNC, Apocalypse Fight Gear, MMA Africa, MAX Mouthguards, Fragrance Emporium, 7 Stars Energy Drink, The Coffee Mob, Thaiholics, Gracie Cape Town, Marcel Smit, Panther Fighting Arts and Fitness Academy and Navworld. Follow Muyambo on Twitter:
@th3_ReeG
---
Advertisement

---