It's a cliché to say that a specific endeavor "runs in the family." But in Steve Swanson's case, mixed martial arts certainly qualifies.
If Swanson's last name sounds familiar, it should. He's the older brother of UFC featherweight Cub Swanson. The pursuit of similar athletic endeavors has always been a tradition for Steve, Cub and their other brother, Aaron.
"Growing up with three brothers, we were all doing soccer at age 4 and we noticed our athletic ability," Steve Swanson told Combat Press. "We were fast and agile, and we all wanted to be pros. I also wanted to play football and baseball, but we caught on fast to MMA. Since we wanted to be pro athletes, we couldn't keep doing soccer."
---
Advertisement

---
Cub was the first of his brothers to take up jiu-jitsu. He did so at around the age of 20, and Steve soon followed suit.
"I wasn't doing much of anything," said Steve. "We grew up rugged, and we fought all the time. Cub came to me to try jiu-jitsu, so I came back home and took some amateur fights."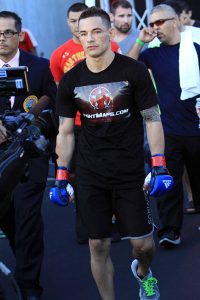 An ego check is in order when someone trains in MMA, period. But it's especially tough when someone that someone is your own brother.
"From a coaching standpoint, I couldn't let my ego go," Steve said. "We went hard at first, but [Cub] just wanted to help me. We were competitive as kids, and Cub would be pissed if he didn't win. We spar with each other a lot, and it's awesome."
Cub also helps Steve with the mental aspect of MMA.
"The biggest part of the fight wasn't my opponent; it was me," said Steve. "I would psych myself out in my own head and tell myself I could do it. Cub told me it was all in my mind. He told me you can push through and that it was totally up to me. If I wanted to have a great camp and fight, I could. But if I wanted to just half-ass it, then I would."
Cub's mental coaching helped Steve rebound from a two-fight skid in 2013, which was preceded by wins in Steve's first 10 professional fights. He has since won four fights in a row following his brief losing streak, and he brings his overall record of 14-2 to the 10th edition of the Combate Americas fight card in Mexico City on Jan. 19.
Both Swanson and his opponent, Gustavo Lopez, who holds a 6-2 mark, were late additions to the card. While Swanson has watched a little tape on Lopez and knows him to be a "stand-up guy and a good fighter," he's not psyching himself out this time around.
"I worried about making it to the big show for so long, but now I just take it one fight at time," Swanson said. "I'm just enjoying it."
Swanson's fight against Lopez later this month won't be the first time he's visited Mexico. He spent some time in Tijuana while taking part in a Swedish reality show called Allt for Sverig. He also got to visit Sweden itself during his time on the show, where he checked in with some of his Swedish relatives and spent some time training at the gym of UFC light heavyweight Alexander Gustafsson.
"We also lived like Vikings for a week and did what they did, which included not showering," Swanson said. "It opened up my world to a whole bunch of new things."
Steve also watched his brother Cub's recent fight against Doo Ho Choi at UFC 206 last month.
"Cub never looked better," he said. "He never stopped working hard, and he got bigger, stronger and faster."
Steve was in charge of arranging the viewing party for Cub's fight against Choi, which was considered by many to be the best fight of 2016.
"People wrote him off, but he destroyed that guy in that fight," Steve said of his brother. "Cub is a lot more reserved. I don't mind talking shit, but he lets his work do the talking. He's nicer than I am."
Although Steve enjoys sparring with his brother and considers him to be the nicer person, don't count on the brothers Swanson stepping into the cage to face each other anytime soon.
"I'm a big 125-, 135-pounder, and he's a 145-pounder," Steve said. "He would kick my ass for sure."
Swanson would like to thank his coaches, including the Diaz brothers, and his family.
---
Advertisement

---