The UFC is often referred to as the proving grounds for the best fighters in the world. Some fighters achieve their dream and shine under the bright lights. Others experience a more turbulent path once they arrive and end up on the chopping block. Those fighters must build their way back up the ladder to get a second chance. Walel "The Gazelle" Watson is one of those fighters.
Watson was cut from the UFC after a 1-3 stretch in which he dropped decisions to Yves Jabouin and current bantamweight champion T.J. Dillashaw and was submitted by Mitch Gagnon. After posting a 2-2 record following his UFC release, Watson made a statement in his Titan Fighting Championship debut when he defeated William Joplin in the third round via rear-naked choke. Watson followed the fight with a performance that should have been a hearty candidate for "Comeback of the Year" when he took on Anthony Gutierrez at Titan FC 30. Watson weathered an early storm but was able to lock in the fight-ending triangle. As Watson recalls, he wasn't really sure what had happened.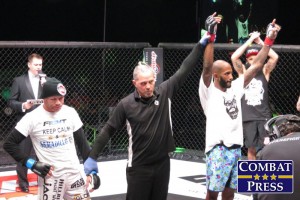 "The first couple minutes after the Gutierrez fight was insane for me because I couldn't remember anything," Watson admitted to Combat Press. "I was still dazed and I really didn't remember anything until I started watching the fight and I started getting flashbacks. Everything was just a blur. I knew I came out there and I got clipped, and everything was just up and down. The room was up, the room was down and the room was spinning. I was seeing feet, knees, fists, and everything was just all over the place. It wasn't until probably three or four hours later when we were sitting around eating and the fight pops up on TV and that's when I first started recalling things from the fight. Before that, I didn't know what had happened."
---
Advertisement

---
It's not very often that a fighter can overcome the adversity that Watson had to overcome that night against Gutierrez. Watson was able to show that even in times of confusion the skills that he has acquired under the legendary Eddie Bravo reign supreme. Bravo was in Watson's corner that night and couldn't be more proud of his pupil.
"Oh man, he was super proud. He couldn't even say anything. All he could do was scream," Watson recalled. "We're just staring at each other and I'm screaming, 'Jiu-jitsu!' and he's just screaming. It was a great moment for both of us because of all the hard work that I have been putting in and having him take me under his wing and to be able to get back and show the system live. These are all Eddie's teachings, and I have been doing all of them. It's just been an honor. The up-kicks definitely helped a lot. [Gutierrez] was definitely rocked when he fell into my guard and he relaxed for a split second — not even a second, like a half a second — and I felt his arms relaxed. Other than that, it's technique and that 10th Planet system, and that flexibility really makes a difference in your game.
"I roll with nothing but killers every single day. Black belts and brown belts and even our blue belts are killers, and they are chasing me right now. If I relax for a split second or half a second, they will catch me. So, when you got partners like that and a coach like that, your game is going to stay on a high level. Like I said, when we hit the ground, it's not if I'm going to sub you, it's a matter of when I'm going to sub you. That's the beauty of jiu-jitsu. You always have to be on your toes."
Obviously, Watson's performance turned some heads and impressed the right people. The result? He is fighting for the inaugural Titan FC bantamweight title in his upcoming bout.
"Oh man, it's an honor to have the opportunity to fight for the Titan FC world title and to be the first one [and], exactly like you said, to have my name ingrained forever in the history of this promotion," exclaimed Watson. "And I know when we go out on March 20th, that's exactly what's going to happen. I'm going to leave my name in the history books. I'm going to put on a great fight, and I'm going to come home and bring that belt back to San Diego."
Brett Johns will be the man standing across the cage from Watson at Titan FC 33. Johns is an undefeated prospect hailing from the United Kingdom. He will be making his Titan FC debut and fighting in the United States for the very first time. For every fighter, a new opponent poses new challenges within the fight itself.
"The challenge, especially at my weight class, is always going to be the height and size difference," Watson explained. "I'm always going to be dealing with short, stocky guys. Anthony [Gutierrez] was one of the first times that I got someone lanky like me, and I like those better because it's easier to tie those guys up. They're not super solid and stocky, so that's going to be a little run-in that I might have with him.
"But his style… I mean, he's a grinder. He likes to be on top, he likes to smash and I don't mind working off my back. I am very comfortable off my back and I'm very fluent off my back. I have multiple, multiple, multiple attacks. I have been working on some new things that no one has seen yet, so I'm excited. I'm excited if we want to grapple. I've also been working diligently on my hands with seven-time champion boxing Hall of Famer Tiger Smalls, and I'm about to shock the world with my hands this time, too. March 20th.
"Tell people not to sleep on that day. That fight is going to be an awesome fight between me and 'The Pikey.' I know he brings a lot of heart and he won a tournament where it was three fights in one night, so the kid's got heart. He's got that fight in him. You can't have anything less than a fight in you to win three fights in one night to become a champion. But this is my time, and I've trained and I've put in the work to be ready for this moment before I even knew I was fighting 'Pikey.' I was getting ready in my head to fight and be a champion. Here I am. It's my time."
Watson's confidence is at an all-time high, and some recent comments from Johns may have boosted that confidence even more.
"He's already downplaying himself," Watson pointed out. "He's already saying that I am going to catch him. He already admitted to that by saying if I can catch him, that I am going to win. That's the only way I win any fight. If you look at me, I've got 13 wins and 13 finishes. That's the only way I know how to win. I don't come to a fight praying for decision. I don't come looking to ride it out. If we go 25 minutes, in that 24th minute with 36 seconds left, I'm still going to be shooting for a finish. That's all I know and that's all I want. When my career is said and done, and say I never become a world champion, my finish percentage will be 100 percent, because I will finish everybody in the route to a win. I will not win by a decision ever. The only way you win by decision is if you start off strong and then you coast. I don't coast. I'm here to finish fights. I'm here to win fights. I'm trying to be one of the only [fighters] to finish all my wins.
"Again, I have no disrespect towards [Johns], but I am telling you this right now: he's already doubting himself. He's doubting the weight cut and he's saying he's going to get caught. I'm telling you this about him. He's a great fighter. He's a grinder. He will probably win after fighting me, and he'll continue to win and he'll have a great career, but when he steps in the cage versus Walel 'The Gazelle' Watson and all my hard work and all my preparation, there's just nothing that is going to change that. Anthony Gutierrez tried and knock me out twice and I still came back.
"You're going to have to cut my chest open, take my heart out, cut the plugs off and then pray that I don't zombie up and wake up and start Walking Dead up in there, because that's how bad I want this. That's how much I love this. That's how much I believe in me, in my team, in my coaches and everything that we have done and everything that I have done to this moment right here. Lightning could strike down and hit me, and I'm still gonna walk up in that cage and fight. That's how much I believe with every single part of my being and my soul, and I will bring that belt back."
Watson's increased confidence can also be attributed to his training regimen. As most fighters nowadays are more prone to do, Watson splits his time between multiple gyms to obtain access to some of the best training partners and a variety of training that has benefited Watson in more ways than one.
"Definitely worked on my hands more," Watson explained. "That's something I had to work on a little bit more. I definitely worked on my wrestling, and he's not so much of a wrestler [as] he is a judo guy. I've always been working on my wrestling [because] that's always been a weak part of my game since I was in the UFC. The wrestling was something that I had a problem with. I got all kinds of little things up my sleeve come March 20th, whether it's wrestling or whether it's judo. We all know in jiu-jitsu that you don't want to blink when I am on the ground. My hands are just really coming together and my stand-up's really coming together. I'm excited. I'm not trying to say that I am cocky. I'm just so confident in what's been happening with me and my camp. You don't know how much I have got to learn and focus and really hone in. I'm a completely different guy and I'm really coming into my own."
With a victory, Watson will not only claim the inaugural bantamweight crown, but he will have amassed a 5-2 record since his release from the UFC. So many fighters do whatever they can to make it back and seem to be willing to fight anybody and everybody, regardless of promotion or ranking. Watson has decided that he wants one thing and one thing only.
"I just want to fight the best guys in the world," he admitted. "If, after beating 'Pikey,' the best guy presents himself in Titan, I'll take that. If the best guy presents himself in the UFC, I'll take that. Whoever is the next best guy in the world. I keep telling people that when I am done fighting, I never want to say, 'Well, I never fought in this region,' or, 'I never…' I want to say I fought whoever was the best guy in that country or whoever was the best guy in that state, I fought him. I want to have fought those people. I don't want to have any question marks on my record. Walel fought those guys. The top 25, the top 50 in the world, he fought them. That's what I want on my record."
Not many fighters share the mentality that Watson carries. Of course, fighters want to fight the top guys, though. Watson understands that they could be spread out all over the world, not specifically just in the UFC, Bellator, World Series of Fighting or Titan FC. So, who does Watson see in his future?
"I think we need to do a champion vs. champion fight after this, versus T.J. [Dillashaw]," declared the confident fighter. "We need to run that back. Any fight that he is going to have is going to be boring. It's gonna be T.J. lighting them up with his speed. We need to run that back. I went three rounds with him, and I didn't have half the skill that I have now. I'm way more talented, wiser and stronger and faster. I know how to cut weight properly. I am a whole different person. So, after this fight and after I become champ, I would definitely — I don't know how it's going to happen, but I hope to finagle that rematch somehow."
It seems like a far-fetched and outlandish request, but given the recent injuries to the top-tier competition in the UFC's bantamweight division, a win may just put Watson back on a proverbial waiting list back into the Octagon. For now, though, Watson focuses on those who drive him outside the cage to be better inside it.
"Everybody pushes me," said Watson. "When I am at HQ, Eddie Bravo is on me and the other higher belts are on me. They make me drill even harder and push me harder when we are doing the techniques [and] push me harder during the rolls. When I am boxing, Tiger Smalls and Prince Smalls, his son, are on me and pushing me the limit. The whole boxing team is on me. When I get back, Bill Crawford and the whole team — Richie Martinez, Gio Martinez. I am so blessed to have the team that I have and staff that I have. Everybody is always pushing and working together.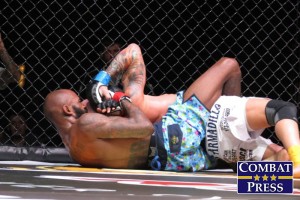 "Even though it's an individual sport, we push each other so well and work as a team so well. Our training is just ridiculous now. There's all these teams that are being ranked top teams in the world and they're considered the best teams in the world. Well, we're about to make a comeback right now and creep up on the whole world with the team that we have been building over the last couple of years."
If there is one person that stands out for Watson, it would have to be Giovanni "Freakazoid" Martinez, who will not need any introduction to those in the jiu-jitsu world.
"Giovanni is going to Abu Dhabi and he is Eddie [Bravo]'s fastest black belt ever — in just three and a half years," Watson said. "In the Abu Dhabi trials, he tapped out everybody. He's tapping out black belts that have been black belts for 20 years. He's just running through guys. And that guy is thinking about turning over to MMA, too, so he's going to be a killer when he comes over, because he can tap just about anybody out there, quick. Keep an eye out on him. When I talk about a B.J. Penn, he's like an 'our era' B.J. Penn. He is legit. He's one of my main training partners. Getting crushed by that guy only makes me better every day."
And better every day is what Watson will have to be when he takes on Johns for the inaugural Titan FC bantamweight title on March 20 in Mobile, Ala.
Walel would like to thank all of his coaches: Noah Hernandez, Bill Crawford, Tiger Smalls, Eddie Bravo, all of Team Hurricane Awesome and 10th Planet Jiu-Jitsu, 10th Planet San Diego, San Diego Combat Academy and Tiger Smalls Boxing. He would also like to thank his sponsors: Phalanx FC, Illusive CG, Allegiance, Full Force Fit, Laura's Barber, Pro Sups and A Hero Foundation. Follow Watson on Twitter:
@WaleltheGazelle
and Instagram:
@gazellewatson
, and also follow Team Hurricane Awesome on Twitter:
@teamhurricaneawesome
---
Advertisement

---