Ev Ting was a relatively unknown entity both times he entered the ONE FC cage in 2014. He was a fresh-faced 24-year-old who was getting his shot to represent New Zealand and his native Malaysia. Not many people really knew what to expect from Ting. He hadn't fought in the steel structure in a long time and his bout promotional debut in Indonesia against a local favorite was the first time that he'd competed in over a year. Ting was ready to reintroduce himself to the world. In back-to-back fights where he defeated Yohan Mulia Legowo and Edward Kelly, Ting reintroduced himself in a fashion that has forced the fans to remember his name.
His next bout comes on March 13 at ONE FC 25, where he squares off with Cary Bullos, a former URCC bantamweight champion. It's another fight where Ting's opponent is probably expected to win, but it's also an opportunity for Ting to pave the way to make 2015 his breakout year.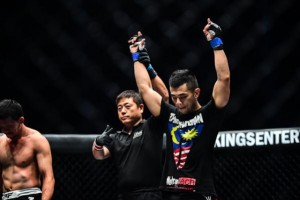 "To be honest I really did not think much of it, but just a another step or two into the right direction. However, through acknowledgement via my peers, I guess it is an accomplishment, but this is only a warm up," Ting told Combat Press. "The statement is clear that I am not playing games and I want to be the best fighter in the ONE Championship featherweight division."
---
Advertisement

---
New Zealand has experienced a lot of recent growth and success in the world of mixed martial arts. There are countless athletes who are making waves on the world stage for the country, and Ting is certainly one of them. With continued success under the ONE FC banner, he could quickly establish himself as one of the country's hottest combat-sports exports.
"There are a lot of great fighters from [New Zealand] whom either did not get the credit or the opportunities that I have," Ting explained. "I am just grateful I have an amazing coach, Hamish Robertson from Auckland MMA, to invest the time in me and the people who I have networked with in my career."
Ting's opponent, Bullos, is coming off his second career loss. In his debut with Asia's largest mixed martial arts company, Bullos was submitted by Major Overall at the 29-second mark of the very first round. Redemption is going to be on the menu for Bullos as he enters the cage with a red-hot Ting.
"It feels different in the way that Cary Bullos will be hungry and will be the best version of himself to date," Ting said. "He is a dangerous fighter with a few finishes in his local league. However, this will not differ the result."
Ting has spent much of his career training alongside the best fighters New Zealand has to offer. He has continued to grow and develop as a fighter. However, in order to take the next step in his career, Ting has spent his entire camp for his upcoming fight abroad in Vietnam.
"It is great out here at Saigon Sports Club," Ting revealed. "It is a luxury to be able to fully focus on just my training and recovery to maximize my potential. Working with Clean Boxing's Barry Robinson is a blessing, and he has really tidied up my hands with some swag. It is a good vibe out here with a few of the top Kiwi fighters also here, such as Daniel Hooker, Jamie "VDK" [van der Kuijl] and my partner, Tuyet. We also have a developing team with international experience, such as Miles Simson, Chris Westfall, Georgi the Bulgarian wrestler, and a few local Muay Thai beasts.
"It was a great opportunity for the new year, and it was an offer I could not just sweep under my bed. Home will always be home. It's great to pick knowledge and skills of other passionate martial artists, especially if you get travel and accommodation paid for."
Although Ting has spent his life growing up in New Zealand, he was born in Malaysia. His last bout with ONE FC also took place in the country of his birth, and to his surprise, the 25-year-old had a lot of local fans that he didn't know about.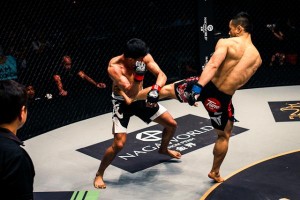 "A fight is a fight, wherever it is," Ting admitted. "It's great to have genuine support in Malaysia, being my birth town. It is an honor for me to be an entertainment attraction for them."
A victory on March 13 would put Ting on a three-fight winning streak. If he is able to yet again notch up a stoppage victory under the ONE FC banner, he could very well insert himself into title contention amongst one of the most competitive divisions in the promotion. At this stage, it's one fight at a time for the Kiwi, but a No. 1 contender's bout is certainly on his mind for 2015.
"I surely hope so. I appreciate their marketing scheme to build me up as a fighter," Ting said of ONE FC. "But all fights are tough, and it is always a make-or-break fight for me. A contender's fight for a shot at the strap next up surely makes sense."
Ev would like to thank TuneTalk for always looking after him in Malaysia, RedRat Clothing, Nutratech, Throwdown Malaysia, Culleys Hot Sauce, Auckland MMA & Hamish for making him the fighter he is today, Saigon Sports Club, Chris, Tri & Cee for making dreams happen for fighters and last but not least, ONE FC. Follow Ting on Twitter:
@EvTing
---
Advertisement

---