12-0, 18-7, 22-8. This is not some locker combination or Fibonacci code. On paper, these numbers represent the record of Efrain Escudero's progression through the sport of professional mixed martial arts… Sort of.
At 12-0, Escudero was the lightweight winner of The Ultimate Fighter Season 8, was 2-0 in the Octagon, had finished all but two of his opponents, and had a very notable first-round TKO of Cole Miller. By the fall of 2009, he was a young, motivated and streaking up-and-comer with a bright future. The next few years had a completely different look.
By May 2013, the native of Sonora, Mexico, aptly nicknamed "Hecho in Mexico," had been through a turbulent period in his career, bringing his record to 18-7. After his 2-0 start in the UFC, Escudero lost two of his next three UFC fights and was released from the UFC. He bounced back with a 5-1 run, but then dropped four in a row, including his UFC return and re-release. This was a rough time in his career, but it is important to note that in his seven losses during this period, he fought some of the top fighters in the world, and all were UFC vets. Between Evan Dunham, Charles Oliveira, Mac Danzig, Tyson Griffin, Jacob Volkmann, Jorge Patino and Fabricio Camoes, only two were able to submit Escudero. The other five went the distance. The last time he was finished was September 2010.
---
Advertisement

---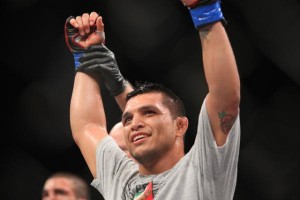 Today, the 28-year-old, old-school veteran is 22-8. The last year has been a whirlwind. Always working his butt off at John Crouch's The MMA Lab in Glendale, Ariz., the former NJCAA All-American wrestler is surrounded with top talent. His current stable of training partners includes guys like former WEC and UFC lightweight champ Benson Henderson, longtime UFC vet Rick Story, Yaotzin Meza and Jon Tuck. The combination of hard work, dedication and quality training has finally paid off for Escudero. In just over a year, he has gone 4-1, and his only loss was a close decision to former TUF contestant Dakota Cochrane at Resurrection Fighting Alliance 13 in March. That was his second-to-last fight, and the next one was a doozy.
After his loss to Cochrane, which some people believe Escudero may have actually won, the Mexican fighter received an unusual offer from a promotion in Sweden.
"We were talking right after my fight against Dakota Cochrane," Escudero told Combat Press. "One of the things we were talking about was Superior Challenge in Sweden, and they offered me to fight in the promotion. They called me and said, 'Hey, we saw your fight. You did an amazing job off your back, and you were going for submission after submission.' And then they said, 'Hey, we want you to fight for our promotion.' So, I went over to Sweden, put on a fight and showcased my skills. I was able to work on my boxing, and work on everything. Sure enough, I went over there and TKO'd my opponent in round three."
The fight took place on May 3 and pitted Escudero, in his European debut, against Juha-Pekka Vainikainen. It was for the SC lightweight title, but it was only scheduled for three rounds, due to regulations in Sweden. Even with a belt on the line, Escudero knew his best chance for victory would be to finally get a finish and get it in the first 15 minutes. He secured a vicious TKO with 12 seconds left in the fight. After that victory, the doors started to open.
Titan FC has been on the rise since changing ownership earlier this year. The once-defunct promotion has been gathering many talented fighters, mostly UFC vets, and Escudero certainly was on the company's mind. Titan offered him a spot on its roster, and the UFC quickly made its third move for the young talent.
"We've had an ongoing relationship since I was 21, and I'm 28 now," explained Escudero. "So I know a lot of people there. When I asked them what I needed to do to get back in, they said I just needed to win. I was going to fight with Titan FC, and I signed a contract with them. I was ready to go rock and roll. And then, on the night of that media release, the UFC called me back, so that was one heck of a show."
While the UFC may have thrown a wrench in Titan's plans, Titan and RFA both have policies that allow fighters to get out of their contracts if they get an opportunity in the UFC. Escudero finally got the call he'd been waiting for, and he wasn't about to turn that down.
"It's an amazing feeling, and I've been working my butt off for it," Escudero intimated. "What am I going to do, you know? I'm going to go out there and perform. I've been asking for this moment for a super long time."
The UFC brass originally had the Arizona-based fighter slated to meet Francisco Trinaldo in his second Octagon return, but, due to an injury shake-up, the card was shuffled and Escudero is now facing Leonardo Santos, a Brazilian who trains out of the famed Nova Uniao, home to current UFC featherweight champ Jose Aldo and former UFC bantamweight champ Renan Barao.
Santos was the welterweight winner of The Ultimate Fighter: Brazil 2 last year. At 12-3-1, the longtime Brazilian Jiu-Jitsu practitioner has finished nine of his opponents, primarily by submission, and has only been stopped once. Technically, his last fight was a loss, but he got the draw after Norman Parke lost a point for grabbing his shorts. Santos is a dangerous fighter. He holds a four-inch height advantage, but he doesn't bring anything Escudero hasn't seen before.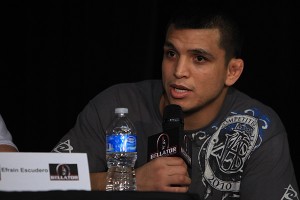 The UFC vet has 12 submissions of his own, and he trains with some of the best grapplers in the sport. Escudero knows where Santos can be trouble, but he also knows this is not a grappling match.
"Two tough opponents are going at it," said Escudero. "You know, I've fought Mac Danzig, who was a TUF winner. I'm excited. I'm excited to go out there and showcase my skills. He's a very good jiu-jitsu guy, but this is not a jiu-jitsu match. If we were going straight jiu-jitsu, I'd be worried and stuff, but we're starting on our feet."
Escudero is finally back in the UFC, and he is not about to let Santos rip this dream way. He has been here before. He has that taste for victory, and, on Saturday night, live from UFC Fight Night 51 at Ginasio Nilson Nelson in Brasilia, Brazil, he will finally show fans that he belongs in the ranks of the best fighters in the world. No matter what the records say, viewers will see the best Efrain Escudero yet.
"Expect to see me fight. Expect to see me do my thing. Expect to see me go out there and put on a show. I won The Ultimate Fighter, and now it's time to make a run for it. This time, I'm here to stay."
Escudero would like to thank all the fans who have stuck by him throughout the years. He would also like to thank all of his coaches and training partners at The Lab, as well as all of his sponsors. Follow Efrain on Twitter:
@EffyEscudero
---
Advertisement

---