On Jul. 1, RWS will host the return of Japanese heartthrob Kota Miura, as he takes on Thai bad boy Joker Fight Club in a Muay Thai showdown. This will be the first event that Rajadamnern World Series Muay Thai will broadcast on DAZN.
Kota Miura vs Joker Fight Club
The Japanese-born Kota Miura has become a popular figure in combat sports circles. Last year, he fought to a loss against Muay Thai and Kickboxing legend Buakaw Banchamek. Since then, he has been looking forward to his return to Rajadamnern Stadium. Since then, he has gone 1-1 in RIZIN.
Win or lose, Mirua appreciates the fan support. In an interview, he explained:
---
Advertisement

---
When I heard the loud sounds from fans cheering me when I was about to lose. I suddenly felt more power to fight during the match.
The 21-year-old fighter gained popularity due to his J-Pop star good looks when he made his RIZIN debut in 2021, which he won via soccer kick knockout. Incidentally, Miura is the son of an all-time great Japanese soccer player "King Kazu" Kazuyoshi Miura. Kazuyoshi Miura holds the record for being the oldest professional footballer in the world at 56 as well as being the oldest scorer in J-League history. He made his debut in 1986 and is still competing in 2023.
Miura adds:
I will work hard to become 'King' of martial arts, please keep on supporting me.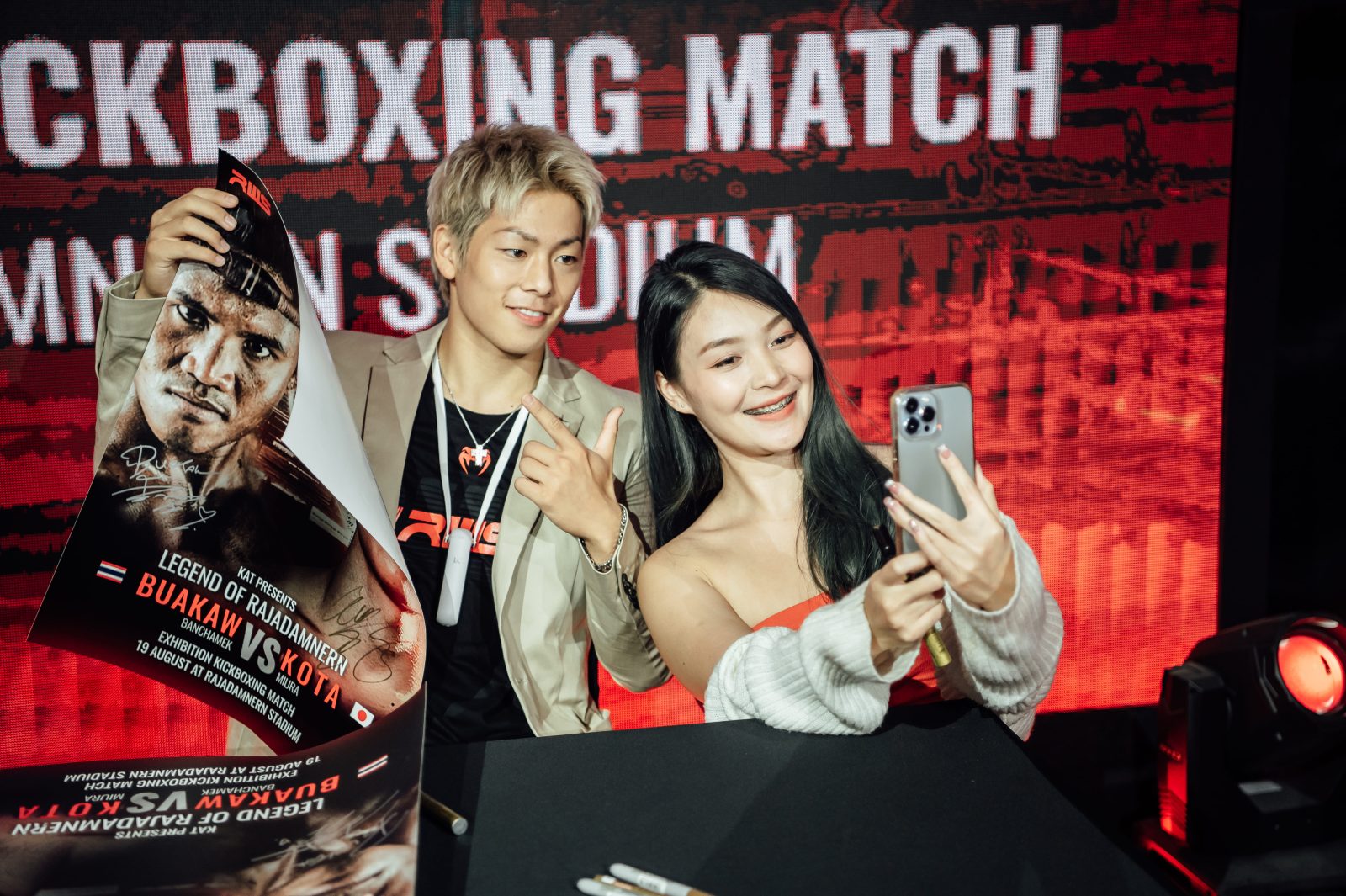 Joker, who competes out of the Fight Club Thailand gym, has earned the title of being Thailand's top street fighter. In Muay Thai, he is known for his heavy hands and capacity to do anything to win. Joker began his fight sports career because he was bullied as a child. He would later become a construction worker to provide for his family, before transitioning to professional Muay Thai.
Joker is looking to spoil the return of Kota Miura as they meet in RWS Muay Thai scheduled for 1 July. This fight card will also feature former WBC and Lumpinee Stadium world champion Yodwicha Por Boonsit facing former ONE Championship Muay Thai World titleholder Petchmorakot Petchyindee Academy. Additionally, the Swiss Muay Thai World Champion Daniel Rodriguez will meet Brad Revolution Phuket. And, RWS World Champion Shadow will look to stop Turkey's Burak Poyraz. These matches will be part of the RWS Super Welterweight Tournament along with Thananchai vs Reza.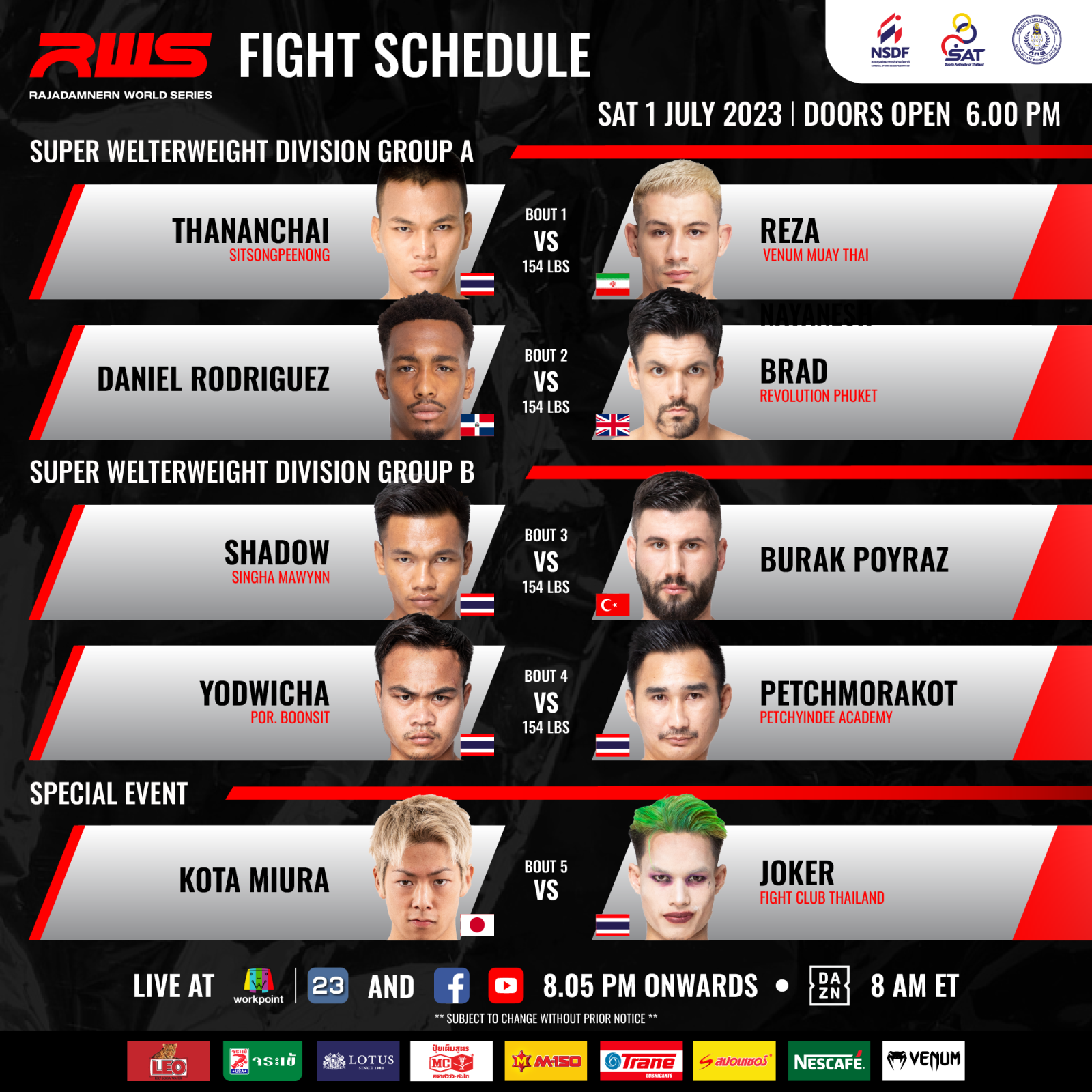 See the entire press release from RWS Muay Thai below:
It's on! Kota vs Joker Fight Club in a not be missed match up, STAR VS STREET

Thailand's No.1 street fighter, Joker Fight Club, is ready to derail Kota Miura's hype train in his Rajadamnern Stadium comeback. Kota, the charismatic heartthrob, previously packed the seats against Buakaw, and now faces the bloodthirsty Joker.

Two fighters from different worlds collide in this challenging test for Kota. From a family of athletes, Kota defied expectations to pursue his dream of becoming a superstar fighter. In contrast, Joker, once a bullied kid, transformed himself into an inspiration by rising through the ranks of street fighting.

Throwback to last year's RWS: Legend of Rajadamnern on August 19th when Rajadamnern Stadium was packed with spectators who came to watch the superfight. A real talk of the town where "Buakaw Banchamek" returned to the Rajadamnern Stadium for the first time in 18 years. It was also his opponent, 20-year old Japanese, Kota Miura, who rose into the spotlight and became a rising star in the world of combat sports.

With Buakaw's experience, the fight ended via referee stoppage in the third round. But it was an entertaining fight to watch as Kota fought with everything he had, so much so that fans awaited his return. Here is where he does not disappoint because he has now confirmed he will be returning to Rajadamnern Stadium, along with a call for advance support from his fans.

Kora Miura is considered a rising star fighter with great charisma with an interesting history as the son of "Kazuyoshi Miura" or "King Kazu", legendary Japanese footballer, making Kota 'King Junior'. His mother is a former actress and famous model. Plus an older brother who is also in the entertainment industry.

With the blood of an athlete, Kota gets his passion for sports from his father. With a particular interest in MMA where he has gained world-class recognition since 2021 from RIZIN.

Being invited to Rajadamnern Stadium, a world-renowned Muay Thai stadium is an important milestone. Let alone being in the ring with superstar fighter Buakaw. Though Kota lost, it was undoubtedly an unforgettable experience for him. Being highly impressed by the atmosphere at Rajadamnern Stadium and the support from the crowd.

In this upcoming fight, the advancement of Kota Miura's return is yet to unfold, but he guarantees not to disappoint his fans.
---
Advertisement

---