Simple is a very underrated concept in MMA training. Because the sport offers so many different ways to win and fighters come from such diverse backgrounds, it can be easy to think that a fighter needs to travel far and wide to the best camps in the world to get the best training. In reality, most of the best fighters in the world will typically keep their camps fairly tight and localized.
Bellator welterweight Gilbert Smith has always had a very tight camp. His primary gym has been the one he owns, Victory MMA in Colorado Springs, Colo. He has always done his boxing with Charlie "Hustle" Ibarra at Hustle Hard Boxing, and his Brazilian Jiu-Jitsu training is with Curtis Hill at Castle Rock BJJ. For the last few years, his Muay Thai training has taken place under Marc Montoya at Factory X Muay Thai in Englewood, Colo. Montoya serves as his head coach. All of the training he does is within an hour or less of home, and it has served him quite well.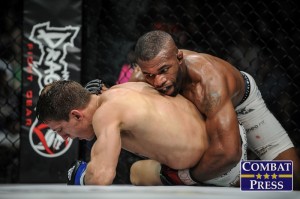 Since Smith's run on The Ultimate Fighter in 2013, he has gone 7-3, including title captures in the Resurrection Fighting Alliance and Sparta Combat League and a defense of his RFA title with a fourth-round knockout of fellow TUF contestant Bristol Marunde. His three losses were all by decision, and his last one was a somewhat controversial split decision to Fernando Gonzalez in his Bellator debut in March.
---
Advertisement

---
"I thought I made the fight way too close for the judges," Smith told Combat Press. "That was my mistake. I was probably the worst Gilbert Smith ever, because I had some personal problems and took the fight on late notice. There were so many things working against me, but I was still able to go in there and take the fight the distance. And everybody around me, including the higher-ups in Bellator, thought that I won."
Well, after seven months, Smith will finally get a chance to gain some redemption. Tomorrow night at Bellator 162, he will be back in action against Bellator veteran Ricky Rainey at the FedEx Forum in Memphis, Tenn.
"We have done everything possible in this camp to make sure that this fight is not even close," said Smith. "I'm going to make it a very easy night for the judges."
Smith is still training with all of the same coaches and training partners, but he is shaking up the structure a bit.
"I switched up a couple things and made this training camp more about me," Smith explained. "I've been a little more selfish. So, I made my boxing coach my head coach, because he's available and he's my business partner at my gym, too. It was the best thing to do to make the guy I see every day, that can work with me every day, my head coach. But I still work with my Muay Thai and MMA coach Marc Montoya at Factory X, and I will also have my brother in my corner, David Lauritzen, because he's always been there for me and he helped me strategize. We just kind of switched up my coaches' roles."
Obviously, the main focus at hand is beating Rainey. In the last three years, Smith's opponent has only won by knockout while suffering one knockout loss and two decision defeats. In a nutshell, the guy comes ready to bang. Rainey is a few inches taller and a few inches longer, but this hasn't been much of an issue for Smith in the past. Almost all of Smith's wins have been over guys that enjoyed some kind of size advantage over him.
"I don't feel much about him," said Smith. "I don't really know too much about him. I watched a couple of his fights, but I didn't pick up much. I just focus on being the best fighter possible — the best striker, the best grappler, the best conditioning, the best jiu-jitsu, the best mentally prepared — and I think I am. He's not going to be able to beat me in any one area."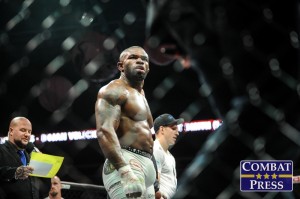 It's quite simple. The best way to win a fight is to be better at everything.
"This training camp, I've been so focused," said the Coloradan. "All I do is go to the gym, come home and go back to the gym. I still spend time with my kids, but that's all complicated now, because they all have their own lives to live. I even put my love life on hold. I try not to take it too seriously and stay focused on the fight."
Smith has always been a focused athlete, but this time is a bit different. With his coach and business partner Ibarra being front-and-center on a daily basis, Smith is truly able to make this camp all about him. He really needs this win and is willing to fine tune every bit of his training to come out on top.
For the first time in a long time, Smith's next fight will not be a televised event. While he is not very happy about it, he understands why this is the case. It just adds extra motivation.
"My fight will be on Bellator.com, which will be the preliminaries," Smith said. "I need to work my way back up to the main card, and I get paid the same, so I'm not going to trip about it. I would love to be on live TV, but, unfortunately, I'm not. Go to Bellator.com, man. I'm going to really put on a show and get back to the main card."
Smith would like to thank Victory MMA, Factory X Muay Thai, Castle Rock BJJ, ChiroCare Recovery Center, Heuberger Subaru, Adidas Combat Sports, his training partners, his family and all of his coaches. Following Gilbert on Twitter:
@JamalSmithMMA
---
Advertisement

---