In 1983, Michael Keaton starred in the film Mr. Mom, a comedy based around a laid-off automobile engineer named Jack who switched roles with his wife and became a stay-at-home dad. While the premise is much more common today, it was still a relatively new concept in the early '80s. Some of the classic scenes include a grilled cheese sandwich made on an ironing board and a diaper change that involved an apron, goggles, a nose plug and rubber gloves.
Bellator heavyweight Chase Gormley considers himself to be a bit of a Mr. Mom. He and his fiancé, Karen, have two kids. While Karen is working a day job, Chase takes care of the kids. When their daughter, Leilani, is at school, he takes care of their son, Connor. Gormley may not go to the extremes that Jack did in the film, but he is definitely the daytime caregiver.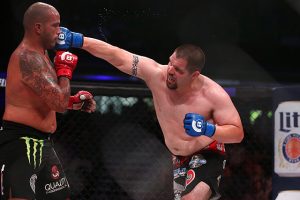 "I have a seven-year-old daughter and a six-month-old baby boy," Gormley told Combat Press. "Seeing how I don't work a nine-to-five, I'm usually with the kid most of the day, and he goes to practice with me. I've got him with me right now, actually. I'm pretty much a stay-at-home dad. I used to have a bouncing job, but I quit that so I could get better sleep and focus on fighting and make a run at the title."
---
Advertisement

---
The former bouncer and professional fighter does not exactly fit the profile of the laid-off engineer. He's not playing poker with other moms or doing a little daytime drinking. On the contrary, he is focused on staying fit and training for his next battle.
That next battle is now upon him. On Friday night at Bellator 162, Gormley will enter the Bellator cage for the second time to face Bobby Brents, a former Shamrock FC heavyweight champ who trains out of his own gym, The Garage, in Springfield, Ill. Brents will be making his Bellator debut, and his size and style tend to frustrate his opponents to the point that his last three fights all ended in first- or second-round knockouts. Gormley is welcoming the challenge with open arms.
"I was looking at another opponent, but he turned down the fight, so we got Bobby," Gormley explained. "He's the perfect opponent. The thing is, he's a shorter guy, which I don't like — fighting shorter guys is a pain in the butt — but I just got to go out there and get it done.
"He likes to sit in the pocket and have guys engage with him and swing, so he can throw some haymakers or grab a quick single. I think with my range — and I have the takedowns too; he likes to overextend himself with those haymakers, so the takedowns are there — I think if I can get him to the ground, I'll do some damage there, you know?"
At 5-foot-9 and weighing over 260 pounds, Brents does pose a challenging frame for a six-inch taller heavyweight. Gormley was not totally happy with his performance in his last fight, which was a split decision win over Joey Beltran in his Bellator debut.
"It was an ugly fight," Gormley admitted. "I wasn't happy with it. Two of the three judges called it my way, so I got out of there, but it wasn't anything I'd brag about. I hadn't fought for a big promotion before, so I think those nerves held me back, you know? Now that I got that win, I can open up and really show them what I got.
"In my last fight, I didn't wrestle much, and when I did get a takedown, I didn't do much from that dominant position. So, I've been working more on finishing the fight when I get that dominant position and not letting them stand us up. I want to make sure I take advantage of it, get aggressive, get my hands in his face, and finish the fight. I'm just trying to be more aggressive all-around. I sit back on my jab a little too much and try to overthink things. I need to be a little more instinctive and just go out there and start smashing heads."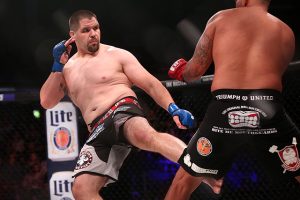 The bruising "Mr. Mom" is working his tail off to prepare for the Brents fights. In addition to bringing on a nutritionist and a strength-and-conditioning coach, he has also spent a lot of time training specifically for his opponent's unique build.
"I'm training at The Body Shop with Antonio McKee, and I've also been training a lot for this fight with Emanuel Newton and Lew Polley," said Gormley. "Lew is a good look for this fight, because this guy's shorter like Lew is — Lew's a short, stocky guy."
Gormley has big plans for his future with Bellator. It is a great place for him, and he really wants to showcase his talents in hopes of a busier 2017.
"Next year, I want to fight more," said the nine-year veteran. "This year, I only fought twice and I didn't have great performances, so I understand why. I just want to be more exciting in this fight, and hopefully I finish this fight and Bellator says they want to keep me rolling and I get to fight three or four times next year. That's the best scenario, as I see it. So, my job is to put on exciting fights right now and get out there as much as possible."
In the cage, Gormley is anything but motherly. He has a fairly decent balance of knockouts, submissions and decisions, with his last fight being the only one that ended split on the judges' scorecards. On Friday night, at the FedEx Forum in Memphis, Tenn., he does not plan on leaving it in the hands of the judges. Gormley is a man on a mission. The next step on his climb up the heavyweight ladder involves serving Brents with a loss. In the meantime, he'll be serving P.B. & J.'s and baby food in between training sessions.
Gormley would like to thank his coaches, training partners, family, friends, fans and sponsors. Follow Chase on Twitter:
@ChaseGormley
---
Advertisement

---