Like most young boys who wake up early on a Saturday morning to watch some cartoons, UFC lightweight Drew Dober wanted to do all the cool stuff he saw on Dragon Ball Z or any number of the other Japanese anime cartoons on television during the mid-90s. One thing stands out between Dober and other kids of that time, however. Dober found his passion.
"I was a nerdy kid growing up," Dober confessed to Combat Press. "I was into Dragon Ball Z and Japanese anime. So, after watching that, I decided to sign up for karate and taekwondo classes like every young kid does. The only difference is, I was the kid that never quit. Karate and taekwondo turned into kickboxing, Muay Thai and jiu-jitsu classes. Now, long story short, I am fighting people in cages."
That never-quit attitude has worked out pretty well for the 26-year-old lightweight. In his last fight, the deck was stacked against Dober. He walked into an arena ready to explode with excitement. The man across the cage from him was former WEC lightweight champion Jamie Varner. Oh, and the fight was in Varner's hometown of Phoenix. But Dober had other plans that night. With just under two minutes off the clock, he was able to secure a rear-naked choke for the win. It happened to be Varner's last fight in a MMA cage or ring of any sort.
---
Advertisement

---
"I think, in the situation of both of our careers at the end of that fight, it was a career changer for both of us," Dober said. "I know Jamie wanted to win, but I also want to win as well. It came out on my side. It's unfortunate that a great retired, but I don't feel too bad. We just have to remember him for his great achievements."
Now that Dober has his first UFC win under his belt, he is looking to climb the ladder that Varner once climbed. His next fight will be a similar stack of cards. Dober will take on Brazilian Leandro Silva at UFC Fight Night: Maia vs. LaFlare in Rio de Janeiro on March 21. But the pressure of fighting in Silva's home country or the vast difference in style will not get to Dober.
"Of course, I grew up in Muay Thai and he probably grew up doing jiu-jitsu. On paper, it's exactly the way I feel the fight is going to be," Dober explained. "I am going to try to avoid his strengths, and he's going to try to avoid my strengths. I love going into fights [with] everything on the line, bleeding, sweating, crying. I'm definitely going to go out there and let my skills do the talking wherever the fight goes."
Dober, who has a background as a former amateur world Muay Thai kickboxing champion, should have the advantage on the feet. But Dober is a man of action. Since moving to Denver to train at Team Elevation, he feels that he will be the better man in every phase of the fight.
"I'm always trying to improve as a fighter. I'm improving my wrestling, jiu-jitsu and kickboxing all at the same time," Dober said. "Watching film of this individual opponent, I know his strength and I know his weakness. I want to implement my strengths to eliminate his. I'm not a one-track-minded fighter or a one-trick-pony fighter. If plan A doesn't go my way, I'll have plan B or plan C at the ready. I'll definitely do whatever it takes to win."
Dober believes he will be able to walk out of Brazil with the win. Then, it's time for bigger competition.
"I think I'm ready for anyone, whether it be a top 15 or the champion of the division at the time," declared Dober. "Anyone fighting for the UFC, you should know that you should see yourself as the world's toughest fighter and be able to go at any time."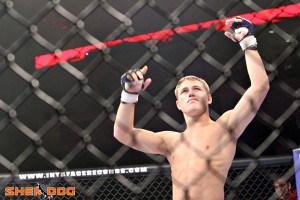 The skill level and talent has always been there for Dober. Now that he calls Team Elevation home, he feels it will take him to the next level.
"You really can't compare it to any other gym," Dober said. "It's a beautiful combination between comradery and talent. You can get good coaching and really good sparring partners and really good guys, but only at Team Elevation can you get all three. After making my little training vacation out here, I kind of found love with the gym and the training out here. That's when I decided to make the move full-time to Denver and train at Team Elevation."
Now that Dober has found his fight home, it's time for him to realize the dreams that started when he was sitting in front of the TV as nothing more than a child with a dream of being a little more like Goku.
"There'll always be friends and family and teammates that will always be there and be proud of you. But, honestly, now I fight for me. I have fought for me for the longest time. It was never for the glory or the fame or the money. It's always been about being the best person I can be."
Drew would like to thank Muscle Pharm and all of his training partners and coaches at Team Elevation. Follow Dober on Twitter:
@DrewDober
---
Advertisement

---