Flyweight Joe Guerrero started down the path towards mixed martial arts at the tender age of four, when he began wrestling. He always had athletic talent, but coaches had trouble communicating with him during matches. Despite the coaches shouting louder or simpler commands, Guerrero would always have trouble hearing them. Then they discovered the voice Guerrero could hear in any situation: his father's voice.
Guerrero's father, Salvador, would listen to the coach's advice and bark it out himself. The elder Guerrero was always able to get through to his son, no matter the volume of the crowd.
"My father has been my best friend since I was born," Joe told Combat Press.
---
Advertisement

---
This past fall, while working two stories off the ground, Salvador fell with enough impact to crack his skull. Doctors would later tell the Guerrero family that Joe's father should not have survived the incident. While in the hospital, the father made sure his son was still going to the gym and still getting his training in.
"After that, training didn't seem so hard," the younger Guerrero admitted.
His father was discharged from the hospital in December, but Salvador will still face months of rehab in order to fully recover.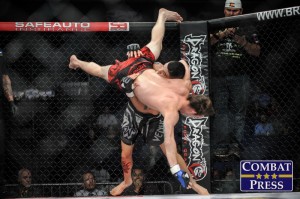 After high school was over, and wrestling along with it, Guerrero found himself playing too many videogames and looking for a new challenge. Although some thought was given to MMA in high school, he finally decided to try it out "on a whim." Contacting a family friend, Guerrero embarked on what would become his new passion.
Mimicking the strong family atmosphere he had always enjoyed at home, Guerrero has trained jointly out of Grudge Training Center and 303 Training Center for the past two years.
"It doesn't feel like anything else but home," he stated. "They treat you like family, and preach it."
Always looking to improve, Guerrero maintains the mindset that "I want to use every tool out there. If there is something I don't know, I want to learn it."
Despite fighting so close to the holiday season, he said maintaining his weight was not a problem.
"I ate, but did not over do it," Guerrero explained.
With a goal of five straight victories in mind, and motivated by his father's accident, Guerrero will return to the RFA cage for the fifth time this Friday at RFA 22.
"RFA has always treated me well," he said, adding that after each fight, win or lose, he always receives words of encouragement from RFA officials backstage.
Guerrero will look to add the fifth straight victory and move one step closer to turning professional when he faces off against Jamie Hernandez.
"All I know is his name, but I am expecting a fight. I hope he is ready."
Joe would like to first thank his lord and savior, Jesus Christ, as well as his parents and his girlfriend, Evee. He would also like to thank his training partners and coaches at Grudge Training Center and 303 Training Center. Last, but not least, Joe would like to thank his sponsors: Brawlin' Combat Gear, DreamBent Studios, Western Upholstery and One Stop Automotive. Follow Guerrero on Twitter:
@MaMushka125
---
Advertisement

---