The matches for RISE World Series 2023: Final Round have been announced through RISE WS social media channels. This kickboxing fight card has eight confirmed bouts thus far, including the tournament final and a title match. It will be broadcast live from Tokyo, Japan on Dec. 16.
RISE World Series 2023: Final Round
Kumandoi Petchyindee Academy vs. Toki Tamaru – Tournament Final
The final of the eight-man tournament is finally here. For the -54 kg tournament final, Thailand's Kumandoi Petchyindee Academy will face Japan's Toki Tamaru. It will be the main event of RISE World Series 2023: Final Round.
Kumandoi is a Muay Thai stadium champion in Rajadamnern and Omnoi, while Tamaru has held two different division titles in RISE. Both of these men have earned incredible wins thus far in this tournament. Tamaru was able to defeat Kazuki Osaki and Kumandoi defeated Shiro.
---
Advertisement

---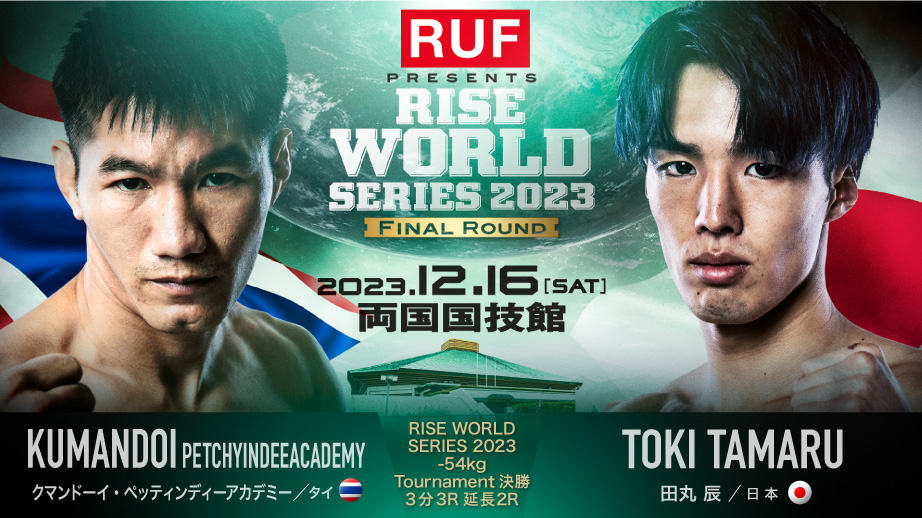 Petchpanomrung Kiatmoo9 vs. Chadd Collins – Title Match
The RISE super lightweight world championship will be on the line as Petchpanomrung Kiatmoo9 will look to defend his throne against Australia's Chadd Collins.
Collins has picked up titles in Muay Thai, such as the WMC and WBC, he is on an eight-fight winning streak, and, most recently, he is coming off of a head-kick knockout win in RISE.
Thailand's Petchpanomrung is one of the most accomplished kickboxers alive today. The 28-year-old striker has defended his GLORY title in seven bouts and is a multi-organization world champion.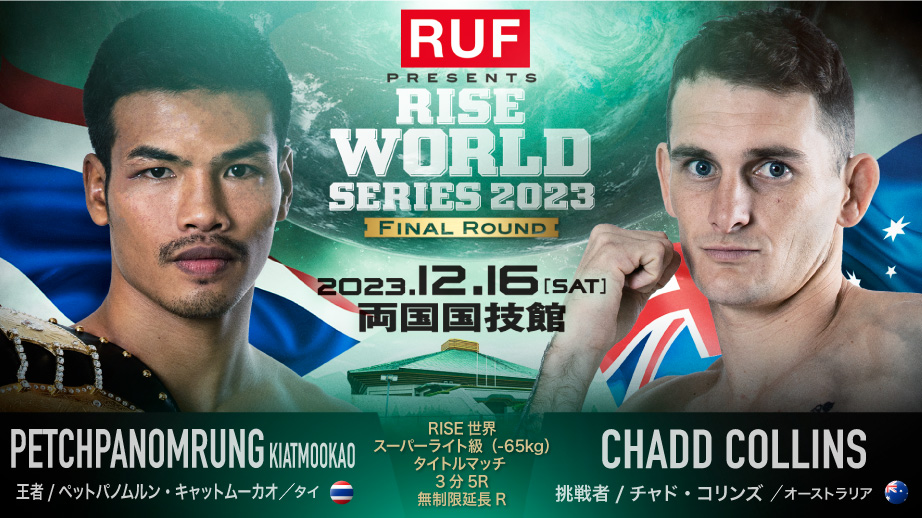 Shiro Matsumoto vs. Boonlong Petchyindee Academy
The RISE bantamweight champion Shiro Matsumoto will be looking to bounce back from his stunning loss to Kumandoi, as he faces Thailand's Boonlong Petchyindee Academy on Dec. 16. Boonlong is a veteran Muay Thai striker and it will be a major test for him as he faces Shiro, the top pound-for-pound striker this winter.
Kazuki Osaki vs. Jaroensuk Boonlanna Muaythai
Japan's Kazuki Osaki is an experienced striker in both Muay Thai and kickboxing. Throughout his career, he has earned titles in ISKA, Japan Lumpinee Stadium, and WMC, plus, he is the current reigning RISE super flyweight champion. Osaki will be fighting to get back in the win column since his loss to Tamaru earlier this year. Jaroensuk Boonlanna Muaythai is a young Muay Thai striker who will be making his RISE debut.
Tessa De Kom vs. Seina
The skilled Dutch striker Tessa De Kom is a decorated kickboxing world champion who holds titles in both Enfusion and RISE. Similarly, Seina is the RISE women's bantamweight champion. This match will be a battle of two reigning kickboxing titleholders. De Kom will be going up in weight for this bout. This is listed as a GLORY RIVALS fight, and no title will be on the line in this bout.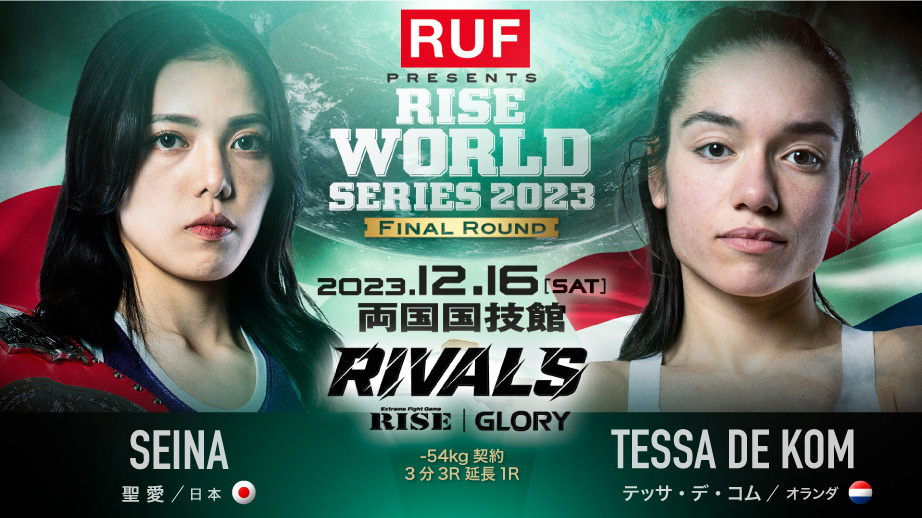 Kenta Nanbara vs. Victor De Koning
The RISE light heavyweight champion Kenta Nanbara will take on the towering Dutch striker Victor De Koning. De Koning is a kickboxer who is known for his bouts in Enfusion and Fair FC. Nanbara is coming off of a knockout win to capture the light heavyweight throne. This Dec. 16 match at RISE World Series 2023: Final Round will be a non-title bout.
More matches at RISE World Series 2023: Final Round
In another GLORY RIVALS matchup, RISE lightweight champion Kan Nakamura, of Japan, will take on Morocco's Ahmed Akoudad. Plus, the RISE 2019 tournament champion Koyuki Miyazaki will look to extend her win streak against the young Thai striker Mongkutpetch Khaolakmuaythai.
---
Advertisement

---