It was a scene right out of Ocean's Eleven when Rob Sullivan visited his gym, Baltimore BJJ, one morning.
"I came to get something and there was a class starting, and I was on my way to a carpentry job, so I had my work clothes on," Sullivan told Combat Press. "My friend asked if I was working on the gym today and I said no, and it hit me that there was a file cabinet on the mat. I saw sawdust and tools, and footprints going to the back door."
Someone had broken into Baltimore BJJ as part of a bigger robbery attempt on the pharmacy next door. The gym is also surrounded by insurance offices, a medical office and a Teamsters Union Local 311 building on Eastern Boulevard, the main street of Essex, Md., the same town where Sullivan grew up.
---
Advertisement

---
"They ran into the firewall while trying to break into the pharmacy, but gave up and ran out the back door," Sullivan said of the would-be thieves. "It was this huge scheme. No one had ever broken into the gym before. There's nothing there to steal."
Sullivan manages the nearly 3,000-square-foot facility, which is easy to miss if you're not paying attention while driving down the main road in Essex. The gym is divided into two spaces. There's a main area in the front with mats, where classes are held, and a back area for more specific fighter training. Banners from Sullivan's 15-fight MMA career are on display throughout the gym, and it was where Sullivan trained on a Sunday morning last month in preparation for the final fight of his career, which takes place at Shogun Fights 18 on Saturday, April 14, in Baltimore.
"I know my body, and there have been some little warnings that were like, 'Hey, you need to stop before something goes terribly wrong,'" Sullivan said. "I don't want to spend my later years in a wheelchair and having a bag to piss in."
Sullivan, 34, has competed eight times for Shogun Fights. He's also made appearances for other regional promotions in the Northeast, including CES MMA and Maverick MMA, and fought once for Bellator MMA in 2013. Among the injuries Sullivan has suffered, there was a serious knee injury, which happened while training for a fight in 2015. The injury occurred right around the time he entered into a relationship with his now-fiancé, Suzie Crisp.
"It brought us closer together at first, but it also crushed him a lot, so we didn't really talk about it," Crisp told Combat Press. "And I also knew his career was coming to an end, but it was still very emotional and bittersweet when we finally talked about it. I'm excited for our future together, but it's always bittersweet when closing a chapter."
"My Whole Body Is Scar Tissue!"
Sullivan, who has compiled a record of 7-8 while competing as a bantamweight and featherweight, began his training session by jumping rope while his training partner, Jason Newing, did some shadow boxing. The two discussed the massive upset by the University of Maryland-Baltimore County men's basketball team in the NCAA Tournament, the victory by NCAA wrestler Kyle Snyder at last month's NCAA wrestling championships, and a recent rolling session by Sullivan where his partner remarked that Sullivan must have some scar tissue after starting to bleed from doing some simple rolls.
"I said, 'Motherfucker, my whole body is scar tissue!'" Sullivan said before rounding out his warm-up and cardio with work on the punching bag, which provided just a glimpse into the competitiveness for which Sullivan is well known.
"I got into this mainly for competition, and I probably had a little ego by playing in different bands," Sullivan said. "The competitive spirit was always there and I saw another avenue, but I maybe just fell into it by dumb luck. MMA really teaches you humility. There's nothing much more humbling than fighting. When you're put in that situation, there's not much else that compares, besides being in the military or in emergency services."
The difference between watching MMA and competing in the sport became readily apparent to Sullivan's training partner Newing when he began cornering Sullivan for his fights.
"I admired his drive and work ethic with the wrestling background he has," Newing told Combat Press. "I started with zero, and it is difficult. It's a different animal and it takes some drive. It's actually more nerve-racking while watching than competing. When you're competing, you're still in control of what you're doing."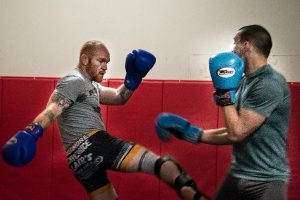 Sullivan and Newing were in constant communication while rolling on the mat together. Sullivan would explain what he was doing, and Newing would tell Sullivan what he was doing to counter Sullivan's moves. All of their work was done to the tune of bands like Danzig and The Misfits echoing through the training area.
"It's a nice balance, so the soccer moms don't get mad at me," Sullivan quipped.
The pair were soon joined by another training partner, Brian Shealey, who holds a black belt in Brazilian Jiu-Jitsu. As Shealey and Sullivan grappled against the wall, the taller Shealey advised Sullivan to try to grab his lower left leg to complete a takedown.
"How tall do you think I am?" Sullivan, who stands 5-foot-6, responded jokingly. He then explained to Shealey what type of moves work better for him as the pair took a break between sessions. However, when Shealey suggested that Sullivan attempt an armbar in his bout at Shogun Fights 18, he was quick to shoot the idea down.
"I'm not gonna do an armbar. No one's ever seen me do an armbar," Sullivan said.
"Quintessential Baltimore"
In addition to fighting, Sullivan has held down several other odd jobs and professions, including construction, carpentry, performing as the lead singer of the band Ruiner, and in his most recent endeavor as a wrestling coach.
"I really admire his work ethic," Sullivan's fiancé Crisp said. "I'm always proud of him, and he works harder than anyone I've ever seen."
Crisp and Sullivan met while she was training at another gym. Instead of discussing what it was like training with Sullivan, Crisp jokingly remarked it might be better to discuss what it was like for him to train with her.
"It was pretty difficult to work with him at first, but now it's fun," said Crisp, who trains in jiu-jitsu and Muay Thai kickboxing. "He worked with me on my stand-up, and I learned a different perspective. He got me out of the box and my comfort zone."
Sullivan and Shealey filmed the different positions they worked on during their training session. It serves as another example of Sullivan's willingness to work hard, according to Shealey.
"Rob is quintessential Baltimore," Shealey said. "He's a blue-collar guy with the best work ethic of anyone. There's a real community to the Baltimore MMA scene, and Rob is just a good dude. He's a hard worker who doesn't take the easy way out. He went to Holland to train. He went to Tristar [in Montreal] to train. He's pragmatic and always willing to help. He will make a great coach."
Sullivan's not one to take the easy way out. This philosophy could be the theme for Sullivan's fighting career. He is frequently pitted against opponents who are either stylistic challenges or fighters that no one else wanted to fight. This includes Sullivan's upcoming opponent for his last fight at Shogun Fights 18 — Peter Petties, who recently competed on Dana White's Tuesday Night Contender Series on UFC Fight Pass.
"It makes sense in a lot of ways," Sullivan said. "I've never had an easy pass, and I've fought guys that others won't. It's the way I want to go. I never wanted a 'gimme' fight. I'd rather have the best fight I can have, and I want to win and have people say, 'Goddamn, I wish he wouldn't leave,' rather than lose and have people say, 'He should stop.'"
Petties has a record of 5-3. The 27-year-old "Joker" lost his DWTNCS outing to Ring of Combat veteran Julio Arce, but his recent pattern has been to follow a loss with a win.
"He's tall and he has a reach, and he's a southpaw," Sullivan said. "I want that test at the end of the day."
"A Coach Who Gives a Shit About You"
When asked how he hopes he will be remembered by fans, Sullivan wasn't sure he had an answer.
"I don't know how I want anyone to remember me," he said, while adding that he hopes he is remembered for his toughness and grit when fighting in the cage.
"I want to win this fight and have people think or hope that this isn't it," Sullivan added. "You always want to leave with a story and a happy ending. I've never really had that moment."
John Rallo, owner of Shogun Fights, is among those who hope Sullivan's fight at Shogun Fights 18 isn't actually his last.
"I don't know what the future holds for him," Rallo told Combat Press. "I like Rob and have a lot of respect for him. He is super professional and always comes ready to fight. If I had 20 Rob Sullivans, I wouldn't have to worry about making money. He handles his business, and maybe he comes back one day. I hope he still has some miles left in the tank, and I've been fortunate to have him."
In addition to focusing more on his love of coaching young wrestlers in the Baltimore area, Sullivan and Crisp are busy planning their wedding for later this year and a honeymoon filled with camping in the Grand Canyon.
"It's really just a piece of paper, but I'm excited to be married to him," Crisp said.
If Sullivan encounters a school-age wrestler who expresses a desire to pursue a career in MMA, Sullivan would be blunt with the advice he would share.
"If you really want to do this, get a good team and a coach who gives a shit about you," he said. "You don't have to be at a big gym to have good guidance. It also forces you to want to be accountable to others — we all get in our own shit and we don't work together."
Sullivan also paraphrased some quotes he saw posted on social media by former UFC fighter Yves Edwards that he takes to heart and would share with others who want to pursue a career in the fight game.
"Your first coach cares about you the most, and you don't need a manager," Sullivan said. "No one gives you that advice. No one wants to teach you how to fish. Once they think they have your loyalty, if you leave them, then they will hold that resentment against other fighters. You have to make sure everyone is on the same page."
---
Advertisement

---