Through the guidance of Thomas Edison, the world learned that it can take 10,000 attempts to become a master at just about anything. Be it science, sport or business, the more people practice and the more they fail, the better they become.
Justin Rader is a 30-year-old world jiu-jitsu champion. He has been practicing his craft for over a decade. Rader has had his fair share of hiccups, but every loss has been an opportunity to learn and grow. So, when he tried his hand at MMA a few years ago, he knew that road bumps were just a part of the fight game.
"My experience has been very up and down and back up again," Rader told Combat Press. "I've experienced a lot in the three years I've been doing this. I don't, by any means, consider myself to be a master of this MMA thing, yet, but I'm very much working toward that goal of understanding it the best I can. My ultimate goal is to be the best, most well-rounded martial artist I can be.
---
Advertisement

---
"I've always used competitions to achieve those goals. I wanted to be world-class in jiu-jitsu, and I accomplished that by winning two no-gi jiu-jitsu world titles. I've placed in the gi a couple times — I won at purple belt and got third as a brown belt — and I got third at the ADCC World Submission Wrestling Championships. Now, I'm entering the MMA arena, and it's been very up and down for me."
In 2010, Rader became the first black belt under world-renowned BJJ black belt Rafael Lovato, Jr. Anyone in the jiu-jitsu world knows that this is a tremendous accolade to have on his resume. Lovato himself entered the MMA arena less than three years ago, and has managed to build a 5-0 record, earn a Legacy Fighting Championship middleweight title, and win his Bellator debut in March. Rader actually entered the cage a few months prior to his mentor, winning his pro debut with a first-round choke.
"It was a very big honor for me to be the first person to ever be promoted to black belt by Professor Rafael," Rader said. "The day I received it, I said a few words and everything, and part of what I said was that this was not just an honor, but a responsibility, and one that I'm going to uphold to the very best of my ability. It's a responsibility to represent our style, his academy, and him as one of his black belts. It's something I try to uphold to the best of my abilities every day."
Not only has Rader managed to uphold his responsibilities on the mat, but he has carried that same champion mentality into the cage. However, as he knows, there can definitely be bumps in the road when finding his footing in a new venture. Different fight sports can have similarities, but nothing is quite like MMA, including the weight classes. Rader learned this the hard way.
"I came out of the gate with some quick wins, but then I started to cut too much weight," Rader admitted. "I learned what that was like, and I learned what it was like not to make weight and trying to fight after not making weight.
"Your entire camp becomes about trying to make weight, and you're not even training any more. You're just going in there, trying to put in some work to lose weight. I've been through that misery, and I've lost in front of my home city. I lost to somebody I shouldn't have lost to at 135 [pounds]. Back at 145, I had to re-establish who I was again — re-establish my identity — and that was the best I had put the game together yet. I look forward to continuing that this weekend."
After losing twice in the first half of 2015, Rader has managed to string together three wins in a row. He is now slated to fight for the Legacy Fighting Alliance on Friday night at LFA 15, which takes place at the FireLake Arena in Shawnee, Okla. Fighting again in front of the hometown crowd, Rader is looking to keep his winning streak intact as he faces undefeated Emmanuel Rivera, who also fights out of Oklahoma. .
"I don't know a whole lot about him," Rader said. "What I take away from the fights that I've seen is that he seems to be a very comfortable and confident fighter. He's 6-0, just won a fight in Bellator, and he's very well seasoned, very well rounded, and very much tough everywhere. He likes to keep fights standing and use his hands, and those types of fighters have proven to be very difficult for me. This fight could be one of the toughest yet. He's definitely a formidable opponent and someone I'm not overlooking right now."
Most of Rader's training takes place at Lovato's gym in Oklahoma City, but, for this camp, he also traveled with Lovato, who is currently training for his second Bellator appearance, to Evolucao Thai in Toronto to train with Mauricio "Veio" Amado, and, after that, Rader made it out to 50/50 BJJ in Washington D.C. for a week to train with Ryan Hall and Thanh Le. Lovato, Amado, and Rader's high school wrestling coach, Andy Hallington, will corner Rader in his fight tomorrow.
Rader's roots are in BJJ, and while his primary career focus is in MMA, his real passion in life is teaching the kid's program at Lovato's gym.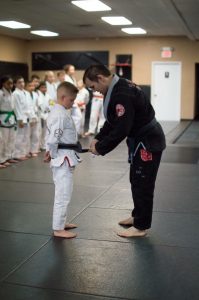 "When I began, I didn't think I would like it," Rader said. "I didn't think it was for me. I just wanted to train with the highest elite level of athletes and world champions. I came to realize that I don't want to work with people like that. They don't take direction very easy. I came to the realization that I don't like teaching most adults. Most adults have a tendency to think that they know everything or that their way is better, whereas kids are very pliable and think that they can do anything.
"It's awesome. They do exactly what you say, just because you say to do it. Teaching kids is one of the most fulfilling things I could have ever imagined. I was so grateful when the opportunity came along that Professor Rafael and Tina Lovato were gracious enough to give me that opportunity. I got in there and I really enjoyed it a lot more than I thought I would. To be honest, it's one of the most important things in my life right now. Those kids are the light of my life, and they mean everything to me."
Between his own BJJ path, teaching others, and his MMA career, Rader is a very busy guy. He has become a world champion in jiu-jitsu, and he has grown others into high-level martial artists. The next evolution is to become a world champion in MMA, and the next step on that journey is tomorrow night, when he faces Emmanuel Rivera in a bout that will air live on AXS TV.
"I really can't see past this Friday night," said Rader. "All of my focus is there and trying to beat Emmanuel Rivera. I'd like to fight one more time by the end of the year, and I'd like to get a shot at that Legacy belt in the next year. Once I achieve that, I'd love to get into the UFC and fight there."
Rader would like to thank all of his coaches and training partners, including Rafael Lovato, Jr., Mauricio "Veio" Amado, Ryan Hall, Thanh Le, Andy Hallington, Saulo and Xande Ribeiro, and Professor Chris Savarese. He would also like to thank his parents, family, friends, and sponsors: War Tribe Gear, GR2 Gear, and Green Strength. Follow Justin on Twitter:
@DarthRader86
---
Advertisement

---