Not a lot of people get the opportunity to find a career that they love. And not many people get to find their passion at a young age. Shamrock Fighting Championship's Danny Aguirre did.
Once Aguirre had his first fight just after his 18th birthday, he knew that he was where he was supposed to be.
For a lot of kids that found wrestling in high school, it was a lot of grind with not as much glory. Not every kid can be Brock Lesnar or Dan Gable. Aguirre participated in wrestling as a way to stay active and gain some experience. There were more valleys than peaks in his high school career, but out of that experience he was able to find his home of fighting in a cage.
---
Advertisement

---
"I wrestled for two years in high school. I was not very good," Aguirre admitted to Combat Press. "It was very tough to get into wrestling in high school. I wrestled varsity and I made the starting lineup. It was a really tough conference. I had to face a lot of tough kids that ended up winning state and a bunch of kids that wrestled in college, [NCAA] Division I. It was tough, but it was a good learning experience. That is how I met my coach. He was at a wrestling meet and he saw me wrestle. After that, he invited me to go out and try jiu-jitsu. He thought that I would pick it up really easy with my wrestling experience and my length. I went out and tried it out. I was just doing it every once in a while. I was doing it has a hobby pretty much. He asked me to take it a little more serious. He wanted me to have a fight. So I signed up for a fight about four days after my 18th birthday. I got hooked on it instantly and I have been fighting ever since."
In his amatuer and professional careers combined, Aguirre has close to 30 fights. He took his time getting to the pro ranks. He plans on using that experience in the cage tonight when he takes on Jordan Howard for the Shamrock Fighting Championship bantamweight title.
"I already have a lot more experience than a lot of the guys in the UFC," Aguirre explained. "A few times, I have trained at the MMA Lab in Arizona, where guys like Benson Henderson and Efrain Escudero [train], and they always think it is crazy how many fights that I have had. I have more fights than most of the guys that train there. I think the experience will play a big factor. I am always pretty calm and relaxed in the cage. I am pretty use to it."
There is also a contract to fight for Bellator MMA on the line tonight. For most, this would be an added pressure. In Aguirre's case, it's motivation.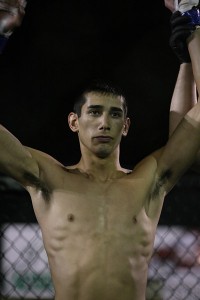 "It is a great opportunity. I don't think about it too much. I think that any fight is important regardless of what is at stake," he said. "I have my family going out to see me. My parents are going to be there. My brothers will be watching online. I don't want to get beat up ever in front of them. I don't want to embarrass myself in front of a bunch of people on a big stage. I don't ever think about it too much.
"I think it is pretty cool that Shamrock has given us this opportunity. That is a big step for them. Fighters are going to want to fight for them because they have this opportunity."
Aguirre's fight with Shamrock FC has given him a level of exposure that most regional promotions don't usually offer fighters.
"They have been awesome so far," said Aguirre. "Bryan [Levick, PR/Social Media Director] from Shamrock has been hooking me up with interviews left and right. Probably every other day I have been doing interviews. It is pretty cool that they are getting my name out there. It definitely feels a little more professional. They have treated me very well so far. I am really excited to go out there Friday and fight for them."
Howard, Aguirre's opponent, is 8-3 through 11 professional bouts. He got off to a slow 1-3 start after debuting in 2010, but he's now on a seven-fight winning streak with stoppage victories in his last six appearances.
"I think I am going to be bigger than him in weight and height," said Aguirre, listing his advantages. "I walk around usually at 170 pounds. I drop quite a bit of weight to make 135 pounds. I have put on a lot of muscle over the years. I have fought at 135 pounds ever since I started fighting when I was 18 years old, so I have definitely have gotten bigger. I think I will be bigger than him when it comes to weight and height.
"I am here training at Midwest Training Center in Schaumburg, Ill. I truly believe that they are the best gym out here in the state [and] probably one of the best in the Midwest. We have a lot of bodies here, so I am able to get a lot of different looks [and] a lot of guys to train with. So big names come through here. Clay Guida was out here a couple days ago. I got some good training in with him. I am feeling very confident going into the fight."
Aguirre has found a career he loves. Now, he'd love nothing more than to earn a title belt and a Bellator contract.
Danny would like to thank the Debonair Social Club, I'm A Beast Apparel, his friends and family and, most importantly, his mom and dad for supporting him in this long journey. Follow Aguirre on Twitter:
@assassinaguirre
---
Advertisement

---