Efrain Escudero's MMA journey has been one heck of a roller-coaster ride. He has been on the highest of highs and been through the lowest of lows. At one point in his almost decade-long career, Escudero was widely considered by many as one of the best lightweights in the world. He entered the UFC with an impressive 10-0 record, ran through The Ultimate Fighter 8 tournament and won his first two official UFC fights in dominant fashion. It was the norm to bring up his name when talking about the best talent in the lighter weight divisions.
After starting his UFC career with so much promise, Escudero went 1-2 and was released by the UFC exactly a year after his big knockout win over Cole Miller. He went on to fight for many different promotions, including Bellator, and earned his way back to the UFC. Unfortunately, this is when things started going bad for him. Real bad.
In his second UFC stint, Escudero lost back-to-back fights to Mac Danzig and Jacob Volkmann. He was once again quickly discharged from the company. Escudero went on to lose another two fights in a row and was in the midst of his career-worst, four-fight losing streak. The topic of discussion was no longer his promising future. It had turned to a debate about how much longer he would fight.
---
Advertisement

---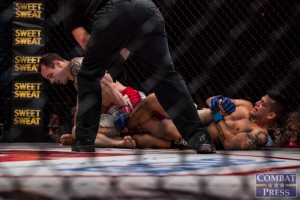 Escudero showed he still had more fights left in him, though. He went on a decent winning streak that included decision wins over notables Marcus Edwards and Luis Palomino. He dropped a decision to Dakota Cochrane under the RFA banner, but bounced back with a win over Juha-Pekka Vainikainen. At that point, he had won four of his last five fights. It was enough to garner him another shot at the big show. It wasn't easy, but Escudero was confident in his skills and knew he would be back to where he feels he belongs.
"I knew I was going to be with the promotion," Escudero told Combat Press. "It was only a matter of time. So, the only thing going through my head was just to win my next fight and let everything take care of itself."
With it being his third go at the UFC, you would have to think Escudero is walking on thin ice. It is not just about getting to the UFC at this point for Escudero, but maintaining a successful career as a UFC fighter. Things did not go well for him in his first fight back, in which he dropped a unanimous verdict to Leonardo Santos, but he was confident he would get another crack to prove he belongs.
"I knew I was going to get another chance," he admitted. "They switched my opponent two weeks before the fight. I made weight and did everything they asked. The fight was going good. We threw down and we had fun. Then, in the third round, I tore my meniscus [and] he was able to take me down. I wasn't able to put pressure on it. After going back and seeing the fight, I lost the last two minutes of the fight but, other than that, I went out there and I had some fun."
For veterans of any sport, the question always arises as they log in year after year of competing. They will ask themselves, "How much longer do I want to do this?" It is not just about fight time. It is the entire process of getting to that date. That journey is where fighters make their money and, arguably, work the hardest during their career. We always hear it from fighters: fight night is fun, and the real struggle comes in the gym and on the scales. In order to compete at this level, these athletes must love not just fight day but love the entire package that comes with fighting.
"One thing I always told myself: whenever this doesn't become fun, I am going to hang it up," Escudero revealed. "I do have other job offerings and I do a lot of volunteer work in prisons, but at the end of the day what I do is what I do. I go and have fun and I enjoy it. I enjoy the whole process of it and, believe it or not, for this fight I am superbly excited. I just can't wait to step in the Octagon. I don't know what it is. I don't know what it is about this camp, but I am so excited and so motivated."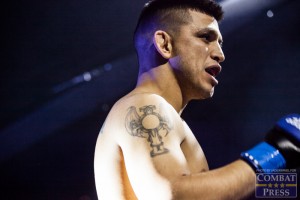 As they become the veterans of the sport, fighters also bring that experience to the cage. It is no different with Escudero. He has been through it all and feels right at home during his preparations for this fight.
"Every fighter sort of second doubts himself as they get close," explained Escudero. "They start thinking, 'Did I do this?' or 'Did I do that?' For this fight, I was like, 'I really don't care.' I'm done thinking, 'What is he going to do?' He is going to go in there, punch me in the face and try to hold me and try to win every round. Well, guess what? I am going to go in there and I am going to do what I want to do. I am going to wrestle if I have to and I am going to do jiu-jitsu if I have to. I am definitely going to strike and, yes, I still really enjoy it."
The long and hard road Escudero has taken leading up to this fight is finally starting to pay some dividends in his career. He is no longer like a deer in the headlights. All those up and downs have only made him a more clear-minded fighter. He is not worried about being considered as one of the best in his weight class. He doesn't care what people will say and write about him when he goes on a four-fight losing streak. He is just going to step inside the cage and do what he still loves to do more than anything else. He's going to fight.
---
Advertisement

---