There is a sort of unwritten, although typically adhered to, rule in mixed martial arts that it takes a lot more than a close decision to unseat a titleholder.
Case in point: Jon Jones vs. Alexander Gustafsson at UFC 165 in September 2013. A lot of folks thought that Gustafsson deserved the decision win over Jones in their "Fight of the Year" battle. There was even an iconic photo of the two at the hospital together. Jones was on a stretcher and was hooked up to a bunch of wires, while Gustafsson clearly had sustained less damage. The statistics also tell a pretty convincing story for the Swede's side. Gustafsson landed many more significant head and body strikes, while the champ landed primarily leg kicks that did very little to slow down his opponent. However, in a closely contested decision, Jones took the judges' nod to retain his title, as he should have.
This is the usual course of business at the upper echelon of the sport. To strip a title, there has to be no question as to the identity of the victor.
---
Advertisement

---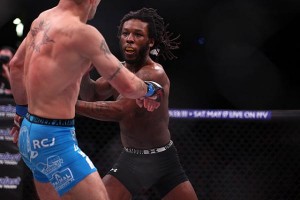 That was not the case for Desmond Green and his Titan Fighting Championship featherweight title defense last March, however. In a back-and-forth battle at Titan FC 33, Green and then-challenger Kurt Holobaugh went five rounds in a battle for the ages. Both men had great offense, great defense, takedowns and a lot of significant strikes landed. After the battle, many viewers felt the fight could have gone either way, but the judges handed the title to Holobaugh.
"Honestly, I thought I won the fight," Green told Combat Press. "I landed more punches, I had my takedowns, and I did more damage. I was already the champ, and it was a split decision in his hometown. I wanted the rematch right away. I feel the Alabama commission gave him that fight.
"Other than that, I took a lot out of it, because I could have done so much more. I was fighting so comfortable, because I felt I was winning, but I could have put on the pressure much more. I learned so much about myself, and I'm going to move differently from here on out."
Green is still under the Titan banner, and he will have a chance to redeem himself on Saturday night at Titan FC 34, which takes place at the Scottish Rite Temple in Kansas City, Mo. Relatively unknown up-and-comer Vincent Eazelle will stand across the cage from Green.
Eazelle, who fights out of John Geyston's Martial Arts Academy in Springfield, Ill., was undefeated as an amateur. He is 9-1 as a pro and holds five knockouts and two submissions. He knows how to get the job done. His most recent, and most high-profile, fight came in September when he beat veteran Chase Beebe by TKO. Since then, his career has been on hold as he unsuccessfully attempted to make the cast of The Ultimate Fighter 22 reality show. Green will be Eazelle's first opponent since Beebe.
"I haven't really done extensive research on him," Green admitted. "I know he lost his last fight with Beebe. It looks like he's got good hands and good cardio. I'll just be looking to push him. I think I'm a better guy, stronger, and I'm looking to get revenge after that last fight. I've got a chip on my shoulder, so I'm definitely going to be bringing the heat. I hope he's ready, and I'm definitely going for the finish — no decisions — because I don't want to get robbed again."
The fight with Eazelle was confirmed only a few weeks ago, so it was difficult for Green to make it up to the famed Tristar Gym in Montreal, his usual training camp, to really get prepared for battle. Instead of heading north, he headed west to the Rocky Mountains.
"The last couple weeks, I've been training in Colorado, out here at Factory X," Green said. "I just found out about three weeks ago, and it was easier to come out here than keep crossing the border for the last leg of camp.
"That was my first time in Denver, period, so it was nice. I flew in Monday night and I'm leaving back out tonight, but it was fun. Great guys at the gym. It was real cool."
Marc Montoya's Factory X Muay Thai has been growing rapidly over the last couple years. In addition to local favorites like UFC veteran Chris Camozzi, Sparta Combat League middleweight champ Adam Stroup, Resurrection Fighting Alliance welterweight champ Gilbert Smith and Bellator veteran Joe Warren, the gym has added guys like Dustin Jacoby, Brian Rogers, Brian Foster and Jon Madsen. To finish this camp, Green spent most of his time training with fellow Titan fighter Marcus Edwards, who will fight for the lightweight title on the same card .
Recently, UFC Fight Pass started creating agreements with other promotions to air their events on the digital subscription network. Invicta FC was the first organization to land a spot through this global broadcasting medium, and now UFC Fight Pass has added Titan FC to its offerings. Titan FC 34 will be the promotion's first event to air on the network.
"I'm excited about being on Fight Pass," Green said. "You know, it's one step closer to being in the UFC organization, which is always a positive. It sucks that you can't watch it free on TV, because of my friends and family, but it's only $10 a month for the Fight Pass, so they'll still be able to catch it. I'm just excited to be able to fight for a new fan base, too."
When fans tune in on Saturday night, they are going to see a man on a mission as Green looks to redeem himself after his last fight. He is hoping that the bouts keep coming, because fighting only once in 2015 has been a bit of a drag. His goals are simple.
"Man, fight, fight, fight," said Green. "I've only fought once this year, and that's not something I'm used to. If Titan has a card every month for the rest of the year, I'm going to try to be on it. I definitely want to be a lot more active than I have been for the first half of the year."
While not fighting as often as he would have liked is less than ideal, Green has had a lot on his plate the last few weeks. Around the time he found out about his upcoming bout, he had a little visitor show up a little earlier than expected.
"I had a daughter about three weeks ago," Green explained. "She was born three months early, so she's still in the hospital. Really, my main focus has been on my daughter and my other two kids.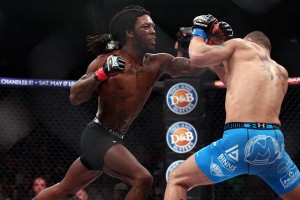 "Her name is Dahlia Rose. She will be in there until September, because she was born at 26 weeks."
Green already has two young children, and Dahlia is his second with his girlfriend. As if he didn't already have enough to fight for, this little girl just adds fuel to his fire. With his girlfriend holding down the fort and allowing him to prepare for battle, Green is ready to punish Eazelle on Saturday night.
"I don't think he has any advantage over me," stated Green. "I mean, maybe mentally, because he's riding a couple fight win streak or whatever. As far as skill set, I feel I'm a better wrestler, have better hands, and am stronger and faster, so I'm confident that I will win decisively.
"I just want my belt back, and I want to get into the UFC. Whoever gets in my way in the meantime is just food for me."
Green feels that he was robbed at Titan FC 33, and he is prepared to show the world that he is the real champ. With Holobaugh fighting on the same card and Titan CEO Jeff Aronson dubbing the Green-Eazelle fight as a No. 1 contender showdown, Green will know his future soon enough.
Green would like to thank God, all of his coaches and training partners at TriStar Gym, Factory X Muay Thai, Jaco, Dethrone, Bad Boy and Lexani. Follow Desmond on Twitter:
@PredatorToon
---
Advertisement

---