Fighters have a variety of reasons why they start training in mixed martial arts. Most of the time it is because they are looking for the competition drive that their bodies and minds need. Others start fighting because they like to hit other men in the face. In the case of UFC 188's Drew Dober, traveling was a really nice added perk.
"I got in this career to travel the world and compete in martial arts and entertain the fans," Dober told Combat Press. "I am living the dream — fight in different countries, fight in my country. I'll fight whoever."
Since being signed by the UFC, Dober has fought in Germany, the United States and Brazil, respectively. Saturday night, he'll add another stamp to his passport when he takes on Efrain Escudero in Mexico City.
---
Advertisement

---
Dober's opponent was able to fight his way back into the UFC after going winless in his second stint with the UFC in 2011-12. Now, Escudero is 1-1 in his current UFC tenure and seeks to post back-to-back wins with the promotion for the first time since 2009. Escudero will be fighting in front of his countrymen for the first time in seven years.
"I am pretty proficient in fighting the crowd favorite," Dober said. "The last four fights, I have gone into enemy territory, so it is something that I am not foreign to or strange to. Efrain, being a specific opponent, I have noticed a few weaknesses and I'll implement my game plan accordingly. Being the enemy is not going to change the situation at all."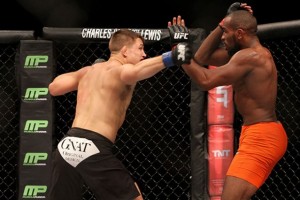 When it comes to situations, Dober has seen some strange ones. His last fight came against Brazilian Leandro Silva in Rio de Janeiro at UFC Fight Night: Maia vs. LaFlare. The fight was stopped in the second round by referee Eduardo Herdy. Dober was on top in half guard and Silva was on the bottom trying to work on a guillotine choke that was going nowhere. Then, all of a sudden, Herdy waved off the fight, thinking that Dober had passed out due to the choke.
"I got into a position where he was able to squeeze onto my head, but there was no submission present," Dober explained. "You would have to be an extreme white belt to tap [to] a guillotine in half guard. The referee and my opponent, both being black belts, should have known that. Being in an non-threatening position — uncomfortable, but non-threatening position — he should have let the fight continue. Me being in top position, ready to advance, I felt like I was winning the fight. It was absolutely crazy."
A week after the fight, the commission that oversees combat sports in Brazil was able to look at the tape and see that the mistake was on the referee's part. The commission overturned the result of the fight from a loss to a no-contest for Dober.
With the strange scenario behind him and the loss erased from his record, Dober moved on. He is now focused on his fight with Escudero.
"I am in great shape," Dober said. "I feel extremely enthusiastic. I have no injuries, so I'll have no excuses. I am ready to go."
Dober and Escudero were headed down the same path just a few years ago. Dober was looking at the competition in the regional market and seeking a fight that would get him to the next level.
"When [Escudero] was on the smaller shows, I was also on the smaller shows. I was the first one to raise my hand to get that fight," Dober said. "Now, we are both signed by the UFC and now we are going to fight. I don't think he is going to surprise me with anything. I know what he is capable of. I have seen him fight locally. I have seen him fight in the UFC. I am absolutely ready for what he has to bring."
In his fight with Escudero, Dober has the opportunity to bring his UFC record up to the .500 mark. It's just the beginning of what Dober feels are great things coming his way in the near future.
"I am ready for whomever," he said. "I think I have proved myself to the UFC. If they told me that my next fight was against a top-15 guy, I feel that I am ready."
One thing that Dober does have control over is his performance. When he takes on Escudero tomorrow, he hopes to show the Mexican fans that he is a name that they should not forget.
"I thrive on changing the heart of the audience. I go out to Germany and I go out to Brazil, and through dedication and through persistence and through the energy of the fight, I want the people that are booing me as I enter to be cheering for me as I leave."
Drew would like to thank Muscle Pharm and Team Elevation. Follow Dober on Twitter:
@DrewDober
---
Advertisement

---