As fighters work their way up the ranks, they find themselves fighting in all sorts of different promotions. For some, that includes fighting in underground cards, barns in the middle of absolutely nowhere and, sometimes, even on a boat as promoters try to get creative and put people in the seats. After running through the competition in their local market, fighters will usually branch out and look for other top guys to fight in order to make a name for themselves.
Czar Sklavos went this route. However, instead of just going a few states over or traveling north of the border, Sklavos took a huge leap and flew over to Japan, where he fought some of the known up-and-comers the nation had to offer. Although Sklavos has that experience under his belt, he still feels his next fight for the Resurrection Fighting Alliance, which takes place on Friday, will be without a doubt the biggest stage he's had on which to showcase his skills to the world.
"As far as my performance, as soon as I step into the ring everything phases out to me and it becomes just me and my opponent," Sklavos told Combat Press. "It really doesn't affect me much once I get into the ring, and I'm expecting the same come fight night. It's exciting, getting a three fight deal with RFA and being able to fight so close to my hometown for the people that support me. It will be the first national[ly] televised card in Idaho, so it's a big deal for me."
---
Advertisement

---
Things seem to be going according to plan with Sklavos. He has fought a bunch of times around his area. Then he branched out and did well against some other competitors around the world. Now, he has signed a deal with a promotion that has provided the UFC with a fair share of talented fighters. All the success thus far in his career, according to Sklavos himself, is due to his father.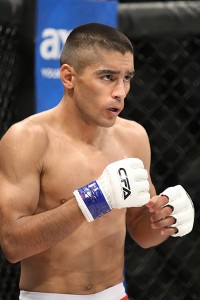 Carl Sklavos was a former world-champion kickboxer and one of the reasons why his son, Czar Sklavos, is on the right path to make a career from this fighting game. It is not only the genes Carl passed on to his son that has Czar on this trajectory towards a shot at the biggest promotion on the planet, but also the amount of time the elder Sklavos has spent shaping his son into the man he is to day, in and out of the gym.
"I've always looked up to my dad," admitted Czar. "He's always been there. I have always been around the fight game my entire life. I remember seeing him working out and sparring and get[ting] ready for his fight. Now I'm the one fighting and he is right there in my corner. It has really strengthened our relationship; it has taken it to another level. We spend a lot of time together. We train together and we work together as well. He's a great persona and a great father. I'm lucky to have him. I know I can go all the way with his experience and his coaching. I don't think we are lacking anything."
With his dad in his corner, Czar Sklavos is not lacking any confidence heading into his upcoming fight. He doesn't know much about Nicholas Burgos, the man who will be standing across the cage from him at RFA 27 on Friday night, but Czar's confidence might ultimately be the difference once both men are locked inside the cage.
"I haven't been able to find much tape or video on him," admitted Sklavos. "I know he is mainly a stand-up fighter. I know he trains out of Jeremy Horn's team and I know Jeremy Horn is a great ground fighter, so he will have a good ground game to go with his good stand-up. But I think I'm a sharper fighter all around. He'll definitely be tough, but I think who out-thinks the other guy is going to win this fight."
It is one thing to have your dad in your corner for extra motivation and confidence, but it's another to have a whole arena cheering you on as well. Sklavos has been spent most of his life in Idaho. He has been the bad guy heading into a fight many times, so he is very much looking forward to being the fan-favorite for a change.
"I've been getting support all around here," he said. "They see me every day and they tell me 'good job' and [they] can't wait till my fight and they are coming to see me live. I've got a lot of community support. It's nice because I'm usually the away guy. When I fly down to where I'm fighting, no one wants you to win. You are basically there for the other guy to beat up. It's a good feeling to know everyone there is going to have my back. For the comfort level as well, it's nice. I get to cut weight at my house because I have a sauna in my house. I can hang out and I can eat exactly what I want to eat."
It seems as though things are lining up quite nicely for Sklavos to go out there on Friday night and make a name for himself on AXS TV.
---
Advertisement

---