Thirty-eight minutes and 23 seconds.
That's the amount of time that Leon Mynhardt and Don Madge have spent getting acquainted with each other inside the Extreme Fighting Championship Hex. Both times, Mynhardt left the arena with his hand raised and a belt draped over his shoulder. After Mynhardt turned Madge away for a second time, albeit by way of split decision, many would have thought that a trilogy was out of the question. Those people would be wrong.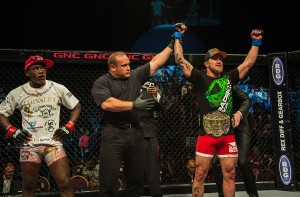 On Feb. 21 at EFC 37 in Carnival City, Johannesburg, South Africa, Mynhardt is set to defend the EFC lightweight title against Madge for the second time. The bout will mark the third time Mynhardt has met with Madge inside the Hex. Together they have shared nearly eight rounds of fighting. It's a trilogy that, according to the history books, Mynhardt doesn't really need to take part in. He has proven that he has what it takes to defeat Madge. Other fighters in his position probably would have turned the fight down.
---
Advertisement

---
"It doesn't really matter to me who I fight as long as my opponent puts up a fight," Mynhardt told Combat Press. "It's all about testing myself every time and to keep growing as a martial artist. I like any challenge. I know that I'm well prepared, as always, because I have the best team and coaches who push me to my limits."
The first time the pair met, the lightweight title was draped over Madge's shoulder. Madge had defeated Costa Ioannou with a submission in the championship rounds of their EFC 20 bout to claim the strap. However, he didn't fare quite as well against Mynhardt, who walked away with the split decision in a hard-fought contest that saw him finally lay his hands on EFC gold .
"It was the greatest feeling to win the biggest title in my career, and fighting for that belt is one of the main reasons why I joined EFC," Mynhardt explained. "There is nothing like setting high goals and actually accomplishing them."
Mynhardt enters the final fight of the trilogy match-up with Madge riding a four-fight winning streak. Another win will be enough to equal his career best of five victories in a row.
"It only shows that I keep improving," Mynhardt said. "And that I have the right team and coaching behind me. We at Team CIT MMA believe in teamwork. We are like brothers from different mothers [laughs]."
One only needs to look back to the first five months of Mynhardt's career to see the drastic change in the fighter's fortunes. In the earliest stretch of his career, Mynhardt posted three losses out of five appearances. All three losses came by way of submission. For a fighter who was just starting out, the frustration of losing could have quickly mounted and discouraged him from continuing down the path of MMA. Instead, it served as a reminder that there was still room for improvement.
"I realized that there is so much more to learn in martial arts," Mynhardt recalled. "It was a big stepping stone in my career. Every time I lost, I did not lose in my mind, but only learnt from it and became stronger each time."
Mynhardt has been a fixture on the EFC roster since his professional debut at EFC Africa 2. With mixed martial arts continuing to grow in Africa, Mynhardt has had an excellent platform on which to showcase exactly what he can do, not only for fans in Africa but for fans around the globe.
"It's the best thing that's happened in my entire career," he admitted, "In South Africa, we're way behind in MMA. And if it wasn't for EFC, we wouldn't have had the opportunities that we as martial artists and fans are enjoying today. I am truly honored to be a part of EFC Worldwide."
The EFC 37 bout will mark the third lightweight title defense for Mynhardt. Even though he may have defeated his opponent on two previous occasions, Mynhardt is still conscious of what this fight means to him.
"I've been fighting professionally for over 10 years and previously competed mostly in kickboxing and Muay Thai," Mynhardt said. "But, I must say, fighting for EFC has given me many more opportunities in life and has helped me grow as a person and reach my own personal goals.
"Being a champion is the ultimate goal in any sport. To stay the champion is even harder to pull off. This is what drives me the most. There are constantly new fighters that are hungry for the title, and knowing that only makes me push harder and become better each day."
Leon would like to thank his family, girlfriend and friends for supporting him in what he does. He would also like thank his coaches and teammates, as well as his sponsors: CIT Motorcycles, Attila's Fitness Academy and MMA, Bad Boy, Midas, Drimac, Squadcars, Cipla Nutrition. Auto Excellence, Johnike Combustion, Mc Alkion Water, Rydres Eyewear, Keep It Real Tattoos, C2O Pure Coconut Water. Follow Mynhardt on Twitter:
@IronLionCIT
---
Advertisement

---