Anyone who has paid any attention to mixed martial arts in the last nine years knows the name Cheick Kongo. He is the biggest, baddest Frenchman to ever grace professional MMA. Kongo fought in the United States for the first time at UFC 61 in 2006, and after 18 Octagon appearances over seven years, he made the move to the Bellator stage.
Three years later, he is now 5-2 under the promotion's banner. He won the season-nine heavyweight tournament, and he is on track for a second run at the title. However, pedigree aside, that is not the most interesting thing about the former world-champion kickboxer. Kongo is 40 years old, but unlike some off his quadragenarian counterparts who are still in the fight game, he looks better than ever.
Kongo has spent time at many different camps through the years, but he always keeps his training fresh.
---
Advertisement

---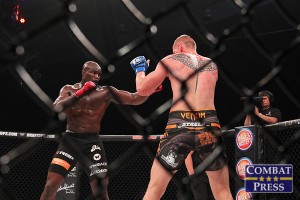 "I'm training like a beast," Kongo told Combat Press. "Training at HB Ultimate Training Center, Lakewood Body Shop and MPF Training Center, and those guys kick my butt every day. Every day, I am blessed to keep performing very well at my age, not being injured, and taking care of myself. That's wonderful. I can't wait to improve."
MMA has become such a rising sport, with so much competition, that many fighters in the United States are out there pushing their bodies too far, sparring like their lives are in danger, and not getting good enough nutrition, which gets worse during weight cuts. While it is nearly impossible to win the battle against Father Time, Kongo has done better than most. He follows a three-step approach, which really would work for anyone, regardless of age.
"The good thing is that with the nature of my training, I am always training properly," Kongo explained. "If I feel like I'm getting tired, just like in the past, I just take a break, rest, and, for sure, get good nutrition. I eat really healthy, but I will sometimes eat junk food, maybe two times a week. I work with partners on the mistakes I've made in the past, instead of just sparring really hard. We spar really hard two times a week, but the rest of the time is working on skills technically. The third part of my training is the rehab.
"I'm working with Winback USA, and we work to keep the injuries away. I'm not using TRT, so I'm drug-free and really, really happy. When you get old, you recover differently, but for me, the years don't seem to have that effect on me. Winback has really helped me with that."
At this point in his career, Kongo will keep pushing toward a title shot. He plans to stay active as long as the Bellator brass wants him around. In Kongo's mind, age is not an issue.
"It's not about me; it's about the promotion," Kongo said. "If they want to keep me, they keep me. If they don't want me anymore, I'll be out of the game. I'm 40, but I will fight until my 50th year. I have great emotion for fighting, and I'm not bored."
The next step toward a Bellator heavyweight title shot takes place tomorrow night at Bellator 150 at the Kansas Star Casino in Mulvane, Kan. What was once a co-headlining battle against Augusto Sakai is now a main-event fight against Vinicius Queiroz.
"It doesn't affect my training," said the heavyweight veteran. "Both guys are very similar. It's not like one is faster with better skills. Both of them are very hungry and ready to bring the war just to say, 'I'm the guy.' My goal is to fight to victory, and that's it. I won't say I'm a predator, but in this game, I am."
Kongo was supposed to face Queiroz in November 2013, but the match was canceled when Queiroz suffered a knee injury. Now, the fight will finally come to fruition.
"The thing is, whether I fought him then or now, it will be the same," said Kongo. "For the timing, I don't care. My idea is to fight, and I fight. I will win, because I want to be the best. I have no ego at this time."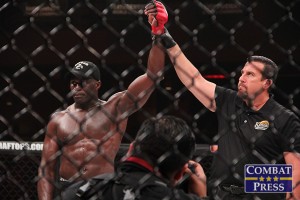 Obviously, the next progression for one of the promotion's highest-ranked big men is the title shot. That title, however, is in a bit of limbo right now. Vitaly Minakov, the current undefeated champ, last fought for Bellator almost two years ago. The man he beat by decision was Kongo. Since then, Minakov, due to contract disputes, has been keeping his unblemished record alive in Russia under the Fight Nights promotion.
"If I beat Queiroz, I will be next in line for the title," said Kongo. "Hopefully, it will go that way. If it doesn't go that way, that is their perspective. I am not the boss, and they create the rules. I am fighting and that's it. Fighting is the next step, and hopefully, I get a shot at the belt after Queiroz."
Kongo has led a storied career, fighting the who's who of the heavyweights over the last nine years. He may be 40 years old, but he looks better than ever. On Friday night, he will continue his quest for heavyweight gold. Age is just a number. This big man knows that. He has continued to defy the odds and improve as an athlete.
"My striking is getting sick, and my ground game is improving a lot. I'm really happy, because I've pushed the injuries far, far away from me."
Kongo would like to thank all of his coaches, training partners, family, friends, fans and sponsors. Follow Cheick on Twitter:
@Kongo4Real
---
Advertisement

---