On Jan. 21, 2012, a 23-year-old up-and-coming mixed martial artist with an 8-2 pro record, along with his 26-year-old business partner, who was training for his own fourth pro fight, put on an amateur promotion in Tallahassee, Fla., called Combat Night at the Moon. That night, 20 combatants faced off in 10 bouts. It turned out to be a great night of fights. There were six submissions, two knockouts and only two of the matches went to a decision. That's not bad for their first shot at a promotion.
Combat Night is now approaching its fourth anniversary. The guys running the show are Mitchell Chamale and UFC standout Josh Samman. These two men have become true ambassadors for MMA in Florida.
"It's about growing mixed martial arts in the state," Samman told Combat Press. "It's about growing the sport that we love all around Florida. We do shows in Tallahassee, Jacksonville, Orlando and Miami. It began in Tallahassee, then we went east and then south. It was always our vision and our goal to be the leaders in mixed martial arts here in Florida, and we've done that in a short amount of time — over three years now.
---
Advertisement

---
"We've done 53 shows, and we cater to fans and fighters all over the state. We hit every single area of the state, so that anyone that wants to see a live fight can come do so through us. Anybody that's a fighter and wants to compete can come do so through us. It wasn't always like that here in Florida. MMA on the regional scene was sort of dying out a bit, and I like to think we brought it back to life."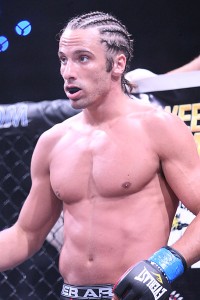 Hundreds of fighters have benefited from Combat Night. It has been a grassroots movement to bolster the sport and give aspiring fighters the opportunity to compete and get their names out to the larger promotions.
"It's a long process, man," Samman explained. "The Ring of Combat and the [Resurrection Fighting Alliance], they're doing a great job, and they had a bit of a head start — they have access to a lot of talent — but we're building these guys from the ground up. All the way from amateur, I've watched these fighters grow and get ready for their pro debuts, so that's a huge goal for us, to have these fighters go from Combat Night into the UFC.
"It hasn't happened yet, but that's our goal. I think, eventually, as we start to do bigger and bigger shows, we'll get on [UFC] Fight Pass. I don't have any disillusions. I don't think we'll ever be international in the sense of doing shows all over the world, but here in the United States and in the Southeast, we've become a mainstay, and we want to provide the UFC with talented guys we've brought up from the beginning."
Speaking of the UFC, Samman has been making quite a name for himself as well. After an impressive 9-2 run to kick off his professional career, he appeared on season 17 of The Ultimate Fighter reality show. He was a member of the Jon Jones-coached team. A heavy favorite entering the semifinals against Kelvin Gastelum, he was submitted by the eventual tournament winner, ending his bid to be the next Ultimate Fighter. However, the "reality" ended up much different than what happened on the show.
With his own promotion blowing up quickly and training partners all over the state, Samman never had a chance to take a real break. The final episode of the season aired on April 9, 2013, and on April 13, he headlined the preliminary card for the TUF 17 Finale. It took him seven minutes and 17 seconds to put a hurting on Kevin Casey, finishing the fight with a TKO of the fellow TUF contender.
The Florida native's next fight was scheduled for August of the same year, but he had to pull out due to the injury bug. Shortly after, tragedy struck. On Aug. 30, 2013, Samman's girlfriend lost her life in a car accident. In a flash, fighting was the farthest thing from his mind. In fact, it would end up being a year from his last fight until his next scheduled bout. Once again, injury struck. Samman tore his left hamstring and ended up sidelined until December 2014, 20 months since the last time he saw the inside of a cage.
In a much-anticipated return to the Octagon, Samman came back better than ever. Even with injuries, his skill set improved greatly in over a year and a half. He was able to earn "Performance of the Night" honors at UFC 181, where he destroyed Eddie Gordon with a head-kick knockout halfway through the second round. As quickly as he was out of action in 2013, he was back on track to make big waves in 2015.
In July, Samman was back in action against decorated Brazilian Jiu-Jitsu black belt Caio Magalhães at the TUF 21 Finale. This might have seemed like a tall order from a grappling perspective, but Samman stepped up to the occasion and tapped out Magalhães by rear-naked choke less than three minutes into the first round. That's not bad for a measly brown belt from Florida.
At the end of their fight, Magalhães showed incredibly poor sportsmanship. He spit blood at both Samman and referee "Big" John McCarthy. The Brazilian was subsequently suspended from action by the Nevada State Athletic Commission. The winner just shrugged it off.
"I think I just frustrated him, man," Samman said. "He's a jiu-jitsu black belt, a multi-time Brazilian Jiu-Jitsu champion, and he's one of the best grapplers in the middleweight division. And he got choked out, you know? The whole week of the fight, I was frustrating him, I think. Sometimes, those guys don't like you. I don't have any problem with any of my opponents, for the most part. I think it was just in the heat of the moment. Whatever. I don't care much. It was not a big deal to me."
After the Magalhães fight, Samman had some unfinished business to attend to. When he was in between injury and his comeback fight in 2014, he attempted to climb the world-renowned Maroon Bells, just outside of Aspen, Colo. He did not make it to the top. He was chomping at the bit to get to the top of that mountain, so he came back a year later.
"We ran into some complications about halfway up the mountain, so I had to come back this year and get it done," Samman explained. "I conquered it, man. It was one of the coolest things I've ever done. That place is one of the coolest places in the world. On top of Maroon Bells is a pretty magical place to be. I don't know if you've ever gotten to the summit or just hung around the base, but if you haven't been up, I recommend it highly."
There are only about six to eight weeks per year that it is even possible to climb to the summit due to icy conditions, and the Magalhães fight was perfectly timed to allow Samman to make it out to the Aspen area and complete this amazing feat. The Centennial State is magical indeed, and it holds a special place in the young fighter's heart.
"I like Colorado a lot, man," Samman said. "If I didn't live in Florida, I would live in Colorado for sure."
Soon after his last fight, as well as summiting the historic Colorado mountain, Samman got a phone call for his next opponent. It will be veteran Tamdan McCrory at UFC on Fox 17 this Saturday night. This was an event he was pushing for, because it takes place in his home state, where he works his butt off to promote MMA.
"I found out McCrory right after I got off the fuckin' mountain," Samman said. "Right after I got off Maroon Bells, that was one of the first calls I got. I was on vacation in Colorado, and I got a call from my manager before I got on the hike. I've been bugging my manager and bugging [UFC matchmaker] Joe Silva and [UFC President] Dana White and everybody I could about fighting in Florida, because they announced they were going to be coming to Orlando. I was originally supposed to fight Caio Magalhães in Orlando last time they were here, and so I had to get on the card.
"It was a no-brainer for me to compete on the card, and they put me against Tamdan McCrory. I'm excited about the fight. I've been excited since I got the call, and I think it's going to be tough, man. I'm not looking past him one bit. I think it will be the toughest test of my career, but we trained very hard for this one. I don't feel any holes in my game will be there for him to exploit."
The 29-year old McCrory was off to an impressive start to his career, building an 11-3 record between 2006 and 2009, with the last six of those fights earning him a 3-3 record under the UFC banner. However, after he was cut from the promotion in 2009, he decided to announce his retirement at only 23 years of age.
In 2013, McCrory decided it was time to resume his fighting career, so he signed with Bellator, where he knocked out Brennan Ward in 21 seconds in September 2014. He followed up the performance with a one-minute submission of Jason Butcher in February. McCrory, like Samman, finishes most of his opponents and has only a couple fights that have made it to decision.
"I think he's super well rounded," said the Floridian. "I mean, you look at him and he doesn't have a great physique, so people may assume that he's not strong or he's not fast, but I don't think that's the case. I expect him to be very strong and very fast. He's got good striking, he's got excellent jiu-jitsu, and he and I have a lot of the same skill sets. I think we both have a high fight IQ, which is why I think I will be tested so much. I'm fighting someone who is similar to my style."
Samman and McCrory are very tough and very smart, and even with Rafael dos Anjos and Donald Cerrone headlining the Orlando event, this fight could easily shape up to be the most exciting match-up on the card. Both men are looking to place a foothold in the UFC middleweight rankings, and they are determined to win this battle.
In terms of training for McCrory, everything is business as usual in Samman's camp. He trains all over Florida anyway, so the fact that the event is in Orlando makes it that much easier.
"For each and every fight, I spend the majority of my camp at MMA Masters and I have two instructors there," Samman said. "My grappling instructor is a guy named Daniel Valverde, and he's a world-class judo and jiu-jitsu practitioner. My striking instructor is a guy named Master Cesar Carneiro. He is a master of capoeira, but he also used to be an actor.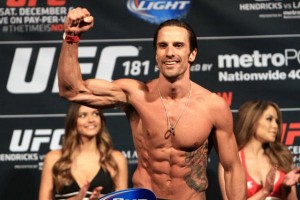 "[Carneiro] was the actor that was in Bloodsport, representing the sport of capoeira. If you get a chance, check it out, man. He was the guy with the long, curly hair. It's pretty cool, man. He's trained in Thailand, and he's proficient in boxing and Muay Thai. Those two guys have an excellent dynamic when it comes to coaching. And then, in a few days, I'll travel up to Tallahassee and train with one of my coaches who I've been with since very early on. His name is Joey Burtoft. He's more of a boxing instructor and mitt holder. He's also good at judo, but the things he and I work on the most are striking, primarily. So, as I'm winding down sparring and grappling down here in Miami, I'll go up to Tallahassee for the last week or so, hit a bunch of cardio, do a bunch of mitt work, then go down to Orlando for fight week."
The Orlando crowd will be out in full force to cheer on one of their favorite fighters, and Samman is very confident that he will be taking home a win in front of what is sure to be a raucous crowd. Most fighters will tell people they are only focused on the fight ahead, but it's difficult to not have some sort of idea where they want to go next. Samman avoids the political rhetoric and just tells it like it is.
"I don't agree with when fighters say, 'I'm not looking past my opponent. I'm just one step at a time,'" Samman said. "I don't know necessarily that that's a wise decision either. I don't think there's anything wrong with having a career trajectory and a path that you would like to be on.
"If I win this fight impressively, the next logical step would have been Michael Bisping. That would have been a great fight for me, but I think he just got signed to fight Gegard Mousasi. So I'm not sure what the likelihood of that happening is now. As it stands, I just found out about Bisping getting signed this morning, so other than that, I've got to get through Tamdan first. And it really depends on how impressively I finish Tamdan to determine how far in the ranks I jump up and who I'll be looking at in that scenario."
While it can be difficult to predict the future, it is okay to plan ahead. Sure, McCrory is next, but he's certainly not last, and Samman has no problem accepting that. Ignoring the future is a poor course of action anyway.
After UFC on Fox 17, Samman will patiently wait for his next assignment. In the meantime, the work never slows for his own promotion. With Combat Night 53 in the books, the 54th installment will be coming up soon, and Samman will continue to promote MMA in the great state of Florida.
"Any time I talk to any fans or my friends or anybody, they ask when Combat Night is coming back to their city. That was a goal of ours, to be a mainstay in the sport in Florida. You've got to start with a grassroots movement and build it from the ground up, and that's what we've done."
Samman would like to thank all of his coaches, training partners, sponsors, family, friends and fans. Follow Josh on Twitter:
@JoshSamman
---
Advertisement

---