The broken white lines blur into one on the pavement. Mike "Biggie" Rhodes is on a journey. He's headed to Iowa, his home state, for a friend's wedding. Is he relaxing and listening to music? No. Is he enjoying the sound of the wheels on asphalt as he passes mile marker after mile marker? No. Instead, he's on the phone, giving an interview to promote his next fight.
Rhodes wants people to know his time is coming. He's going to back up his words with action too. He's passed a lot of mile markers. He's seen the inside of the UFC's Octagon. He wants to see it again.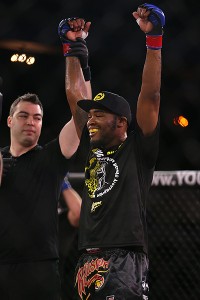 Not every mile is a smooth one. Any driver knows that. There are always going to be potholes along the way, and sometimes there will be detours as well. Rhodes is on one of those right now in his fighting career. As a prospect with a 6-1 record and a pair of wins under the Resurrection Fighting Alliance, Rhodes entered the UFC in 2014. That's when he hit several potholes. He dropped unanimous decisions to George Sullivan and Robert Whittaker. Then came a submission loss to Erick Silva in December that sent Rhodes on a detour right out of the UFC.
---
Advertisement

---
Rhodes could have sulked. Instead, he brushed himself off and decided to do something about it. The Roufusport fighter jumped right back in the gym and rebounded with a knockout victory over fellow Wisconsin welterweight Tom Angeloff on April 11 under the North American Fighting Championships banner.
Now, six months later, Rhodes has an opportunity to put together consecutive victories when he headlines Prestige Fight Club's event in Canada on Oct. 24. Rhodes is confident in his skill set. He might be on a detour right now, but he knows that this journey eventually leads back to the Octagon.
"These dudes out here outside the UFC, I just don't think feel like they can compete with me," Rhodes told Combat Press. "If I come to fight, there's not many people in the world that can compete with me, and the bulk of those guys are in the UFC. I'm gonna knock this dude out, I'm gonna move on to the next fight, whoever that is, I'm gonna put him away, and I'm gonna make my way back, because that's where I deserve to be. That's where I belong and that's where my competition lies.
"These guys outside the UFC are just warm-up fights. They're fights to get me back comfortable and things of that nature, let me try out new aspects of my game and get more experience. I don't see any of these guys beating me. There's a bunch of these guys in the UFC I'd fucking destroy. I just have to work my way back, and this time I'll be ready for anyone in the division. And that's a scary thought, or it should be for a lot of those guys."
Talented prospect Taki Uluilakepa is the next obstacle in the road for the now 7-4 Rhodes. Uluilakepa, whose record stands at 4-1-1, was a late replacement after Biggie's previous opponent suffered an injury while training.
"His name it Taki. I think that'll be the hardest part of the fight, is making it through interviews without having to say his name or trying to say his name correctly," Rhodes joked.
Rhodes carries a swagger in and out of the cage. He's confident in the talent he possesses. Some may see his comments as a display of cockiness, but Rhodes is part of a gym full of talent and understands his potential more so than anyone. He recently finished lending a hand in a training camp for one of the premier welterweights in MMA.
"I've helped Tyron [Woodley] with his last few camps," said Rhodes. "I helped him train for Kelvin Gastelum. I'm a righty, but I fight southpaw really well so I gave him that southpaw look. And I did the same thing for the Johny Hendricks camp. It makes me a better overall fighter being able to wrestle with him, grapple with him, strike with him [and] train with him. I'm not going to see too many looks from guys that are as explosive as him, or as technically sound as him or even as good as him all around. I'm helping him, he's helping me and it's a great relationship that me and him have. I look up to him kinda like that big-brother relationship."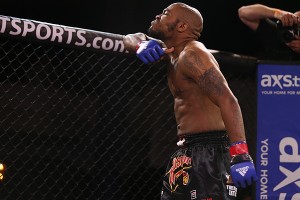 Rhodes is a young fighter at only 25, but he carries himself with the maturity of a seasoned veteran. He understands that the responsibility of a fighter entails more than just how he performs inside the cage.
"I know how to control the media aspect of it, as far as social media, getting my name out there and stuff of that nature," explained Rhodes. "I think a promotion that's just starting off, they need a fighter who's going to promote their promotion and also somebody who can throw down and will put on a great show, so I think I fit that mold and it's a match that needed to happen."
The broken lines continue to blur. Rhodes is approaching another mile marker on his journey. He's nearing his final destination too. There's happiness at the end of that road. Smiles and celebration await. All he has to do is get there.
Mike would like to thank Roufusport and Dustin Ortiz, DC Vinyl "who has a shirt out for me right now and will be making my banner," Combat Corner, Iowa Bison, NX Level Sports Performance, GRiT mouthguards "for protecting this smile," his Family Tae Kwon Do Champions school and all the kids that train there, Smuggling Duds, Wisconsin Athletic Club (WAC), Twisted Fate Tattoos and his family, especially his mom, adding that "without her I wouldn't be the man I am today." Follow Rhodes on Twitter:
@TeamRocBiggie
---
Advertisement

---