It's funny how so many martial artists are so loyal to their current gyms, coaches and training systems that even when they know they need a change, they just can't muster up the gumption to go through with it. It may be necessary to switch things up, but the biggest battle is always against the status quo. However, a few fighters up in Canada decided it was time for a change, and they did it pretty successfully.
Last year, Saskatoon-based Duane Peters, Adam Lorenz, Tyson Steele and Kurt Southern were at a crossroads. They had done very well for several years and then all of sudden, as the competition stiffened, their respective careers hit a wall. One by one, the losses started racking up.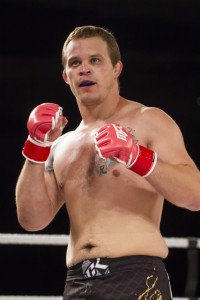 Southern is currently on a two-fight skid, with both losses coming against Tom Gallicchio, who is now in contention for a shot at winning the current season of The Ultimate Fighter reality show. Southern, meanwhile, hasn't been in a fight in over 15 months.
---
Advertisement

---
"I took a bit of time to start up the new gym," Southern told Combat Press. "My three longtime training partners and I decided we needed to change things up, so we thought the best way to go about that was to start our own place."
The new gym is called Modern Martial Arts Center, and it's located in Saskatoon, Saskatchewan. Starting the gym was the first step. Getting some good guidance was the next order of business.
"We affiliated with Bang Muay Thai and Infight Brazilian Jiu-Jitsu," the Saskatchewan native explained. "We didn't feel like we were competing at the higher levels as we were at the previous levels, so this is what we decided to do to compete at that level. It was partly that, and I had some injury issues I was dealing with, and I also decided to go down to 145 [pounds], so I changed weight classes. It took me a little while to get used to my new body style and eating better."
After eight years as a lightweight, Southern finally decided to make the move down. His featherweight debut — his first bout in over a year — takes place Saturday night at the inaugural Prestige FC 1 card at Crescent Point Place in Weyburn, Saskatchewan. Prestige FC is being spearheaded by fellow Canadian fighter Charmaine Tweet's husband Cord Crowthers.
"It's the first pro card outside of the UFC that has ever been in my home province of Saskatchewan," Southern said. "I'm kind of one of the most experienced pro fighters for the province, so when they reached out to me, I thought it was a great opportunity to come back in a new weight class. The opponents are good, and they seemed like they are trying to put on a really good show with the talent they are bringing in."
Southern will be greeted into his new division by American Kickboxing Academy standout Daniel Swain, who is currently riding a two-fight winning streak. The American is a finisher who has stopped his opponents in 11 of his 14 wins with a near equal split between knockouts and submissions.
"He's got some decent wrestling, he's got some good jiu-jitsu, and he likes to stand and bang, too," Southern explained. "He's a pretty good all-around fighter, he's got a lot of good experience, and he's got a lot of tough fights, but I'm not terribly worried about him. I think I've got what it takes to beat him. And this is going to be my home show, and he's not going to come into my turf and take away my featherweight debut. He's not going to steal that from me."
While Saskatchewan is his home turf, Southern had the opportunity to study abroad, spending some time in Denver with UFC vet Duane "Bang" Ludwig, of whom his gym is an affiliate.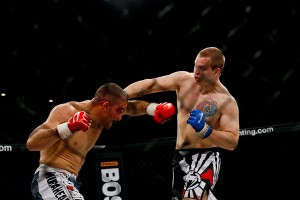 "I was just in Denver training with Duane Ludwig for a week," said Southern. "I went to the Elevation Fight Team to train with them for a couple sessions as well. I was there a week back in the beginning of August too, but it wasn't specifically fight training. I didn't know about this fight then."
With his studies both home and abroad, Southern feels a renewed sense of spirit as he finally steps back into the cage after his long layoff.
"My biggest strength is that I've had a lot of time to change my game up," said Southern. "I'm going to be different than what he is expecting."
A lot has changed with Southern in the last year. Change is good. Fans will get to see the result of all of his hard work, as well as that of his other team members, Saturday night when he enters the cage as the co-main event of the evening. While the training might be a little different, fans should expect to see the same Kurt Southern who has been putting on exciting finishes since 2007.
"People should tune into this fight because they're going to see a super exciting fight, man. I'm going to put it on him. He's going to get hit with some things he's never seen before, and I think the fans are going to be really excited about that."
Southern would like to thank his friends, family, wife Amber, coaches and training partners at Modern Martial Arts Center, Duane Ludwig, his manager Mike Russell, his sponsors and Prestige FC. Follow Kurt on Twitter:
@KurtSouthern
---
Advertisement

---