After over six years away from the Octagon, Andrei Arlovski defeated Brendan Schaub earlier this summer at UFC 174. It marked his first UFC victory since a second-round win over Jake O'Brien in 2008. For a former champion who has seen more than his share of ups and downs over the past five years, it should have been an amazing occasion and a way to celebrate the rebirth of his career under the biggest spotlight possible. Instead, Arlovski has been bombarded with criticism. UFC President Dana White served as a vocal member of an MMA community that wasn't impressed by Arlovski's performance, and Schaub openly disputed the judges' decision after the bout. Considering all of this came in a win, Arlovski's UFC return ended up being as unceremonious as possible, something that doesn't quite make sense to the Belarusian.
"I don't want to explain myself or something, but look at Schaub and the fight. He looks like he was hit by a train," Arlovski told Aline Baktchejian Djehdian of Combat Press in a recent interview. "It's not my best fight and it wasn't an exciting fight for my fans, but I controlled the fight and I smashed his face. I had a lot of pressure—I was nervous—but it was an okay fight, you know? I don't understand why Schaub started bitching after the fight. It was, 'blah blah blah.' Listen, look at your face and ask the judges."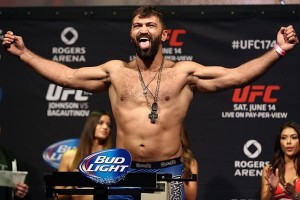 Obviously, Arlovski's comeback started with a little more drama than the former champion would have preferred, but getting into the win column was the only thing that really mattered. It's been almost a decade since Arlovski held a UFC title, and in the minds of many fans he's already an ancient fighter from the past. However, at 35 years old, he's right at home in an aging UFC heavyweight division that features just one fighter under the age of 30 ranked in the top 15 of the weight class. That gives Arlovski the chance to make some noise with another win—he faces Antonio "Bigfoot" Silva at UFC Fight Night 51 on Sept. 13 in Brasilia, Brazil—and it's clear he's not considering hanging up his gloves anytime soon.
---
Advertisement

---
"I still feel young. I have energy to fight, and I'll reach my goals," said the former heavyweight champion. "I promise I'm training hard and taking this fight with Bigfoot real seriously. I'm trying to show a good fight on Sept. 13, so I don't think my fans will be disappointed."
Putting on a show against Silva is extremely important for the Belarusian if he wants to try to work his way up the UFC ladder. Now in the midst of a stretch that shows only one loss in his last nine fights, Arlovski isn't quite as dead in the heavyweight waters as fans may think. An impressive win over Bigfoot in the main event this weekend would signal a resurgence in "The Pitbull's" career that most fans had no idea was coming. Adding to Arlovski's pressure is the fact that he's fighting in the main event on a card in Silva's home country.
"For me, it's not really important to be in the main event," Arlovski admitted. "I've fought many, many main events in the UFC and in different organizations. For me, it's more important now to finish my opponent. Of course, I'm very excited and very proud to be the main event in Brazil."
As proud as he is to headline a card in Brazil, he doesn't hold any false hope that he'll have the crowd on his side come Saturday night.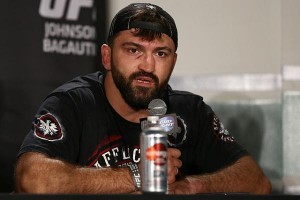 "Oh, they're going to boo me," Arlovski laughed. "But if one person in that crowd wants to cheer my name, who's going to scream my name, then I'm definitely going to fight for that person."
Arlovski has the difficult task of trying to take out a fighter who has thoroughly dominated him before. In a Strikeforce bout a few years ago, Silva beat a slight favorite in Arlovski by unanimous decision, hurting the former heavyweight champion with a handful of big shots throughout the fight. It's not surprising that Arlovski seems thrilled at the chance to redeem himself.
"I fought Bigfoot a few years ago, I lost that fight by decision, and I'm really excited for the rematch," said Arlovski. "I have some of the best coaches and the best teammates. I'm definitely a better fighter than I was four years ago and he's a better fighter, so we'll see. He has something to bring to the table, and I have something."
As for Bigfoot's claim that he's going to finish the former UFC champion this time?
"Good luck," Arlovski responded with a laugh.
---
Advertisement

---