Remember the old heydays of World Extreme Cagefighting? How many mainstream MMA fans actually remember watching guys like Donald Cerrone, Brian Stann, Chael Sonnen, Urijah Faber and Jose Aldo long before they were in the UFC?
Some fans will play the poser role and pretend like they remember those fights, based on UFC highlight reels and YouTube videos, but to really test these folks, ask them about the other WEC mainstays that are still out there fighting in other circuits. Guys like Chase Beebe, Damacio Page and Marcos Galvao are gracing the cages of Bellator, Legacy FC and other regional circuits, some successfully and some not. Well, any hardcore MMA fan worth his salt remembers the WEC days of Doug "The Rhino" Marshall.
Marshall began his professional career in the WEC cage, and he was very successful. In his first 11 fights as a pro, he went 8-3, including five knockouts, three submissions, a WEC light heavyweight belt and two title defenses, which was the most for any 205-pound fighter in the history of the promotion. The Rhino was all about destruction. People remember the crazy, tattoo-laden, bald-headed maniac who brought an exciting fight each and every time he entered the cage. So, it is definitely a change of pace to fast forward over six years and hear him sound so fatherly.
---
Advertisement

---
"I love to spend time with my son," Marshall told Combat Press. "I've got a little 14-year-old. Actually, I can't call him a 'little 14-year-old' anymore. He's damn near a man. I like to hang out with him and teach him things about life."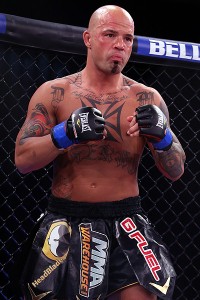 Marshall, who had it tough growing up, has really developed well beyond his persona from his late 20s. When he's not training his ass off for his next battle, he's riding his motorcycle up the California coast with his woman and hanging out with his son. Most fighters have a life outside of the gym, but it's rare to find a bad boy like Marshall who lives a pretty chill life when he's not in camp. However, let's not make Marshall sound like he's getting soft. This guy is still a badass fighter all the way.
After the WEC dissolved its heavier weight classes in late 2008, Marshall continued with his winning ways. In his next 14 fights, he improved his record to 18-7, adding seven knockout wins and one more submission to his resume. To date, the only way to beat Marshall is to stop him. If a fighter can't stop the former WEC champ, he will lose by stoppage or decision. Marshall is a father, a companion and an opponent's worst nightmare.
After winning the season-eight Bellator middleweight tournament in April 2013, Marshall earned a title shot last November against Alexander Shlemenko. This was the second title defense for the incumbent champ, who was on an 11-fight winning streak at the time. Late in round one, an exchange led to Marshall going down from a body shot. It was his first loss in five fights. For a veteran with 25 fights under his belt, there were no excuses.
"After that fight, I don't think there's a whole lot that I would have changed, other than being a little more aggressive," admitted Marshall. "Basically, it came down to a quick slip. I hit the uppercut as he hit the liver punch, so I knew that I only had maybe seconds to try to dispatch him. I went in with the straight right as he stepped in with his straight left on the liver again, and I went down. The worst thing about those liver shots is that 20 to 30 seconds later, you're back to normal. I didn't get a scratch. Nothing. It's a shitty feeling losing like that, but I still feel that nine out of 10 times, I would beat that guy."
Even in defeat, Marshall went down fighting, because that's the type of brawler he is. Nobody can ever question his heart. For the second fight in a row, his hand took the brunt of the damage, and it put him on the sidelines for a short while.
"After that fight, I had to have surgery on my right hand," explained the California native. "I broke my hand both in that fight and the tournament final versus Brett Cooper. You know, when you try to knock somebody's beard off, it really takes a toll on your hand, definitely. But, I had to have a surgery after the title fight, so, as soon as that surgery was done, I think it took maybe three months."
Marshall trains with Elite Team in his hometown of Visalia, Calif. Three months in recovery put him back in the gym around March. Even at 37 years old with two broken hands in a year, he was immediately looking for his next fight. That call came just a few months later.
About 12 weeks ago, Marshall found out his next opponent was going to be fellow veteran Melvin Manhoef. In early August, it was announced that the two would be headlining the Bellator 125 card, which takes place on Sept. 19 live from Save Mart Center in Fresno, Calif. While it takes a special training camp to get ready for a well-rounded guy like Shlemenko, Manhoef's style is more like Marshall's, so the training followed suit.
"When I found out I was fighting Manhoef, I just kind of trained the same," explained Marshall. "You know what I mean? Don't get me wrong. If I'm fighting a D1 wrestler—like, let's say I'm fighting a guy like Brandon Halsey—then, yeah, we're going to switch some things up and I'm going to work on my takedown defense and those kind of things. For someone like Manhoef, who's basically, to me in my eyes, a mirror version of me—you know, heavy-handed striker, doesn't want to go to the ground, doesn't need to go to the ground—we basically train just like that."
Elite Team may not be the most well-known California MMA gym, but it definitely houses some quality fighters in addition to Marshall, including Cody Gibson and up-and-coming female brawler Marion Reneau.
"We've had a great training camp," Marshall intimated. "I couldn't ask for a better team than the Elite Team Visalia. They're always pushing me, you know? Breaking me down and building me up. I'm really grateful."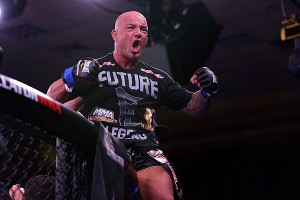 Manhoef is a longtime veteran of MMA who was born in Suriname and raised in the Netherlands. His first pro fight actually took place in 1995, giving him one of the longest-running active pro careers in history. He's 28-11-1-1 in mixed martial arts and 37-12 in pro kickboxing, which he has been competing in since 1996.
In his MMA career, Manhoef has earned 26 knockouts and has only been to decision four times in nearly 20 years. Marshall has only been to decision twice. It doesn't take a rocket scientist to figure out how this fight is going to go down.
"He's a hard hitter," Marshall stated. "He's a hard-hitting, confident striker, so I need to keep moving on my toes while picking my shots and really working at a high pace.
"My style doesn't take very long to get started. I like to start it off hot and heavy from the beginning, and try to keep that same pace going all the way through. We've definitely trained hard enough, and my cardio's good to go for three five-minute rounds, no problem. I've seen Manhoef kind of tail off near the end of the fight."
Marshall is a father, a friend, a lover and, most importantly, a fighter. At Bellator 125, he will be looking to dispose of Manhoef as quickly as possible to get back in line for another shot at Shlemenko's title. However, regardless of what happens, fans have one thing to expect from this match-up.
"Violence. Pure and simple violence. There's no other way this fight can happen, without it being very violent."
Marshall would like to thank his coaches and training partners at Elite Team Visalia, including his strength and conditioning coach, John Wheeler. He would also like to thank his family, friends, fans, manager and sponsors: VaporFi and Dog House Grill in Fresno. Follow Doug on Twitter:
@DougTheRhino
---
Advertisement

---