MMA fighters are individuals. Theoretically, a fighter could train by him or herself if they so desired. However, no fighter could succeed on their own, because to truly succeed it takes a team. At the very least, a fighter needs a coach who can impart knowledge and teammates to train with and spar against.
There are thousands of gyms all over the United States. Hundreds of thousands of fighters train every day. So why is it that the top guys and girls seem to come from the same gyms? Usually, it's because of the coach. But a coach needs athletes as much as athletes need a coach.
The MMA Lab is a who's who of elite athletes: Benson Henderson, Efrain Escudero, Jamie Varner, Lauren Murphy, Chris Gruetzmacher and so many more. James Nakashima is another member of the camp. His name might not be listed among the elite yet, but he is another of the gym's fighters that will likely end up on the UFC's roster.
---
Advertisement

---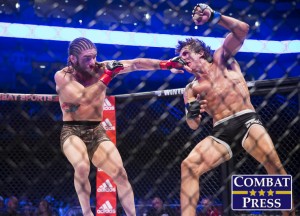 At the ripe old age of seven, Nakashima started wrestling at his father's request. He played and preferred other sports until the sixth grade, when his father decided Nakashima would focus exclusively on wrestling. Middle school is where he first found success while wrestling. By eighth grade, he was growing to love the sport.
In high school, Nakashima qualified for the state meet twice and went on to wrestle in junior college. After two years and an NJCAA championship at Lincoln College, he wanted to train with the best. He saw Jordan Burroughs compete at the NCAA tourney and decided he wanted to join the team at the University of Nebraska. Nakashima became the main training partner for one of the best wrestlers of our time.
And, as all MMA fans and fighters know, iron sharpens iron. Training with the best will either make you one of the best or it will break you. Nakashima became one of the best. In his senior year, Nakashima placed seventh in the ultra-competitive Big Ten and qualified for the NCAA national championships. He went 3-2 at the tournament.
While at Nebraska, Nakashima started training at an MMA gym. Once he graduated, he set his sights on a professional MMA career. At that time, Benson Henderson was the 155-pound champion for the UFC. Nakashima decided yet again that he wanted to train with the best.
What makes him and the other MMA Lab athletes such fierce competitors?
"John Crouch," Nakashima told Combat Press. "Well, I think there are two main things that he does. One, he creates the atmosphere. It's his gym. Now I know there are others who are also financial shareholders, but anyone who comes in knows it's his house. He treats it like that and takes all the responsibility. The atmosphere is positive. He comes in smiling and shaking everyone's hands. No matter who you are, he remembers your name. He makes sure no one walks around hurt or with a bad attitude. He wants to keep the place positive, for all of us to treat each other like family, and he sets the tone by greeting everyone every day. That kind of thing will help you get through a rough day and a rough practice.
"I think it's the way he coaches, too. Just like in life, it's important how you look at things. People are negative; life is tough. It's easy to get critical and look for the bad. But the world is imperfect. It doesn't make sense to point out the imperfections. We should be looking for the beauty. Coach Crouch will always start off by pointing out where you did good and then point out the places we need to improve. Some coaches will harp on what you did wrong, focusing only on what's wrong. Hearing and taking criticism is hard and it's a huge part of improving, so it's important to be smart about it.
"The other key is how he holds us accountable. At some other gyms, there isn't anyone keeping kids accountable. He always wants to know why you're not at practice. If he notices something wrong, he will sit us down. Like, right now, Joe Riggs and I have fights coming up. Other gyms, well, in some of them, nobody is there to help their fighters prepare. If they don't have a fight coming up, they aren't there to help other fighters train. Not here.
"A real leader isn't afraid to get dirty. If someone is acting up, he might sic Benson or Riggs on them. Benson, he does it in and outside the cage, too. He is a great human being and is a big part of the accountability at the gym. If he isn't practicing, he is still there coaching. It's almost like a Batman/Robin thing [laughs].
"A lot of it is mentality. The champion mentality is all about overcoming. From grade school in a small town that never had a state champion, and I placed third in state. In high school, I was the first to go to state. [I was] national champ at junior college. I didn't get to win a national championship while I was at Nebraska — and that was on me [because] I was not mature enough to live on my own, I think. I dedicated myself to school and to wrestling, but I was just not able to hit the goals I set.
"But that really set me on the path to MMA, and I really feel like I am blossoming here. Whether it's obstacles in the ring or if I ever lose, I love this sport. I love the game. There is nothing better than sparring on a Saturday. We will get the small seven-ounce gloves and spar, and if we're not sparring, we are watching.
"I like to take my dog for walks [and] I like to hang out with my family, but I love sparring. I am not too worried about losing or getting knocked out, because my heart is my biggest weapon and I know I can overcome and rebound. I believe it and that is what makes me scary to opponents.
"People look at my record, 4-0, and they say I should be finishing people. But I made my professional debut in the RFA, a premier organization. The competition has been so good that I am focused on securing the win, and if the opportunity to finish comes, of course I will take it, but I feel like… If they fall, they fall. If I get the chance for a sub, I will take it.
"If my stand-up were more technical… I am still developing. My jiu-jitsu still has a long way to go. I am fighting to win. Chance [Rencountre] dropped me in my last fight with 60 seconds left to go, so even though I was dominating for most of the fight, I didn't finish strong. My dad was pissed at the way the fight ended. I was dazed and I knew I had to give myself time to come back, but my dad wanted me to get in there and brawl. I knew I couldn't let him get back in the fight and so I didn't give him a second to breathe the whole fight.
"And I knew he was in total desperation mode at the end of the fight. I knew it wasn't right to fall into that or engage him when he was looking to steal the fight. I could've stood my ground, but it wasn't part of the plan.
"These guys I am fighting are just as good as me. It always happens — Benson and [Georges St-Pierre] were criticized for not finishing guys or knocking guys out, but they fought super-tough [opponents]. The MMA game is like football. It's a game of inches. If [Conor] McGregor can keep up his finishing streak… It would be just unbelievable if he can finish [Rafael] dos Anjos. I gotta go with Conor in this one. He is just so impressive. But that is him and his style; I am not afraid to keep on not getting finishes.
"The fight is a chess match. And I feel the way I compete, I have a very physical nature. That's my game, but it's also in my nature to play chess. I dictate the tempo and where the fight goes. Since I dictate where the fight goes, I am more comfortable. If I feel I need to pick up the tempo, I do, because I believe in my cardio and my conditioning and my poise. I have the discipline to fight because I have the discipline to train."
Nakashima started his MMA career with two amateur fights and won both scraps. Then he made his professional debut in January 2015. He has won all four of his professional fights. His last bout against the aforementioned Rencountre took place in September. Nakashima's next fight will be a battle of the undefeateds.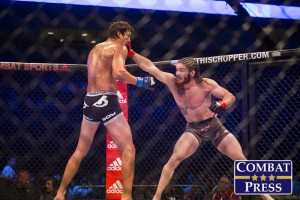 Brad Darrington is also 4-0, but he will be making his Resurrection Fighting Alliance debut. The fight takes place in his own backyard of Utah. Nakashima is unfazed, though. He enjoys being the spoiler.
"I don't know much about Utah or his camp," Nakashima admitted. "I know they are good. I know he has power and is a quality kid. I know he is going to be totally prepared by his coach and team, and so am I. I think he is going to be very similar to Chance. They are both strong wrestlers [and] strong martial artists, and since my wrestling is high level, I think this fight will be won in other areas — boxing, Muay Thai, jiu-jitsu.
"It's a fight. Darrington is a little different from Chance, though, in that their build is different. This kid is shorter and stocky, more muscles. I've never been in a competition where strength was an issue, so I'm not worried that he will be stronger, and I am sure I will be faster. I haven't seen any footage of his fights and I don't really know the level of his competition, so we will see. I think he is orthodox, and I am more comfortable against orthodox fighters.
"Making my RFA debut made me grow, inside and out of the Octagon. It's the journey in life, learning. Learn in the cage and apply it outside and vice versa. I am improving my skills every day, and I know he is coming from the toughest gym in Utah, so this is going to be a big fight. I know he trains at elevation, so his cardio will be on point. Underestimation is not in my mind. I tell myself that he is just as skilled, just as prepared [and] just as ready as I am."
There is a saying that if you want to be the best, then you have to beat the best. It's certainly true. A win is a lot more meaningful when it comes over a quality opponent. The harder you have to work for it, the sweeter the victory. However, it's also true that if you want to be the best, then you need to train with the best. Nakashima actively seeks out the best training partners and coaches. And he isn't afraid to face the fiercest competition.
James would like to thank his sponsors: Hayabusa, Young Subaru, Diamond MMA and Phelan Precision. He would also like to thank his parents and his family for believing in him. Follow Nakashima on Twitter:
@JmNaKo
---
Advertisement

---