When you examine the career of a fighter, you must look at their whole body of work. However, that may not gauge where the fighter is actually at in their career. Some fighters have great records built up slowly against low-level competition, which gave their record a padding. Some fighters have not as attractive of a record, as they may have taken on tough competition from the onset of their career, but that experience turned them around for the better. Shortly put, their strength of schedule made them better.
The latter of these two descriptions can aptly be applied to Colleen Schneider, a fighter who is 9-6 on her career. Don't let that closer-to-.500 record fool you. She opened her career 1-4, but since then has been on a tear which has seen her win big fights in big organizations, as well as earned her a spot on the first women's edition of The Ultimate Fighter. Basically, she should be a fighter viewed under the lens of "what have you done for me lately," as opposed to one examined just by the numbers in her record. This way you'll see how good she's really been.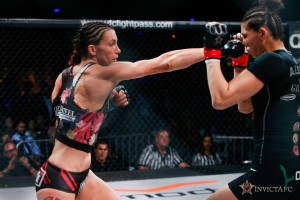 Schneider is a two-division Super Fight League champion. She won both the flyweight and bantamweight belts during her tenure with the organization. She has fought for Pancrase, Kunlun Fight and Invicta, the promotion she will go to battle for on Jan. 16. Her vast improvements since her early fights against names like Liz Carmouche and Sarah D'Alelio definitely sent her on a crash course that would eventually make her a top-40 bantamweight.
---
Advertisement

---
"I definitely think that it was a case of too much, too soon," Schneider remarked on her early career in an interview with Combat Press. "I didn't break myself in and pad my record like some fighters did. I took on some tough fighters right away. I put a ton of pressure on myself, but I became more comfortable after that slow start. It made me a better fighter."
Schneider remarked that her time in India with Super Fight League was great for her career. She was treated well by the company and it gave her exposure to a whole new audience. Furthermore, working with the CSW Training Center in Washington state, along with the likes of Erik Paulson and Josh Barnett, among others, has made her a better mixed martial artist. It has also brought her appreciation of another form of entertainment often associated with MMA.
"Josh and others at CSW have definitely rubbed off their love of pro wrestling on me," Schneider admitted. "I have trained with a ton of catch wrestlers like Billy Robinson and Barnett. So yes, I do know how to work and shoot. I can definitely see me giving [pro] wrestling a try."
CSW, and Schneider specifically, has also benefited from a new influx of female talent that has arrived, which will give all the women there more training partners to go up against. The addition of women like Shayna Baszler, Marina Shafir and Jessamyn Duke, all of the Four Horsewomen fame, has made CSW a destination for high-level training, especially for women like Schneider, who is an established talent there already.
Schneider made continued improvements in 2015. She stayed busy with four fights. After dropping her first fight of the year in Invicta to Irene Aldana, Schneider rattled off a three-fight winning streak that will head into 2016. She bested the likes of Jingnan Xiong, Diana Reyes and Bryanna Fissori. Needless to say, 2015 was a pretty successful year for her.
"I think my biggest win of the year came in China against Xiong," Schneider said. "She was the local fighter and the promotion was building her up, and I went in there and beat her. So, from a competition standpoint, I think that was my biggest win. That being said, getting a win [against Fissori] in the Pancrase organization, who I always wanted to fight for, was up there too. I had a good 2015."
Schneider has jumped between weight classes in her career, but it appears she is now settled on staying at bantamweight. This is a key idea, since fighters such as Donald Cerrone and Dustin Poirier have successfully moved up weight classes to avoid drastic weight cuts. The idea has resonated with Schneider as well.
"I can cut to flyweight, I just choose not to anymore," said Schneider. "When I was cutting to that weight, I couldn't lift weights and I had to do a hard water-weight cut. I am more comfortable fighting at bantamweight. I am strong enough and big enough to fight there, so I am definitely staying at this weight class.
"I think the UFC's IV ban is a mistake, and I certainly see a future where more fighters move up a weight class to avoid tough cuts."
On Jan. 16, Schneider has a big match-up with Raquel Pa'aluhi, a fighter many believe will have a title shot at Tonya Evinger with a victory. This motivates Schneider more. She would love to play spoiler and potentially take that shot for herself. She knows it'll be a tough fight, especially given the great improvements to the Hawaiian's game. Pa'aluhi is coming off the biggest win of her career over Ediane Gomes.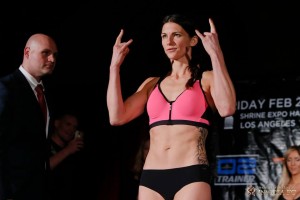 "I am really looking forward to fighting Pa'aluhi," Schneider said excitedly. "She is super tough and really well rounded. She fought Kaitlin Young last year, who is a good friend of mine. Raquel took a lot of punishment in that fight and showed great heart in taking that win. I like this match-up a lot.
"I think that my striking is better and my wrestling is definitely better. I think she has good jiu-jitsu and is good off her back. This will be a fun fight. I guarantee the fans will be entertained."
With that guarantee, Schneider is obviously expecting big things for herself in 2016. Invicta has shallow waters where any big win can result in a title shot. The UFC is also hurting for new talent at 135 pounds, so a move there for Schneider could be on the horizon as well. In fact, there is a fighter on the UFC roster that Schneider would like to scrap with in 2016.
"I have been chomping at the bit to fight Valentina Shevchenko, who just debuted successfully in the UFC," said Schneider. "It was a match-up I wanted before she got signed. She is very good and I would like to test myself against her."
All things considered, Schneider looks to continue her improvements and strides to ring in the New Year successfully and master this thing we call mixed martial arts.
---
Advertisement

---