Darrion Caldwell is no stranger to success.
Growing up in New Jersey, Caldwell was a three-time state champion in wrestling while attending Rahway High School. At the collegiate level, he became the 2009 national champion while attending North Carolina State. A torn labrum put an end to his wrestling career and, with it, his hopes of competing for the U.S. National Team in the Olympics. However, a new opportunity came for Caldwell to compete. Mixed martial arts became his calling.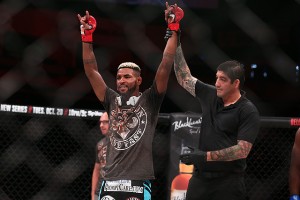 "I kinda knew when I was in college that I would get into fighting after I was done wrestling," Caldwell told Combat Press. "I didn't figure it'd be so soon. I thought I'd go through the Olympic cycle. There's nothing else after that for wrestling. Every other sport has something, like football has the NFL. After wrestling, it's like, what do you do? A wrestler's dreams and their hopes are to go into international wrestling and win a world title, an Olympic title. God's call to me was that my wrestling career is cut short and he gave me another opportunity to compete in fighting.
---
Advertisement

---
"I feel like everything happens for a reason. I'm glad I jumped into MMA so soon. I wouldn't want to be 28, 30, trying to get into MMA."
In September 2012, Caldwell made his pro debut for Legacy Fighting Championships. He won via decision and continued fighting for the promotion for roughly a year. He earned two more victories in that span and scored his first finish, a TKO victory against Quaint Kempf at Legacy FC 16. The impressive start to his new career earned Caldwell a contract with Bellator MMA.
Caldwell continued to thrive. Five more wins later and coming off a submission victory against Shawn Bunch at Bellator 143, Caldwell was exiting the prospect phase and entering contender status. However, even his next fight announcement — a headlining bout against former Bellator champ Joe Warren — came as a surprise.
"I really didn't know what to expect," said Caldwell. "It's hard to expect to be a main and fight of the night after your fight before was the undercard. Not a lot of people get that opportunity, so I was like, 'What!?' I got that phone call and I was like, 'Hell yeah, let's do it.' Joe Warren is a fighter that people want to watch. People want to see him in the cage. People want to see him outside the cage. So fighting this guy is something I've always liked to do, especially considering he was a world champion in my sport that I grew up in and I loved. So it was a dream come true."
Warren is notorious for building up fights and delivering a little trash talk his opponents' way. That hasn't happened yet. If it does, Caldwell will revel in it.
"What better guy to instigate and bring the best out of you," said Caldwell. "I thrive off of that. Whether he does or he doesn't. He's been quiet, which is cool with me, but I'm waiting for him to start some shit so I can finish it. But if nothing happens, then it's whatever.
"At the end of the day, it's a business. Joe's cool. I like Joe. I like his personality, and he's a wrestler, so even better. But come March 4th, I'm going out there to take his head off."
Caldwell's opportunity will present itself in Thackerville, Okla., at Bellator 151. Whether he'll be able to take full advantage and emerge with the win, only time will tell. If he does emerge victorious, Caldwell will be closer to a title shot and the chance to be the first African American to hold the bantamweight title for Bellator.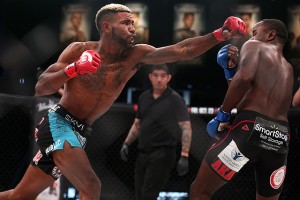 "I think that's cool," said Caldwell. "Times are changing. I like to break down barriers. I think it'd be pretty cool to be an African American and win the belt, but it's been done [in other divisions]. Will Brooks has got it. Daniel Straus has got a belt. The most dominant champs, I feel, got a little color in their skin [laughs]."
One thing is for sure: Caldwell's backflip celebration off the cage is here to stay, despite the mishap after his last fight when he knocked down the camerawoman, earning him the No. 2 spot on ESPN SportsCenter's "Not Top Ten" for the night.
"Next time, I want two cameramen underneath of me so I can knock 'em both down, so I can get three knockouts in the night," Caldwell joked. "That ain't never been done. I know 'King Mo' [Lawal] had like three finishes at Rizin in two days or something, but not in one night."
Caldwell's rise toward the top of the bantamweight division can hardly be seen as a surprise. Simply put, when he dedicates himself to a craft, he has not only excelled, but is one of the few to say he has been the best while doing so. His calling into MMA provides him another opportunity to prove that.
---
Advertisement

---