Opportunities in MMA aren't always abundant. That's why, when opportunity knocks, you have to be ready to answer.
For Lacey Schuckman, opportunity comes in the form of Invicta FC. A staple of the women's MMA regional scene, Schuckman knows bigger things will come because of Invicta. Therefore, it was an easy decision when the company came calling for Invicta FC 12.
"It's been tough to find fights. That's why you see me jumping between weight classes to take fights," Schuckman told Combat Press. "I usually walk around at about 135 [pounds], so I was able to make 125 and 115 easy. I can fight at 105 if it's worth it, but that's a hard cut. I want to solidify myself at 115 now. Nothing is out of the question, but I am happiest at 115."
---
Advertisement

---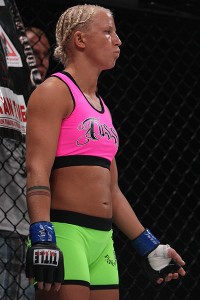 That jumping around from weight class to weight class has provided Schuckman with the opportunity to gain experience, stay busy and cash checks. The regional scene has also played host to some of Schuckman's best fights and victories.
"I think my best performance came back in 2011 against Michelle Blalock," Schuckman said. "I am happy with that fight. It was on two weeks' notice and I was the underdog, but I was able to use all my skills and win despite all that."
Now, Schuckman returns to Invicta for the first time since October 2012. She took two fights with the company that year, but was unsuccessful in both bouts against Ayaka Hamasaki and Michelle Waterson.
On her plate is a good young prospect in Jenny Liou. Like Schuckman, Liou is looking for her first victory with the company. She dropped her debut late last year against Jamie Moyle. The loss brought an end to Liou's undefeated record.
"I think we match up really well. She's a jiu-jitsu fighter as well," Schuckman pointed out. "I try to be as well rounded as possible. I started as a striker, but found my niche as a grappler. On the feet, this is more my game, but I don't want to underestimate her."
Now that she has signed with Invicta, Schuckman hopes to get more action this year. The regionals can provide an inconsistent amount of work, so it's huge for Schuckman to have a big promotion like Invicta as her employer, assuming fights come more aplenty.
"I am just hoping a win gets me another fight with Invicta soon," Schuckman admitted. "There are more opportunities for me with the company and its easier to get fights because the roster has fighters that are able to fight me. In the regionals, you don't always get credible opponents, and athletic commissions will nix the fight because I have so much more experience. So I'd love to get another fight this year with Invicta."
For now, Schuckman looks to shoot her stock through the ceiling. She has the skills and experience to hang with most fighters at 115 pounds. All she needs is future opportunities, a winning streak and some finishes to catch more eyes and show everybody why "The Ladie" is a fighter to keep an eye on.
Lacey would like to thank her head coach Randall Schuckman, kickboxing coach Don Lee, boxing coach Steve Mestas, Brazilian Jiu-Jitsu professor Joaquin Baca and wrestling coach Mike Laurita, as well as all of her teammates at #TeamGoonies. She would also like to thank her sponsors: 90 Degree by Reflex, Martial Arts Life Apparel, Fighter Girls, Grit Mouthguards, Mass Destruction MMA, MMAROADHOG Racing, Tan Time, LUB MMA and Xionx-mma.com. She'd like to send a shout out to her manager, Rosa Freitas, for all the hard work. Follow Schuckman on Twitter:
@ladielacey
---
Advertisement

---