In his first seven professional fights, Jordan Parsons was about as perfect as a fighter could be. He went in there and got knockout finishes, a submission and a few hard-fought decisions wins. It's the sort of start to a career that fighters strive to attain. Parsons achieved that goal, but he may have lost something along the way.
When a fighter performs so well, they might start believing their hype a bit too much. In doing so, they might let their guard down. That's what happened to the Blackzilians product in his fight with Lazar Stojadinovic. Parsons entered the Championship Fighting Alliance bout as an undefeated pro. He left with his first defeat just 71 seconds later.
"That loss kind of gave me some insight into the fact that I am human," Parsons told Combat Press. "I just really didn't think that kid could knock me out, so I kind of went in there without having any respect for him at all. And I learned a hard lesson that night. Ever since then, I pretty much decided that anything can happen in this game and I have to be prepared for everything. [I have to] do my best to take away the possibility of something like that happening again."
---
Advertisement

---
Judging by his most recent performances, it is evident that Parsons has made the best out of a very bad situation. He's on a four-fight winning streak that includes three stoppages. The most impressive victory was easily the one over Brazilian prospect Julio Cesar Neves Jr. under the Bellator banner in May. Neves came into the fight with some hype surrounding his name. The Brazilian had a 30-0 record and a 90 percent finishing rate.
Parsons wasn't having any of it, though. He went in there and finished the young phenom via submission late in the third round. It was a win that should have garnered the attention of the Bellator brass.
"I think it did get their attention a little bit, because they were really hyping him up before our fight," said Parsons. "Kind of what they are doing with Bubba Jenkins now — there isn't much mentioning of me. I think it helped out a little bit, but I knew I was going to beat that kid. He hadn't fought anybody with any kind of credibility. His toughest opponent was Poppies Martinez, and let's be serious, Poppies Martinez is kind of a journeyman. I figured at some point I'd break that kid, take him to deep waters and show him what it was really about. It felt good to finish him, but at the same time I thought he was going to have a little more."
It doesn't get any easier from here for Parsons. He's facing the aforementioned Jenkins at Bellator 146 in Thackerville, Okla. As Parsons suggested, Bellator has really high hopes for Jenkins, who is arguably the best wrestler in the lighter weight classes today, and not just in Bellator, but also in the entire sport of MMA. To go along with his wrestling credentials, Jenkins has more wins by stoppage than by decision, which is something we rarely see at this juncture in a stud wrestler's martial arts career.
"I'm glad I get to have a step-up fight here in Bubba Jenkins," Parsons admitted. "But I don't think they would have given it to me if he didn't go out and ask for it. That's why I had to go at him a little bit and egg him on, and it worked. It all turned out pretty well for me. Now I get the opportunity to fight this dude and show him what's up. They keep putting all their eggs in this basket, and I can't wait to go out there and break all that up."
It is not out of the ordinary for fighters to jaw at each other leading to fight night, but the amount of talk on social media and podcasts between these two featherweights has been nothing short of entertaining. They have attacked each other on social media at any given chance and seem to be under each other's skin. According to Parsons, it all started even before he and Jenkins were contracted to fight.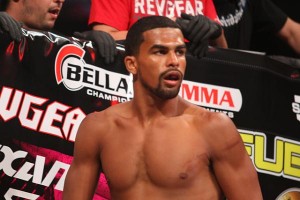 "It was because I said on a post, when he was supposed to fight Georgi Karakhanyan, that he sucked," said Parsons. "He took offense to that and started writing these long paragraphs in my Instagram about [how] I was throwing rocks at the king and blah, blah. Basically hyping himself up. I thought that was stupid because he was getting ready to fight Georgi Karakhanyan, who is a real threat for him, and he is over here talking crap to me. I think it takes a really weak person to be affected by somebody like that. We've never sat down and had a one-on-one conversation, but I think that's weak personality when you let something on the internet bother you. Like seriously, it's the internet."
It is easy for people to look at this fight on paper and say Jenkins is a step up in competition for Parsons. He thinks differently. Given their respective past opponents, Parsons actually thinks it can be looked at the other way around.
"I do think so," said Parsons. "If you look at his record, tell me, who has be beat? I beat that 30-0 kid they were hyping up. I finished him. That's probably the best win on my record at this point. If you look back at my record, there are not too many guys that are lay-downs. I had tough fights most of the time. I've been signing up to fight whomever since day one. I also have an amateur career where I'm 30 fights deep now. I'm not afraid of anyone. I'm not worried about Bubba Jenkins. I'm coming well prepared and I'm coming in mean, but I'm not going to say that, for me, [this] is a do-or-die type of thing. I think I'm going to smash him and he is going to realize that there is a whole nother level."
Parsons is this confident because of the way he carries himself outside of the cage. According to some of his training partners in Florida, Parsons is a man on a mission in the gym. This is where he gains his confidence. It's not just because of skill, but because of hard work and dedication.
"I never do anything half-assed," claimed Parsons. "I was taught from a young age: if you don't do it right the first time, you try to do it again and again. A lazy man works the hardest, and I find that to be true. I learned that [when] I was at wrestling camp in high school. I feel like I'm putting all my time in now because we have a short window and I don't want any regrets in my life.
"I'm about to go all out, give it all I got and we'll see where it all takes me. I believe I have what it takes to be the greatest, and I'm going to keep pushing for that."
Parsons has come to a crossroads in the path toward greatness. Standing at the crossroads is a man by the name of Bubba Jenkins. On Friday, Nov. 20, we will know which road Parsons will take.
---
Advertisement

---