Every person who has ever competed has known heartache and defeat. No matter if it's the arts, sports, business or yoga. Yes, competitive yoga is a thing… maybe. But if it's got one person pitted another, there will be loss. There will be spectacular highs, too. Those highs are the engine that keeps us pushing for more and more. But those losses, those sorrows, are the fuel that feeds that engine.
It was in second grade that James Nakashima had his first real taste of the highs and lows of competition. His dad forced him into wrestling at that very early age.
"I liked pro wrestling. Bret Hart was my favorite wrestler. Once I went to my first practice and realized that that wasn't the same, I didn't want to go back," recalled Nakashima in an interview with Combat Press.
---
Advertisement

---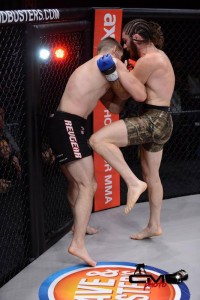 Like most kids, Nakashima played other sports. However, his father refused to let him play basketball in the sixth grade. It was wrestling and wrestling only.
"In middle school, I was finding more success and having a lot more fun," said Nakashima. "By eighth grade, I was growing to love the sport."
Nakashima went on to compete as a wrestler in high school and junior college before moving on to an NCAA Division I program.
"I was at the NCAA tournament when Jordan [Burroughs] won his first championship," he said. "It was very important to transition to a school where I could train with the best. Jordan was the best in the nation and University of Nebraska was the best program for me.
"When I got to Nebraska, I learned from Jordan and benefited from his knowledge and work ethic. My wrestling career wasn't as successful as I wanted. I didn't reach my goals, but they did prepare me for what I want now. Now I am not willing to settle for anything but the best."
While in college, Nakashima started cross-training MMA at Premier Combat Center in Omaha.
"I definitely had an eye on fighting after college," he admitted. "I learned a lot from the team in Omaha, but wanted to train at the best gym, so [I] decided to come down to the MMA Lab. Benson [Henderson] was the 155[-pound] champ, and I got to go down there to check it out."
Nakashima only took two amateur fights, but he won them both. The first was a second-round TKO and the second was a 40-second, first-round submission due to punches. The opportunity to make his pro debut for the Resurrection Fighting Alliance came up, and Nakashima was ready and willing to take it on in January.
"The guy, Victor McCullough, was tough," said Nakashima. "He had like 200 ammy fights as a boxer and kickboxer. It was the classic wrestler vs. stand-up, and I knew I was going to need to rely on my wrestling and was going to need to believe in my stand-up. I am glad to have fought him early in our pro careers. I feel like it was a make-or-break situation. Winning that fight set me up to believe. Winning that fight was so important to my belief and my career."
All three of Nakashima's professional fights have ended the same way, by unanimous decision in his favor. He last fought on Aug. 1. His next fight will be a homecoming this Friday in Lincoln, Neb. Going home again might have Nakashima feeling a little philosophical, but it seems like it's a large part of his nature.
"I'd like to be known [for] becoming a true mixed martial artist — to be able to stand up with anyone [or] take them down at will. I want to be known for my life outside of the Octagon as a quality person," explained Nakashima. "I volunteer. I want to be known for doing more than just training and fighting. I want to be known for being a professional inside and outside of the Octagon.
"Ultimately, my goal is to be one of the greatest MMA fighters of all time, and with the support of my family, my team and my gym, I will work hard to accomplish that goal. I believe I can be that champion inside and outside the cage.
"I like to get deep. My best friend, Chris Gruetzemacher, and I spend most Fridays and Saturdays hanging out, discussing what it takes to be a champ, to be an overcomer, and technique. I have learned a lot from my friends and I hope to be able to do the same for others. My family supports me 110 percent, and I know I am lucky.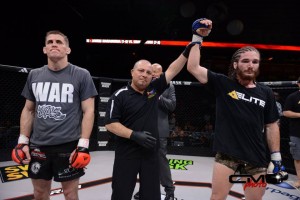 "When I didn't reach my goals, it wasn't because of anyone else. It was all on me. But there are others who just don't have the same opportunities as me because their families can't support them to follow their dreams. There are kids I know that have the strength and talent and mindset to make their dreams come true, and they just need a break.
"I don't want to plan my future life. So much can change. I had a professor, one of my political science professors, who would come into class, drop a NY Times on the desk, and we would talk about the topics of the day. He led the conversation and encouraged us to participate and debate. It was one of those classes that no one skipped."
Nakashima may seek the chance to shape developing minds, but he's also determined to reach his goal. The next challenge against the 7-0 Chance Rencountre will be his biggest. Rencountre has five wins by some form of knockout as a professional.
"I know I need to constantly be improving," said Nakashima. "For this fight, I am really focusing on jiu-jitsu. I have gone to George Garcia at Hammer Boxing to work on my hands and my footwork. With every single fight, I am becoming a true mixed martial artist. In every position, I am comfortable. No matter where the fight goes, I can win — not just one position, but every one."
James would like to thank his sponsors: TechniKolor Body Shop and Jerry Danko State Farm. He would also like to thank his family for all their support and for always believing in him. Follow Nakashima on Twitter:
@JmNako
---
Advertisement

---