GLORY 22 co-headliner Zack Mwekassa isn't here for titles. He's here to create mayhem.
"The Black Warrior" became a household name for kickboxing fans in 2014 after a pair of vicious knockout victories. The first was a knockout of popular former UFC fighter Pat Barry in his GLORY debut. The second, a thunderous punch that dropped Brian Collette. The knack for a knockout, combined with a lifetime's worth of experiences, has made Mwekassa into one of the promotion's biggest stars.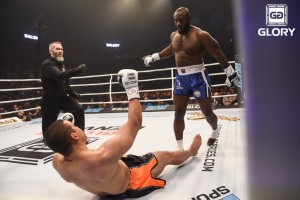 Mwekassa is coming off a loss to top contender Saulo Cavalari at GLORY 18. He will face Tiger Schulmann's Carlos Brooks at GLORY 22. Brooks comes from a karate background, but Mwekassa keeps it simple with how he stacks up against the opposition.
---
Advertisement

---
"Just like I match up against any human being — with two hands, two legs and one head," Mwekassa told Combat Press.
It's that kind of attitude that has no doubt helped Mwekassa through a life that's been filled with struggle. If fans have not read his pre-fight interview prior to GLORY 18, it would serve them well to catch up on the backstory of Mwekassa. With a life that's seen all sorts of horrors, it would seem like a kickboxing match would be a walk in the park.
"Saying it's a walk in a park would be a big lie," Mwekassa said. "It's hard work and requires a lot of discipline. But coming from a country of war and witnessing what I have, no human scares me."
Outside of a mental edge, Mwekassa utilizes raw power in his hands that few opponents can match. So, what's the secret to his knockout power? Is it weightlifting? Powerful legs and hips? Perhaps it's his outside-the-box diet plan? He's previously discussed his eating habits — consuming worms and water for the weeks leading up to a fight — but his "cheat meals" are even more unorthodox.
"Sometimes, I have snails, beans, raw beef or horse meat for raw power," Mwekassa said.
"Lions, the most powerful animals, don't cook their meat," he quips.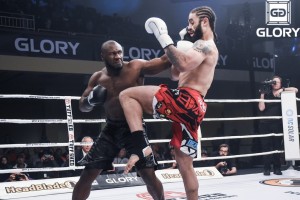 It's his self-proclaimed "warrior diet" that allows him to maintain proper nutrition levels heading into a fight. However, while most fighters head into their bouts looking to advance toward a title shot, Mwekassa's career plans don't necessarily include a GLORY belt around his waist.
"I want people to say, 'Oh my god! I want to see this guy again!'" Mwekassa said. "I am not in GLORY to win a belt. I am in GLORY to create mayhem. If we can make a big fight where the belt is on the line, that's a bonus."
With his knockout power, mayhem is on the menu for GLORY 22 with Chef Mwekassa serving it up for kickboxing fans.
Mwekassa expressed that he's currently looking for sponsors. He can be contacted via his
Facebook page
.
---
Advertisement

---