On the Gold Coast, just outside of the popular tourist destination of Surfers Paradise, in the Isle of Capri, there lies a hidden gem that showcases all that is good about an old-school haircut experience. On any given day, up to 10 barbers can be found at Barber Bros & Co. The shop's décor can take a patron back to a time when things were a lot simpler.
As he tends to the needs of the patron before him, Julian "Julz the Jackal" Rabaud receives a text message that he didn't quite expect.
He'd gone viral.
---
Advertisement

---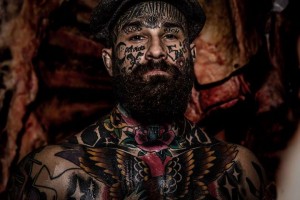 "I had maybe 100 text messages that day. My Facebook, man, it was fucking blowing up," Rabaud told Combat Press. "Could you imagine how bad that was? My phone was red hot in my pocket, steaming like a fucking tea kettle, mate. It was about to bloody explode in me slacks. I'm thinking I'd better stick my phone on ice. I'd better cool this fucking thing down. I couldn't believe it. You think you've seen 60 million views? Try being tagged so many fucking times in 24 hours. It started to make me laugh. I knew that the bigger that this thing got, that's when people start asking questions — Who is this guy? Can he fucking fight?"
Rabaud isn't quite a stranger to the public eye. Throughout his time as a professional fighter, he has recorded videos and said things in the lead-up to a fight. He dreamed of going viral. When his antics at the weigh-in for his last professional bout got him noticed, it was a surprise, to say the least.
"I've seen crazier things, and I think I've done crazier things," Rabaud admitted. "I've tried to make things go viral before. The way I see the Internet is that there's a wall, and I always try to shoot to get over that wall, but it fuckin' feels like that wall was always so high and I could never see over it. It kinda felt like the clouds were in the way, that's how fuckin' high up this wall was. I couldn't even see the top of it. I always thought it's gotta be about someone you know. There's gotta be someone out there that can be on top of that wall and get you over there. It turns out, all it took is me being the bad guy.
"From the start, I was just looking at it all in the wrong light. Me being a good guy doesn't sell. At all. That's not what people want. People don't want the guy that looks bad to be good. There's more people in the world that wanna hear bad news; they wanna see bad shit; they wanna be blown away. I guess I was just marketing myself the wrong way. I was too busy trying to be funny and trying to be the good guy when maybe I should have been focusing on being the bad guy, because the bad guy is definitely what sells."
When the infamous video started to do the rounds, and as more and more people shared, commented and liked it, Rabaud looked at what was happening before him. The response was overwhelming, to say the least. It was a video that showed Rabaud being knocked out by Ben Nguyen, and that was a lot for the outspoken fighter to take in.
"Is this a bad thing? That's the first thing I asked," Rabaud admitted. "I dealt with the loss already. I dealt with being knocked out and it didn't really affect me. It never steered me away from anything. My persona never crumbled. That fight didn't do anything to me at all.
"I think there were a lot more questions for myself, though, about my planning. People seeing me getting knocked out wasn't going to affect me at all. The world saw what they saw, but the only thing that matter[s] to me is my world. I don't care what strangers see. I don't care what they think. I dealt with the people around me — around my area, around my home — I dealt with them when this all happened a year ago. When I seen it, there wasn't any shame in it at all. All I could think was, 'This is good.'
"I do these things for a reason. I didn't get in 'Ben 10's' face at the weigh-in because I didn't like him. I didn't know him. I couldn't give a fuck about Ben Nguyen. I think it's stupid to think that I was trying to get an advantage or try to scare him. We are grown fucking men. We fight. It would be stupid to think that I could intimidate someone with his kind of experience outside of a fight. He is someone with so much more experience than me. He's trained at such higher levels and he is from a bigger and better gym.
"This is me hyping a fight. This is me saying come and fucking see, come and look. Look at me! Spotlight's on me. Camera's on me. This is about me. This isn't fuckin' about Ben. It never has been. It's never been about anybody else but me. I don't do what I do for anybody else."
"Why wouldn't it go viral?" Rabaud asked. "The guy in it has got his face tattooed. It kinda said a little bit about the world as well, and how they would suppose a guy with that kind of image would act. The knockout itself, it wasn't spectacular. It wasn't highlight-reel kinda stuff. I made that go viral — what I fucking look like, what I do and what I say — that's what made people wanna watch it. And, truthfully, I've gotten more followers on my Instagram than ever from this video. More people wanna know who I am [and] more people wanna know about what I do. People are asking about 'The Jackal,' and with every new follower, I'm fucking telling them… and they like it."
Although more people may have been asking the question, along with it came criticism of Rabaud and his techniques of selling a fight. Fans and fighters alike have been quick to make their comments known across social media. And, for them, Rabaud asks a simple question of his own.
"People who go on there and have a go — and other fighters especially — all I can say is, who the fuck are you?" said Rabaud, a switch seemingly going off in his head. "Who the fuck knows who you are? I can tell ya one thing, there's 60 million people in the world now that know who 'Julz the Jackal' is, and that's what counts. Good or bad, people wanna know who I am and what I do. At the end of the day, none of these people are sitting down at the dinner table with me. It doesn't matter what they think, whether they like me or hate me, they're either gonna buy a ticket to come watch me win or buy one to come and watch me lose. It's the same fucking shit. We're not personal, so it ain't personal. It's just business.
"Put this down on fucking paper: I will fill up a UFC Australia card. I will fill that fucker. I would get everyone fucking down there to either see me lose or see me win.
"People want me to stop. They want me to stop because it's making them look boring. I'd fucking hate me too. I would fucking hate it if I was boring and I had mum and dad paying for all my schooling or training or fucking whatever and I'm training my ass off every day to get no love. I'd fucking hate it if I'm not getting paid shit, nobody knows my name, I'm not on no fuckin' posters and I'm showing up to the fight and this larrikin with tattoos all over his face shows up to the fight and everyone in the fucking building wants to get photos with him, and here I am standing there with a title and nobody knows fucking my name. What good are you, cunt? What fucking good are you?"
Even with his newfound infamy, Rabaud doesn't plan on changing his tune. For him, it's all about the show. It's all about getting eyes on him and his upcoming fight.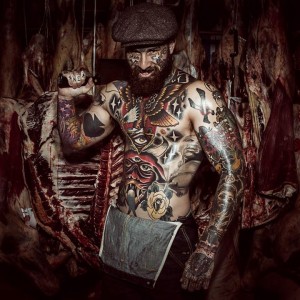 "I'm still the guy on the poster. I'm still the guy in the main event, and I'm about to be the guy that wins another title in another weight division," Rabaud exclaimed. "There's a lot of good fighters out there, fuckloads of them, and you'd be a fool to think that you could stand with half of them. I've never walked around saying I'm the best. You've never heard 'Julz the Jackal' walk around saying that I'm the most skillful person in the fight game. You've never heard it. You've heard a whole lot more. You've heard me say everything else but that."
Rabaud was originally slated to make his XFC debut at XFC 23 on Feb. 28, where he was to meet Shane Young for the XFC featherweight title. Due to a severe rib injury, however, Rabaud had to pull out of the fight. Now, his debut has been rescheduled for XFC 24, which takes place on May 23. It will be the first time in over a year that Rabaud will be in action.
"It all comes down to the 23rd of May," Rabaud began. "Main event, XFC, 66-kilo fucking champ, 'Julz the Jackal' defeating Shane Young. That's what I think the most important thing is. The whole fucking world has seen me lose, and I'm gonna make sure that this time the world goes quiet. Whenever I do good, nobody says a thing. I just hear silence. I'm gonna make every single person go silent when I win that title. This show has only just fucking started."
Julian would like to thank Juggs, Miles, Jessy and family at Full Metal Jiu Jitsu, JIF Training Centre, Ricky and Empire MMA, Big Bad Blair, The Shock Mansion, Barber Bros and Co, ASN Coolangatta, Fight 'N' Fit Lutwyche, King Brown Mouthguards and Jordan from FightLife. He would also like to extend a big thanks to his "beautiful lady and hero" Jessy Jess.
---
Advertisement

---