After suffering back-to-back losses in 2013 to the likes of Danny Castillo and Jorge Masvidal, Tim Means was no longer part of the UFC roster. It was a disappointing end to a four-fight tenure with the promotion. The knockout artist entered the Octagon for the first time in 2012. His UFC debut was accompanied by the hype of an impressive KO/TKO winning percentage on his record. He flashed that potential in his first two UFC outings, where he conquered Bernardo Magalhaes by decision and scored an impressive 66-second TKO finish of Justin Salas. Then, he struggled in his three-round affairs with Masvidal and Castillo. "The Dirty Bird" was down, but he wasn't out.
It did not take long for Means to get another crack at the UFC. After the promotion released him, Means quickly went out and scored a knockout win over Pete Spratt and a TKO finish of Artenas Young while fighting under the Legacy FC banner. Now in his second UFC stint, Means plans on sticking around much longer and showing the fans why the hype leading to his debut was well deserved.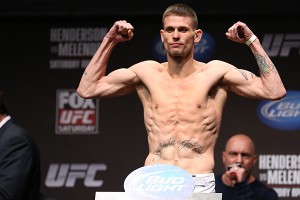 "I'm just being more open-minded," admitted Means in an interview with Combat Press. "Adding more tools to the arsenal box. Trying to put some weight on the weight room, and more strength and conditioning. Just enjoying the job a lot more, too, than I did as a lightweight. [It's] a much more fun journey now with more calories and less stress on making weight."
---
Advertisement

---
Though the weight cut won't be an issue according to Means, he still has some other factors to consider heading into this fight.
For a long time, American fighters were not faring very well when traveling down to Brazil to take on Brazilian fighters in their home country. The last couple of shows in Brazil, though, have started to swing the tide and the Americans have climbed back into the race. When Means heads to the Jose Correa Arena in Barueri, Sao Paulo, Brazil, he will look to continue the Americans' success.
"If you look at my record, I've gone into a lot of guys' backyards and fought," Means pointed out. "I usually got my hand raised at the end of the night. It is a role that I enjoy to play — the homecoming spoiler — and it is always fun to check out new places, so I'm looking forward to the challenge."
Just like Means back in 2012, Marcio Alexandre Jr. came into his UFC debut with a lot of promise and a stout finishing ability. With Alexandre Jr. boasting an impressive 12-0 record with all wins coming inside the distance, it was easy to see why. Means is not worried about his opponent's credentials, however, and feels strongly about his chances heading down to Brazil.
"He's never fought anybody like me," Means touted. "He doesn't have the same experience level at all. In fact, it is not even close. I am sure that is on the back of his head. I've been up and down the block once again. I have more power in my hands and I am just better everywhere. He is going to have to add many tools to his game — his little karate game he does."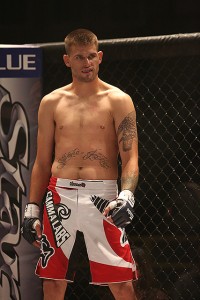 Though his opponent has a lot finishes on his record, Means is not too worried about Alexander's power. In fact, he is more worried about his karate base and his ability to make the fight a point-scoring affair.
As noted by his track record, Means is always looking for the finish. However, given the new weight class, he feels he has the gas tank to go full steam for the entire 15 minutes and not let his opponent sit on the outside.
"We've been training my cardio, and my cardio is top notch right now," Means said. "He is going to have to prove he has the gas tank. I train at high elevation, and that keeps me in great shape. I've been on the weight room training a full eight weeks for this fight, so I am prepared for whatever version he throws."
One of the perks Means is enjoying, especially during the holiday season, is the lack of a weight cut. If you catch a fighter during their weight-cutting period, especially during the holiday, they can be less than approachable, to put it lightly. Means emanated the complete opposite vibe. It was very evident he will enjoy his time back up at welterweight.
"I haven't really have to worry about my weight," he admitted. "I am able to eat even during the holidays, so no problems there. Thanksgiving was awesome, and here with Christmas coming up, I'm ready to chow down. [There is] no pressure making 170 pounds. I love how my weight looks now heading into the weight cut, so no pressure at all. I am just looking forward to going down there, getting paid and enjoying the holiday."
Seems like the only thing missing for a perfect holiday at the Means household is an impressive win on Saturday night. Means will seek to rectify that on Saturday night.
---
Advertisement

---