Siblings in the professional sports world are a really common occurrence, and they almost always choose the same sport. Call it upbringing, call it genetics, call it environment, but it is rarely a coincidence. Tennis had the Williams sisters, basketball has the Gasol brothers, NASCAR has the Busch brothers, and in the case of UFC light heavyweight champ Jon Jones, his two brothers both play in the NFL, along with the Manning brothers.
Obviously, these are just a few of the many examples of siblings in pro sports. In MMA, it's actually more prevalent than most other mainstream sports.
The MMA world has had so many siblings over the years, but some of the more well-known ones who are currently active include Jim and Dan Miller, Anthony and Sergio Pettis, and, of course, the Nogueira brothers. While the younger sibling is typically watching his older brother train and progress through the sport, it becomes easy for him to grow and excel faster than most people. The younger one learns the craft sooner in life and picks up that muscle memory a lot quicker. Adam Nijem is a perfect example.
---
Advertisement

---
Nijem, who is only 21 years old, has older brothers. They represent Eagle Scouts, college wrestling and an overall outdoorsy lifestyle. They were raised in a mixed religious environment with a Mormon mother and Muslim father, but they are also naturally athletic guys. Most people know Adam's brother, Ramsey, from his stint on The Ultimate Fighter reality show and his subsequent UFC career.
Ramsey, who is five years the elder, competed in college wrestling in Utah before getting turned on to MMA. By 26, he had amassed a 9-5 pro MMA record after skipping the amateur circuit altogether. Adam also started wrestling at a young age, but it was his high school days that started to shape his MMA career before he even knew it.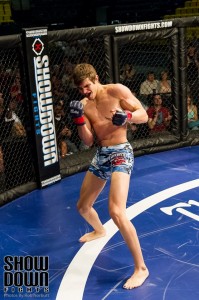 "I actually started wrestling in third grade, so it's a big part of my game, and I started boxing in high school," Nijem told Combat Press. "I wasn't really planning on doing mixed martial arts when I was in high school, but, actually, I was training for mixed martial arts without knowing it. You know, I was doing wrestling, doing boxing, and, when I moved to Utah, I threw them all together. I started training in mixed martial arts. So, I would say I'm more of a mixed martial artist in that sense."
After high school, Adam moved to Utah to wrestle at Utah Valley University, just like his brother. However, he instantly followed Ramsey's footsteps, training at The Pit Elevated in Orem. In February 2013, he tried his hand in the amateur circuit, and, within seven months, he earned a 3-1 record with only one fight making it into the second round. When he made his pro debut last January, only 11 months after his amateur debut, he was already familiar with the environment, and he won by first-round submission.
"It definitely felt great," said Nijem. "I had fought for that promotion at the higher elevation a few times before—obviously, it was just the first pro fight—so it didn't feel too crazy, like a whole new state or anything like that, so I was pretty comfortable with it. After getting my first pro win and getting that pro debut out of the way, I felt really comfortable in the cage, so I'm really pumped about that one."
Last year, Ramsey decided to make a move from his gym in Utah to Tareq Azim's Empower Gym in downtown San Francisco. It was a group they had cross-trained with in the past, and he was ready for a change. Of course, Adam followed suit.
"We live together and work out together," explained Adam. "We spent the last couple years together in Utah, too.
"The change is phenomenal. It was definitely a good move. I think I needed it to help me go further with my career in this sport. I feel like he's felt the same way. He's obviously a little bit older and more of a veteran than me, so when I saw him making this choice, I was thinking that it wouldn't be a bad idea for me to make this choice too."
So, the brothers Nijem made the move to California, and, after his successful pro debut, Adam was hoping to get noticed by some bigger promotions. That all came true this summer.
In July and August, Titan FC, which went through some big ownership and management changes earlier this year, started putting together another stacked card for Titan FC 30, which takes place Friday night, live from Cedar Park Center in Cedar Park, Texas. Nijem was added to the undercard and was also given a nice contract with the growing organization.
"I found out about Titan about a month and a half ago," Nijem stated. "I've had the same opponent the whole time—I haven't had a change—so it's been a really good camp, man.
"I'm really excited, because they just keep signing better and better guys. Every week, I read in the MMA news that they have a new signing of someone really awesome, so this organization has continued to grow and grow and grow."
Facing Nijem on Friday night is Gabriel Carrillo, who will be making his pro debut. He trains out of Rodrigo Pinheiro BJJ in San Antonio, where he is also a Pete Spratt Muay Thai student.
Carrillo's sole amateur bout was in 2010, and it wasn't very pretty. While he did pick up a win, he used a lot of muscle, gassed quickly in the first round, and relied on some gangster-style slugging in the second to earn a TKO. However, that was a long time ago. With the instruction he has been receiving, one has to expect a much better fighter tomorrow night. With only one fight, little is known about Carrillo, so Nijem is coming ready for it all.
"I know he's 1-0," Nijem said. "His only fight was four years ago, so he's definitely taken some time off. I don't know how that's going to affect him. I'm just preparing for anything on my end of things."
Nijem clearly has a lot more experience entering this bout, and he is also surrounded by some high-level training partners, like his brother and Jake Shields, so he is coming into the contest very confident. While he will not sleep on Carrillo and takes his fights one at a time. He is young, determined, and has a nice contract that he wants to keep blemish-free.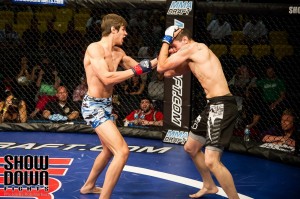 "I have a four-fight deal with Titan," Nijem elaborated. "That will probably take about a year. My goal is to finish all of my opponents, which would make four, so I will be 5-0. From there, I would like to see if Titan would like me to fight for their lightweight title. It really depends on how I do and what I want to do with Titan. So far, I really like this organization, so, if they want to keep me around, I would love to be around."
Adam's goals are very similar to those of his brother, Ramsey. Ramsey is eyeing continued success in the UFC and an eventual title run, and Adam is five years behind him, looking at the same goals in Titan. Outside of the gym, they also share similar interests.
In previous interviews, Ramsey has always talked about whitewater rafting, mountain biking and camping in the mountains. As a fellow Eagle Scout, Adam is into the same things, but a lot changed when they moved from the mountains of Utah to San Francisco.
"Living in the city now, it's a lot harder to get out and do things," said Adam. "In Utah, you could go 10 minutes and be up in the mountains. Since we moved here, I've pretty much only been training. I don't really live a crazy life right now. I'm in the gym all day and training all the time. Definitely, once this fight's done, I heard there's some really awesome mountain biking around here, so I'm really looking forward to that."
For now, the outdoor fun is on hold, but the indoor fun is running at full speed. Adam is training for the biggest fight of his young career at Titan FC 30 tomorrow night. It is his chance to show fans what "the other Nijem" is all about.
"I want to showcase my skills everywhere, not just in the stand-up or just on the ground. I just want to show people I'm a true mixed martial artist, and I'm excited for that. You look at T.J. Dillashaw, and he's such a good example of a guy who's good on the ground and good on his feet. He's constantly moving in and out, up and down, left and right. He's constantly in a good position, and I look at him as a good role model."
Nijem would like to thank all of his coaches and training partners at Empower Gym, including his brother, Ramsey, and Tareq Azim. He would also like to thank all of his family, friends and fans who have supported him in his journey. Follow Adam on Twitter:
@AdamNijem
---
Advertisement

---