For amateur MMA fighters, getting called to the UFC is the ultimate goal. It's what every fighter strives for. Some fighters get their chance too early and fade away into the crowd. Others embrace the setback and learn from it. Walel "Gazelle" Watson is one of the latter.
Watson's goal of becoming a fighter started with a minor setback that led to his current profession: He was too small.
"I am a former junior college football player and I played a little semi-pro. I played football my whole life, but I loved fighting my whole life. Once I realized that I was too small to ever play at the highest level of football, I started fighting," Watson told Combat Press. "And from that moment on, I found my calling—August 16, 2008, when I first started, and I haven't stopped ever since."
---
Advertisement

---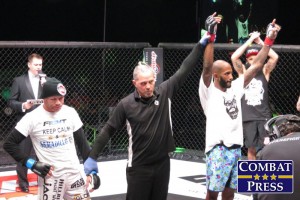 Watson would go on to amass an 8-2 professional record before receiving the call that many others can only dream of—a chance to fight inside the Octagon. In October 2011, Watson made his long-awaited UFC debut against Joseph Sandoval. Watson needed just 77 seconds to dispatch of Sandoval and walk away with a UFC debut victory. His next fight came against crafty veteran Yves Jabouin. Watson landed on the wrong end of a split decision. After dropping his next bout in a decision loss against future UFC champion T.J Dillashaw, Watson was on thin ice. His last ditch effort came against Mitch Gagnon at UFC 152, but unfortunately he was submitted early in the first round. The UFC handed him his walking papers shortly thereafter.
This setback did not stop the "Gazelle," though.
"It's all under the rug. It's done. It was a part of my life. It's something that needed to happen to me to make me who I am today," Watson explained. "And maybe if I would have won all my fights and I would have stayed stubborn, and I make it to the championship fight and I got smashed, who knows what could have happened to me then? My whole mentality would have crumbled. It's good that I stumbled now and I am learning now."
Watson stepped back into the cage less than two months after his UFC release for Xplode Fight Series. Watson was victorious in his next two bouts, finishing both opponents inside the first round. But then he dropped his next two bouts, which were contested at 145 pounds, a whole weight class higher than normal. Watson got back in the win column earlier this year when he submitted William Joplin at Titan FC 28
Watson's next battle comes this Friday at Titan FC 30 against a fighter that many The Ultimate Fighter 18 fans will recognize—Anthony Gutierrez. And Watson believes that with a victory he may be one step closer to returning to the UFC.
"I would hope that it would get me back in, but if not, I'm just going to look for the next fight with Titan FC and just keep impressing the world with the maturity and the new Walel Watson," he said. "Eventually, no one is going to be able to deny me. I'll be getting phone calls left and right."
Watson certainly isn't overlooking his opponent, but he has heard what Gutierrez has said in his interviews leading up to the fight.
"If he's looking for a submission win, it's going to be a hard day for him because I'm not easy to submit, and especially now with my jiu-jitsu. If we are going to grapple, it's only a matter of time before you get submitted," Watson said. "From what I hear in interviews, it's his game plan to lay and pray. He said, 'I plan to out-position Watson in grappling,' and I don't even know what that means. You're telling the fans and everybody that you are going to lay and pray and play it safe? That's already weak in my eyes. You shouldn't have the mentality that you can't finish the person and I'm just going to get by on points. I don't think that way at all."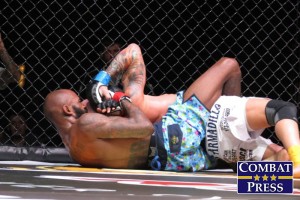 Watson's newfound skill set can be attributed to a training regimen and new coaches Eddie Bravo and Richie Martinez. Along with Team Hurricane Awesome, Watson believes that he has truly found the right rhythm for success.
"Every day with Team Hurricane Awesome and I train with Richie Martinez every day also, and we train our 10th Planet Jiu-Jitsu. On Thursdays, we drive out to L.A., me and Richie, and we do our training with Eddie Bravo," Watson explained. "It's such an amazing experience every time I go up there. The knowledge just spreads and just everything. So many guys to roll with, girls to roll with, and kids to roll with. Even the kids are killer. It's been a blessing that Eddie has taken me under his wing and made me a student and trained me and developed me into a killer now. He has really opened my mind and my eyes a lot to the sport of jiu-jitsu and to MMA."
Under the tutelage of Bravo and Martinez, Watson feels that he has evolved so much since UFC fans last saw him. He couldn't stress enough that above all else he wants to put on an exciting fight for the fans.
"At the end of the day, the crowd just wants to see an exciting fight and they want to see a finish. I don't ever want to be a boring fighter. My game plan will never be to go and lay on somebody. So I need to go in there and finish him by whatever means comes by me. I have to adapt to every fighter, every fight and every situation."
But first, he needs to impress the fans watching Titan FC 30 this Friday and hope that the UFC brass feels that it's time for a return to the bright lights inside the Octagon.
---
Advertisement

---