Reputations can be a tough thing to shake. You only get one chance to make a first impression, as the saying goes. Titan FC star Anthony Gutierrez would like the chance to make another impression at the expense of Andrew Yates.
The two are set to square off in a pivotal fight at Titan FC 36 later this month. Yates is riding a two-fight winning streak and will be making his Titan FC debut. Meanwhile, Gutierrez has split wins and losses in his last few outings, including a split-decision loss to former Titan FC bantamweight champ Brett Johns.
Still, it's clear that Gutierrez's confidence is at an all-time high.
---
Advertisement

---
"People always ask [if] this [is] a tough fight," Gutierrez said. "My response for this fight is that fighting is tough. The sport of fighting is tough. Andrew Yates is not. It's going to be quick."
If he were to make an impact with a decisive victory over Yates, Gutierrez would seemingly move into prime position for a shot at the Titan FC bantamweight belt. The title is currently vacant after the aforementioned Johns missed weight for his title defense against Gutierrez this summer.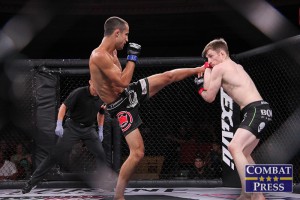 Gutierrez has had his own experience with a weight cut gone wrong. His time on The Ultimate Fighter 18 was marred by weight-cutting issues. To many fans, that was the lasting first impression left by Gutierrez.
"It's something that's definitely followed me around," Gutierrez admitted. "It's funny, because you see guys missing weight on almost every show and people talk about it for a few days and then it's forgotten. When I missed weight on The Ultimate Fighter, I missed it on my third attempt in three weeks."
The real-time length of the show is sometimes forgotten among casual MMA fans tuning into the reality series. The show may air over the course of two months on television, but the events take place in an extremely small window of time.
"If you're a real MMA fan and saw that on The Ultimate Fighter that you have to weigh in three times in six weeks, and [you] knew about the sport of MMA and how hard weight cuts can be, you'd have some leniency for guys on TUF compared to guys missing weight on a fight card that have had two or three months to make weight once," Gutierrez said.
Gutierrez did acknowledge that plenty of people have made weight numerous times on TUF and was quick to give his respect to those athletes. It's clear from talking about it with him that he's heard this brought up plenty of times but has learned to not let it hold him down.
If Gutierrez can put on the type of performance he's expecting to put on, perhaps he can replace that first impression with a new one. Those who still hold his time on TUF against him would surely change their mind if the bantamweight competitor can capture Titan FC gold.
"I would love a rematch with Brett Johns; I would love a rematch for the title," Gutierrez said. "But my goals are tough opponents, big stages and financial purses. If a rematch with Johns falls into that, that'd be fricking awesome, but if not, I'm going to continue to fight the best guys outside the UFC and make money so I can pay for a car and rent."
For any fighter looking to meet financial goals, the UFC's deal with Reebok is surely a game-changer. The deal has come under heavy criticism from fans and fighters since its inception.
"The Reebok deal seems to be really good for some people and really bad for others," Gutierrez said. "For me, the deal would actually be a good thing. For my Titan fight, I'm probably going to get around $1,900-$2,000. So if the UFC signed me, I'd be making more so, hey, I like the Reebok deal."
While the Reebok deal would turn out to be a good thing for someone breaking into the UFC, it's not such a great deal for more experienced veterans.
"If you're a guy like Michael Chandler, who [is] paid by Monster and these big companies, and you get signed to the UFC, you're making a lot less money," said Gutierrez. "That guy is making at least $30,000 in sponsors."
Gutierrez has been with the Titan FC promotion for quite some time, competing in the organization's amateur ranks before a TV deal was ever signed. As Gutierrez has risen up the bantamweight ladder, so too has the promotion. Titan FC has aired on networks such as AXS TV and HDNet, and it's now part of the UFC's streaming network offerings on UFC Fight Pass.
As a fighter who is looking to cash the biggest check possible, Gutierrez would definitely be off to a good start if he puts his opponent away early at Titan FC 36. The Titan FC belt may not be in his immediate plans, but securing a title ultimately leads to a bigger payday, and that's exactly what Gutierrez wants.
Anthony would like to specifically thank Glory MMA and Fitness for everything they do to help him in his career. Follow Gutierrez on Twitter:
@Sharkbait816
---
Advertisement

---